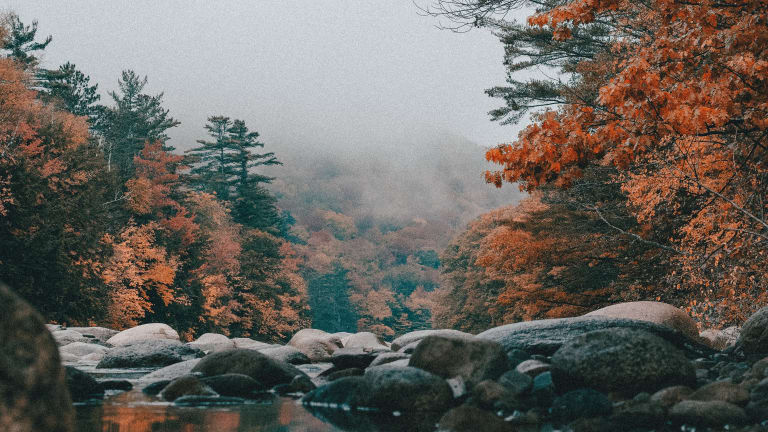 Reasons to Love Fall beyond Pumpkin Spice
There is beauty to an ending.
Although temperatures nationwide still soar above 90 degrees, a quick glance at social media belies our collective mindset shift with posts celebrating the return of pumpkin spice lattes, boots, colorful foliage, and "crisp" air. The air in my North Carolina hometown is far from crisp, but I admit I spend my nights stubbornly sweating on my porch with a fuzzy blanket and a cup of tea because I can't contain my excitement for this new season to begin.
But while I love fall for all of its clichés—from the infusion of pumpkin into every packaged food item at Trader Joe's to the explosion of hay bales on front porches—I also understand that these seasonal harbingers don't bring everyone the same joy. I have friends who would gladly accept twelve months of summer and others who feel an inevitable melancholy at the onset of fall. For them, the changing season is about more than just the Starbucks #PSL. It signifies an end of something, and with that end, mourning and trepidation as we transition into colder weather and shorter days. Fall is full of little "deaths," in a sense: the leaves, the bugs, even our old way of life.
Because of this, I've always seen fall as an invitation to reflect on the little "deaths" in my life, what I hope to leave behind, but also on what new habits, rhythms, and goals I plan to cultivate instead. I love the season for what it represents: a welcome shift in lifestyle and mindset, as well as the opportunity to be grateful for what's past and what's to come.
Fall teaches us to celebrate, not mourn, endings.
While we're conditioned to mourn endings, not all endings are inherently negative. In fact, an end—of a season, relationship, or stage in life—can encourage us to shed unhealthy or toxic habits. It can invite us to abandon grudges, conflicts, or issues that we've carried throughout the past nine months of the year. And it can help us wipe our slates, so to speak, to prepare for new growth, much as the shedding of the leaves allows the trees to rest before exploding into new life in the springtime.
The end, or death, that fall signifies marks a departure from our summer rhythms: carefree days spent reading novels by the pool, staying up late, and gleefully ditching our routines while the world collectively enters vacation mode. The shift in seasons naturally draws us inward. We can use this natural change in the seasons to take stock of our emotional lives and commit to healthy changes—to introduce discipline and structure into our lives. While we gradually spend less time by the pool, we can spend more time reflecting, rekindling passion projects, and shifting our attention to our work and family lives.
Most importantly, though, with any end naturally comes a new beginning, and fall carries that promise. As kids, that new beginning was a new school year (who doesn't love the thrill of back-to-school shopping?). As adults, we can create our own new beginnings even if we aren't shopping for pencils and spiral-bound notebooks. We can commit to new healthy habits, like setting and sticking to a morning routine that allows us to start our days with intention; to rekindling an old friendship; to finally starting something that we put aside; to simply choosing to plan our weeks out rather than letting our schedules push us along to the next arbitrary task, item, or event.
Author and happiness researcher Gretchen Rubin has written about how "September is the other January," explaining that fall is a more natural transition point than January. Selecting January 1 as the time to set new intentions seems arbitrary. But there's something natural and beautiful about weaving our own routines into the changing seasons, using the close of summer to invite us indoors and into a more thoughtful, introspective way of life; using the end of the carefree, looser days to introduce more structure into our lives; and allowing the societal shift from bathing suits and beach towels to backpacks and pencils to encourage us, too, to pick up a new project and shift our priorities.
Fall teaches us to cultivate gratitude for our pasts.
Furthermore, endings can be beautiful in and of themselves—whether they represent a departure from something harmful or not.
In a perpetual summer, we would miss out on the beauty of fall foliage, the serenity of a fresh snowfall, or the explosion of new life in the spring. Analogously, if our lives progressed methodically with no changes, shifts, endings, or new beginnings, we would be denied the thrill of a new growth opportunity, a burgeoning relationship, a soul-refreshing move, or a life-giving job change. Even though the fall might bring some melancholy as we pack away our bathing suits and beach bags, we can learn to think of it as an invitation into something even better—just as the conclusion of a season in our lives can mean celebrating, not mourning, the chapter that has just closed.
Whether you're eagerly awaiting the onset of fall or still clinging to the final days of summer, take comfort in the fact that with the end, the death, the closure that fall represents comes the thrill and promise of something new. Instead of grieving as you pack away your swimsuits, think about how this ending can give you the space to create and cultivate something new and beautiful.