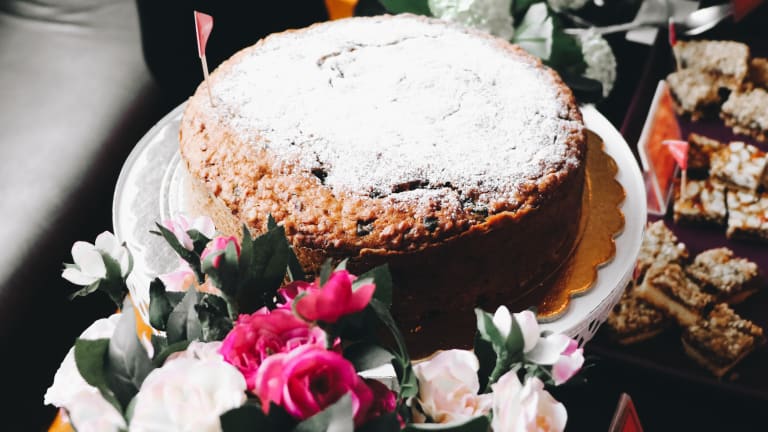 Easy and Decadent Desserts for Your Next Get-Together
You don't need to be Mary Berry to impress your guests and satisfy their sweet tooths.
I love a good dessert, and I'm not afraid of a challenge. But sometimes, I just want to make something simple—something that doesn't require a lot of ingredients or involve a lot of measuring and mixing. If it doesn't leave me with a big pile of dirty dishes that's even better.
While completing a complex dessert yields a special sense of accomplishment, there's a different satisfaction that comes from making something that's just as delicious as it is easy to make. In fact, some of my favorite desserts are among the easiest I know how to whip up.
Whether you're hosting a dinner party, attending a girls night, or satisfying a sweet tooth, consider trying one of these oh-so-easy recipes.
The ease of assembling this cake is in the name—all you have to do is dump the ingredients into a 9x13-inch pan. Canned pineapple and cherry pie filling make the soft, fruity foundation, while the topping of cake mix, butter, and nuts adds a sweet-and-savory crunch.
With bright colors and rich flavors, this one is a definite crowd-pleaser. It's best served warm, and I recommend topping it with whipped cream or vanilla ice cream. Not a fan of cherry? You can also use blueberry or strawberry pie filling. This cake keeps well in the fridge, and single servings re-heat nicely in the microwave.
Not to be confused with macarons, these cookies are basically a glorious mound of coconut, bound together by egg whites and sweetened condensed milk and flavored with a hint of vanilla. They are not only easy to make but also fun—watching the egg whites go from slimy to frothy to cloud-like in a matter of minutes is pure magic. Whether you dip them in chocolate or leave them plain, they are purely delicious. For a different twist, you can place an almond on the top of each one before you pop them in the oven.
If you're looking for something to bake with the little ones in your life, these bars are a winner. My two-year-old loves making these with me, though we skip the electric mixer and stir by hand. One of the best parts of this recipe is the room for experimentation. The original recipe calls for yellow cake mix, vanilla pudding mix, M&Ms, and chocolate chips, but you don't have to stick to that exact combination. Pair lemon cake mix with dark chocolate chips, chocolate cake mix with Reese's Pieces, or confetti cake with M&Ms and extra sprinkles—the possibilities are abundant! These bars also freeze well.
My fellow pumpkin lovers, rejoice! This super-moist cake takes mere minutes to whip up—just stir a can of pumpkin mix with a box of spice cake mix. This cake is nothing fancy to look at, but the flavor more than makes up for the rather homely appearance. For added flavor and flair, top the cake with cream cheese frosting. Make your own, or keep it ultra-simple with a container of the pre-made kind—we won't tell!
Don't let all those layers intimidate you. They come together in mere minutes with minimal prep. Butterscotch chips, chocolate chips, coconut, and nuts complement one another beautifully atop a crust of butter and graham cracker crumbs, and sweetened condensed milk holds everything together. With so much goodness in every bite, these little beauties are rich—you may want to cut them into small portions.
If you're looking for a simple dessert beyond your go-to recipes, give one of these a try. With short ingredient lists and easy-to-follow steps, they'll satisfy your sweet tooth and impress your guests without making a mess of your kitchen. Enjoy!