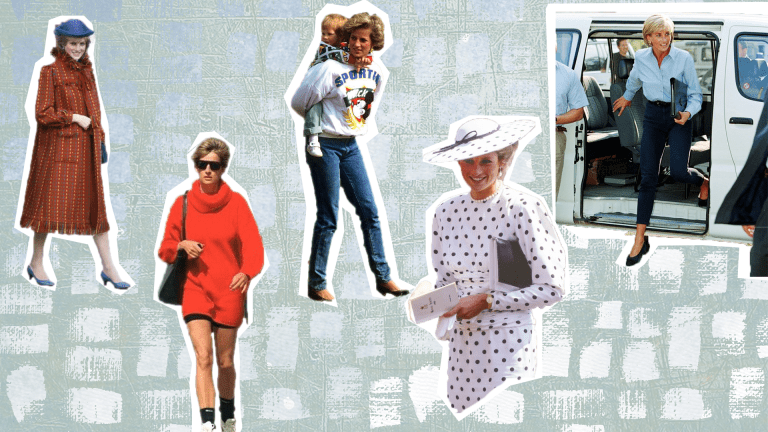 True to Form, Princess Diana Foreshadowed Our Current Street Fashion
Princess Di being the ultimate trending hipster
Browsing through Pinterest the other day, I came across this picture of Princess Diana.
"Oh, those are the perfect black, chunky-heeled pumps!" I thought to myself. "And I love her jeans—high rise, nice wash. And so classy with the belt and menswear button down."
Suddenly it struck me just how modern the image was, and I found myself on the hunt for more pictures of our beloved Diana.
She was widely acknowledged as a queen of fashion when she first moved into the public eye with her 1981 engagement to Prince Charles. As a world-traveling public figure involved in issues of diplomacy and international charity, Diana's personal fashion is well-documented and undeniably chic. From her wedding dress to her revenge dress, her formal wear is most often often noted—not surprisingly, since the Princess of Wales certainly had infinite occasions to wear regal garb! But her casualwear is well worth our attention as well: from her "gym rat" looks (bulky Harvard sweatshirt, bike shorts, high socks, and tennies) to her dressed-down denim, Diana's choices manifested her unique perspective and show us just how much she impacted current fashion.
As you browse the pictures below, look for these contemporary trends which, almost without exception, she wears better than any modern woman:
Monochrome
This trend has been traipsing down runways for the past several seasons and is filtering its way down to the wardrobes of the rest of us. But Princess Di did it first—and not just in her formal suits!
Color blocking
Monochrome's equal and opposite reaction, color blocking is a favorite in more Nordic styles as well as urban style. The starker the contrast, the more modern the vibe—but the look is also utterly 1980s!
White Heels
While I once rejected all white shoes as grandmotherly "nurse" shoes, this look has become ubiquitous, and I've fallen for the hype. While the shape of Princess Di's heels is less modern than the shape that's trendy now, the basic aesthetic appeal is the same: they're a crisp, feminine finish to an outfit, whether you're donning springy florals or simple denim.
Mom jeans
Speaking of denim, Princess Di was the Queen of the high-waisted, wider-legged jean that monopolized the eighties and early nineties. She's the perfect model for how something casual can become utterly chic with the right blazer and shoes.
Proportion play
A lot of modern trends shy away from traditional feminine silhouettes, opting instead for exaggerated shapes which challenge how we perceive womanhood. Think fluffy sweater over pencil skirt, menswear blazer over midi skirt, drop-waisted dress with ruffles at the bottom. Princess Di did it all, first and best!
Mixing high-low
Diana was the people's princess. Known for her tongue-in-cheek baseball cap emblazoned with the royal crown as much as for her tiara, she mixed high and low in her style as well as in her life. Her looks model ways to mix and match the elements of your wardrobe to get more wear out of your more formal pieces and to elevate your day-wear.
Whether your personal style runs to the simple and classic or the edgy and unexpected, Princess Diana has a series of looks to suit you and to help you refresh your fashion choices with some surprisingly modern energy.