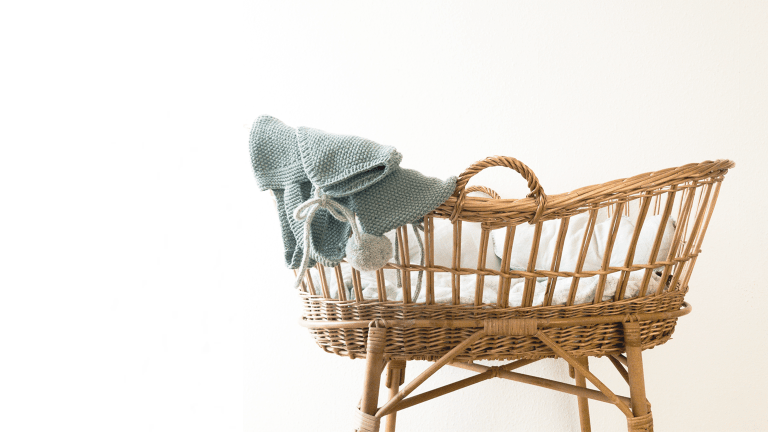 Preparing Your Home for Baby: A Minimalist's Guide
Tips for the nesting mother who loves minimalism
Moms know that babies involve a lot of, well, stuff. Sometimes, it's hard to believe that something—someone—so small can claim such a large space in our homes and apartments, but they do. From the pack and play, to the crib, swing, bouncer, and toys, preparing for a new arrival can be a minimalist's worst fear.
As a minimalist and KonMari enthusiast myself, I believe that keeping a beautiful, organized, simple home is vital to promoting health and wellness, but I also want my house to be a comforting haven for my family. This means that I need to ensure my new baby feels safe and loved in the space and that he, too, can look around and see things that bring him joy.
Once I found out I was expecting, I immediately resolved to find a way to keep our home minimalistic, simple, and sophisticated, while also ensuring that our baby would feel at home there. I knew that there must be a way to maintain my own style while still incorporating our son's favorite items throughout the house, and throughout my pregnancy, I experimented with ways to do this.
01. Purge
Part of preparing our minimalistic home for a new arrival has been taking an honest inventory of our own items. Our closets, which now need to hold a stroller and extra diapers, were previously jammed with ten or even twenty-year-old clothes, mementos, and miscellany that we simply never use. My husband and I utilized my nine months of pregnancy to purge these items, giving them away to friends, donating them to Goodwill, or selling them online. Now, we've cleared ample closet space to store baby items so they aren't consuming floor space in our relatively small home.
02. Saying "no" to registry mania
As a first-time mom, I'll admit that the flood of well-meaning registry recommendations overwhelmed me. Everyone seems to have an opinion about what is essential, and upon combining all of these suggestions, well, let's just say we would need to purchase a second home just to store everything.
At the advice of my mom, I resisted the urge to register for every baby supply known to man and instead selected a few essentials. "Wait and see what you actually need, and you can always buy it later," she advised. Now, we have a few key items—a crib, a bassinet, a swing—but not every gadget and toy that, frankly, we have no idea if our baby will even enjoy. As he grows and matures, we can swap out our items to ensure that whatever is taking up space in our living room is only what he most needs and loves.
03. Rearrange
Our new arrival has naturally required us to rearrange a bit to make our home more functional. For instance, my small side table stocked with books and candles has become a feeding station, and we had to ditch a few pieces in our living room to make space for our baby's swing. By doing so, I've been able to avoid feeling cluttered or cramped in our home while ensuring that the spaces actually work for our new daily rhythms.
04. Inexpensive baskets
I have a tendency to let clutter send me into a tailspin, but I'm also aware that babies and toddlers have no sense of boundaries when it comes to playtime. Politely asking a child to "please keep the toys in this corner" simply wasn't going to cut it, but I also knew that I didn't want to resign myself to a lifetime of stepping on LEGOs in the kitchen.
A trip to HomeGoods and an hour of rearranging furniture to make room for oversize whitewashed and natural-fiber baskets allayed my clutter anxieties. The baskets will conceal our baby's toys when he isn't playing with him, but he can still comfortably pull them out and play on our living room floor while my husband and I are chatting, reading, or visiting with friends.
If you're a minimalist at heart but also want to create a life-giving space for your family, don't fear: with a little creativity, you can transform your space into a haven that keeps you sane while nurturing and comforting your family.