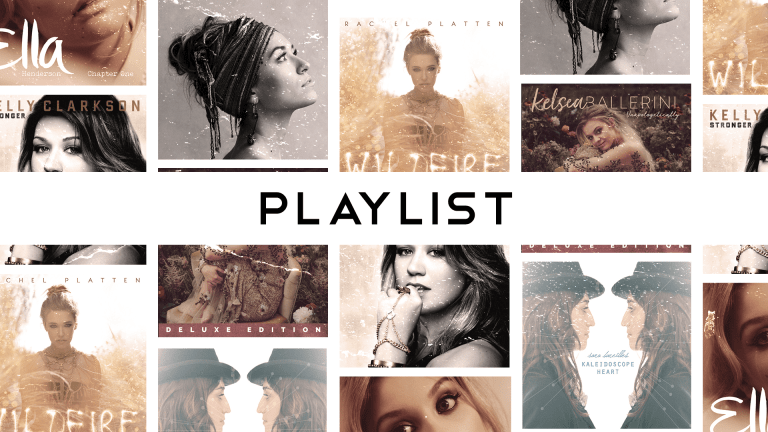 Playlist: Turn This Music Up to Turn the Inner Critic Way Down
Ground yourself with these songs.
Intrusive thoughts are a bitch. Anyone who's ever struggled with anxiety, OCD, PTSD, or perfectionism will back me up on that statement (they'll also likely understand my use of vulgar language). Negative thoughts that tell you, "You're not good enough," creep in during the most unassuming moments and can take over our calm and sense of reality. Sometimes the cure for these moments is good ole self care like eating healthy and getting our sleep. Sometimes it's grounding techniques like deep breathing and drinking ice cold water. But sometimes, the best cure has a bit more force—it's shouting, either literally or figuratively, right back at the bully in your head.
For me, I've found a good workout that makes me break a sweat paired with motivational, upbeat music I can sing along with turns the inner critic way down and puts me back into the present.
This playlist is my personal go-to for those workouts. It's intentionally curated with only female voices, to remind me of who I really am—a strong woman with the resources to overcome whatever challenge I'm facing. Though a few of the songs are clearly written about men, like Sara Bareilles "King of Anything" and Kelsea Ballerini's "Miss Me More," I find it therapeutic to cast the bully in my head in the character of the man in those songs.
So, the next time you hear those negative thoughts, turn this music way up to remind yourself, as Pink sings, that "I am here" and, as Lauren Daigle puts it, "This girl ain't going anywhere." 
Editors' Note: Verily exists to empower women to be more of who they are. Our Verily Yours membership extends that mission by giving women curated content to simplify their everyday lives and invite members to help shape the editorial direction at Verily. Learn more and join us.