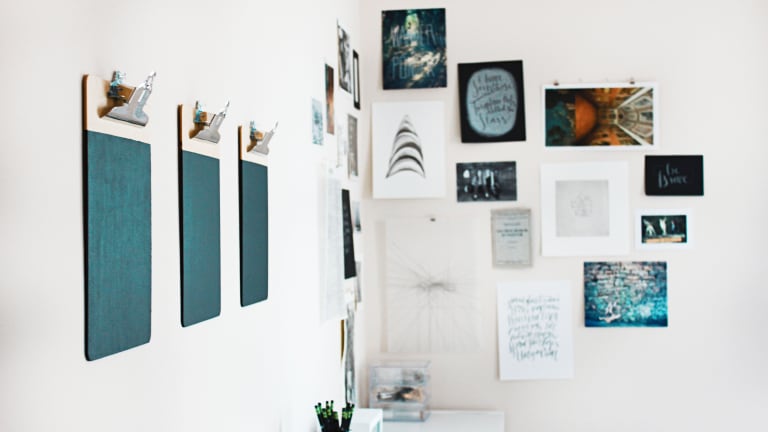 At Home with Her: An Inspirational Gallery Wall
An eclectic accent wall that "sparks joy"
Tell us about your favorite spot in your home. Why is it your favorite spot?
To put it in Marie Kondo's words, the place that "sparks the most joy" in my house is my accent wall over my bed. As a college student on a budget, I wanted to individualize my limited space without breaking the bank, and by using photos, magazine clippings, and even paint swatches of colors I like, I've been able to do just that! Every time I look up at the wall (which extends from the end of my bed to just beyond my working desk), I'm reminded of the things and people I love. If I'm having a bad day, I see warm images of smiling women, vibrant spring recipes, and even a couple cards from relatives.
It's been such a comfort to me especially now that I'm going through a massive career assessment. I recently dropped my acting emphasis from my major to focus exclusively on communications. It's taken hours of prayer, reflection, and guidance to decide what I'm called to do in the world, and as a stress reliever I would pick up magazines people were discarding, flip through them, and clip out images I really liked.
Now all of the dots are connecting—I love being in control, seeing things in their best light, and making life more vibrant for others. My wall serves as a reminder that even from seemingly useless things, something beautiful and uplifting can be created.
Is there a particular story about how this spot came to be arranged/decorated the way it is? Are there any particular pieces that have significant history to you or your family?
I think each little piece of the wall represents a relationship with others, as well as hope for the future. For example, I remember walking about a mile to Lowe's (I didn't have a car at the time) to go and get a plant for our balcony and ended up picking out a few paint swatches and having a really interesting conversation with the gentleman who mixes the paint. When I got into photography, I took both my own photos and old pictures of loved ones (of my sister and me as toddlers, for example) and got them printed. I gained so much confidence from this simple skill and now hope to incorporate it into my own freelance photography business.
My interests aren't limited to one thing—and that's okay. As human beings, we're constantly making new discoveries of what we're drawn to and why. Laying out those discoveries side by side has made the process a little simpler for me.
Have there been particularly inspiring or moving moments in this corner of your home? Or, is there a particular feeling you get when you are in this space in your house?
This corner gives me a sense of peace knowing how many kinds of beauty there are in the world, and how together they create a wonderful symphony. From a photo that captures the moment of my grandmother and me at Lush to an excerpt from an actress's testimony about how great it is to be a new mom to a magazine still of Lake Como in the summer, I'm reminded that precious moments, both big and small, contribute to an amazing common life.
So that means I have a role to play, too.