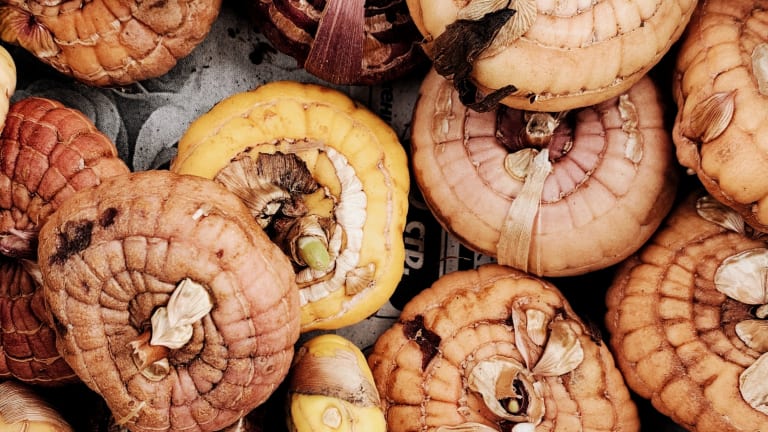 Making a Fresh Start: Preparing for Fall
A few "to-do's" to make the best of this crisp season
In an oft-quoted line, F. Scott Fitzgerald wrote in The Great Gatsby that "life starts all over again when it gets crisp in the fall."
Fall has always felt this way to me: a fresh start, even as we are heading toward the end of the year. Perhaps this is a remnant of childhood days of back-to-school shopping, school schedules, new uniforms, and the like.
But it's no New Year's Day: the fresh start of fall approaches without the cultural hype and call for self-awareness. And so before I know it the chance to "start life over again" has passed me by and my unwritten to-do list gets pushed to next fall.
This year, I'm making a list of the things I want to remember to do as fall approaches. If you want to join me, here are a few ideas.
01. Spring/summer closet clean-out
There's no better time to get rid of old, tired, or just generally unloved clothing than when the season for wearing them ends. Take an hour to look over your closet and to assess what you haven't worn this summer. Chances are, you didn't wear it last summer either, and perhaps not the summer before that. If you wait until next spring, your winter-goggles may have you feeling optimistic about wearing that objectionable item of clothing—and it may clutter your wardrobe for another year! While you're more disinterested, take the opportunity to pull unworn items from their hangers and either sell or donate them.
And on that note…
02. Fall/winter wardrobe assessment 
Over the past few years, I've worked on minimizing my clothing purchases. Often I find myself in the middle of the season facing some event or some unexpected weather situation—or even just hitting a mid-season sale!—and end up forking over money I had not planned to spend. You can avoid this pitfall by taking stock of your wardrobe as the season starts. Figure out what you have, what you need to replace, and what you need to add to the mix. Also look over your coats and other cold weather gear: do things need to be dry cleaned? Repaired? Look at your calendar, and get a bird's eye view of the next few months: are there weddings coming up? Trips? Work conferences? Family events? What will you need to dress for? Heading into the season with a game plan will keep you from buying things you don't need and help you plan for the purchases you do need to make.
03. Calendar the fall 
Speaking of planning, this year I'm planning to plan ahead! Making a bucket list of fall-tivities is great, but those crisp, breezy days blow by so fast the season usually is over before I realize it's begun! Make a list of things you want to do or need to do in the coming months, and look over the weeks and weekends so you can prioritize your top to-do's.
04. Plant bulbs
Every year I miss this, and every spring I mourn my forgetfulness. Planting season varies from place to place, but the universal rule is to plant bulbs "after the first frost," which could mean anytime between September and November. Obviously, the earlier you plant, the sooner you get blooms, so maybe do a couple of staggered plantings to bring a little joy to March and May respectively. This year I will not fail! I'm planning to buy the bulbs at the first opportunity.
05. Household projects
Fall cleaning is a wonderful and necessary commonplace. (By the end of summer, my house tends to be a bit of a wreck because summer keeps me out and about so much.) But larger household tasks sometimes fall by the wayside. So take stock! Do you need to clean your gutters? Windows? Screens? Caulk around windows and doors? Is it time to trim back the trees or hedges? Any outside DIY projects that need doing before severe cold sets in? Take stock of what you need to accomplish before winter to make sure the season is as comfortable as possible.
In addition to all these "to-dos" there are of course myriad fall-tivities to fill your days! But taking the opportunity to assess what you need to accomplish this season will set you up to enjoy the festive months ahead.