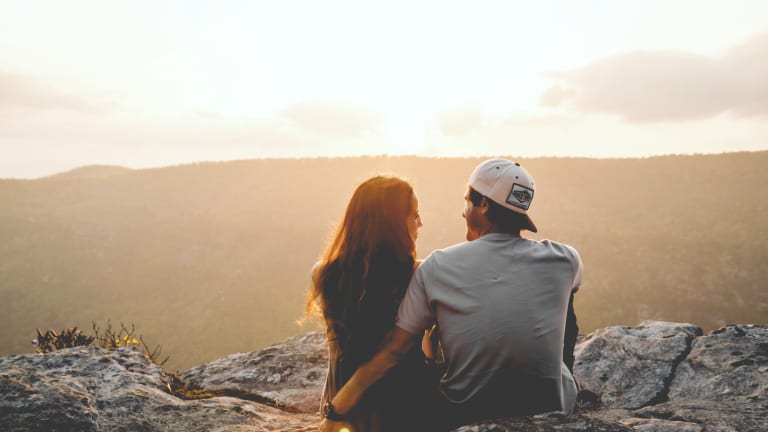 When She Knew: It's Good to Need Him
Knowing he was "the one" never came from one big moment—but hundreds of little ones.
I lay on a bed in the pre-op area, a painful IV in my arm, waiting to be taken back into surgery. I had been trying all day to be brave, but in that moment, I was just scared and started to cry. My then-fiancé, Eddie, was standing by my bed, and I was already clutching his hand. As I started to cry, he pulled me into his arms and held me close. As meds started to kick in, I alternated between crying in his arms and flirting with him. In the days that followed, he insisted on being the one to wake up in the middle of the night to give me a snack and meds on schedule so that my mom could sleep. There is no way I could have gone through surgery without Eddie by my side, and I knew that I wanted to spend the rest of my life with him by my side. The way that Eddie supported me through surgery showed me that he could support me for life. My mom was also in that pre-op room, but it was Eddie that I reached for when I needed to be held as I cried.
As you may have gathered from the fact that Eddie was already my fiancé at the time of this sick-bed story, that moment, crying in his arms before surgery, wasn't "the moment" when I knew that I wanted to spend forever with Eddie. I had said "yes" to his proposal months before. And the certainty to give that "yes" came over months, an accumulation of a thousand little moments rather than one big revelation. My now-husband has some amazing character traits that mesh very well with me and balance me out, but, like any human, he has not-so-perfect traits. These traits, at times, made me pause and reconsider if this really was the right step to take. For me, there wasn't a magical moment when the rest of my life became crystal clear, and I knew without a doubt that this man was my soulmate.
During the two years we dated and were engaged, there were many good times together, but there were also many times when we struggled to work through various issues. Our relationship had been primarily long distance, and as we moved toward marriage, some friends wondered if we needed time together, living in the same city, before we could make that decision. There were so many things we didn't know about each other: will we be able to mesh our independent lifestyles getting married slightly older? How will we balance his love of watching sports on TV with my love of silence? What will I do to keep myself sane when he's traveling a lot for work? . . . Does he like shrimp?
These questions weren't all resolved at once—and aren't all resolved still—but we already knew the answers to the big questions of compatibility. We knew that we shared the same set of values and morals. And we learned that we were each willing to sacrifice for the other.
Now that we're married, we still have plenty to discuss and work through. In our first few months of married life, there have been good times and bad. We still flirt with each other, and sometimes we also fight with each other. The two are not mutually exclusive. But that's okay, because there is no perfect husband. There is no perfect marriage. And so we had to be brave. I don't think I fully understood until this stage in my life how much courage it really takes to get married. I wanted one hundred percent certainty, but I couldn't have that, and it took courage to take steps forward without it. It took courage to say "yes" when he proposed. It took courage to say those wedding vows, to promise to love one human being for the rest of my life. And today, sometimes it takes courage to bite my tongue and do whatever is necessary for both of us as a married couple.
Right now, several months after our wedding, I can truly say that I love my husband more than I did on our wedding day. And, yes, it is also true that, after several months of marriage, I know his flaws even better than I did on our wedding day. But I still know he's the man for me. There may never have been a moment when it suddenly became crystal clear—but I am so grateful for the many little moments, as well as the careful thought and commitment to making this decision together, that prompted me to say "yes."