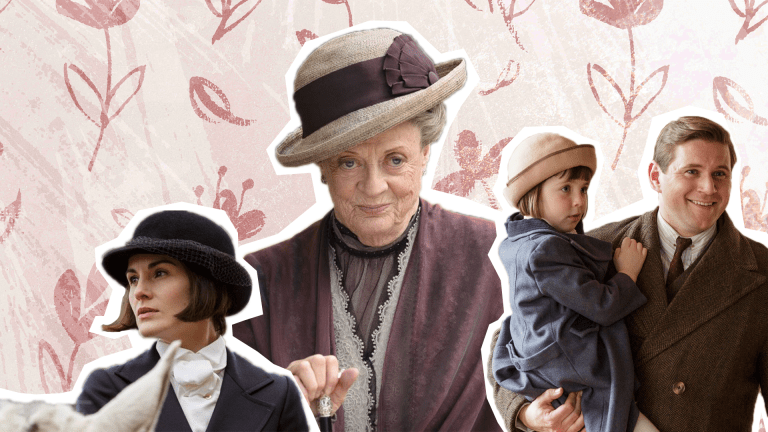 The 'Downton Abbey' Movie is a Warm, Welcoming Reunion
Finally, our favorite characters receive some well-deserved closure.
The moment the iconic, lovely score of Downton Abbey began to play in the theater, a reverent and excited hush fell over the movie-goers. That score signaled comfort—the epitome of cozy, warm nostalgia (there's a reason it's been streamed more than six million times on Spotify). I exhaled and leaned back, eager to re-immerse myself in the world of the Crawley family in early twentieth-century Britain, after a period away from them that had felt far too long.
Like most diehard Downton fans, I shed a few tears when I watched the final episode in early 2016, wondering if perhaps I had become a little too invested in this large fictional cast of characters and their bygone way of life. I remember feeling a little disappointed about the few remaining loose ends, especially about character romances. Little did I know that my disappointment would be alleviated three years later with a movie in which the entire cast of Downton Abbey reunited for what felt like a splendidly nostalgic two-hour-long episode.
A happy reunion
If you are hoping for a novel, action-packed, drama-laced plot, you might be disappointed. But if you, like many of us, have just missed your favorite Downton characters and are hoping to see them all again and make sure they turned out okay, you will leave the theater (as I did) with a big smile. I believe the movie is all the better for its absence of crazy melodrama.
Downton Abbey creator Julian Fellowes made sure every single character in Downton Abbey—both "upstairs" and "downstairs" characters—got their fair share of screen time and character closure. Though he carried out this objective almost to a fault, as it made the movie a bit more complex than was probably necessary, I do think it was smart to give every character a bit of screen time, because everyone's favorite characters vary greatly.
Unsurprisingly, the movie was every bit as beautiful as the show—if not more so, considering that we got to take in the breathtaking scenery and extravagant costumes on the big screen. Forget The Great Gatsby—the real 1920s dresses to die for belong to Lady Mary and Lady Edith (just wait for that final ball scene).
Set in 1927 England, the Downton Abbey movie chronicles the (fictional) Yorkshire estate's reception of exciting news: they are to host King George V and Queen Mary at their own Downton Abbey. Of course, there is a fair amount of stress and scrambling to prepare for the royal visit (along with more than a few mishaps). While I did, of course, expect Downton's usual sprinkling of humor, I was happily surprised by the sheer amount of it. Predictably, the Dowager Countess did not leave off her signature witty one-liners. But I found myself laughing out loud at minor characters as well, like the shy and awkward Mr. Molesley with his childlike (and relatable) enthusiasm for meeting the king and queen.
Most of all, the Downton Abbey movie does a good job of portraying the character growth (and even "character fruition") of three of my all-time favorite characters: Lady Mary Crawley, Dowager Countess Violet, and Tom Branson. Here's what impressed me most about each of them in the movie (I promise, only minor spoilers!):
Lady Mary Talbot
Lady Mary is one of the most complex, fascinating, and often frustrating characters in Downton Abbey. She has always been quite the bully (especially towards her sister Edith), though there are many reasons to love her despite her flaws and struggles.
Mary has a cold exterior and often says and does things she later regrets. It takes special characters, like the butler Carson, who has known her since she was a child, to break through that exterior to her surprisingly sensitive and vulnerable interior. As the series goes on, she becomes relatable to the viewer in her struggles to determine her true desires, passions, and overall purpose in life.
In the Downton Abbey movie, Mary specifically grapples with her role and responsibilities concerning the estate of Downton Abbey. Mary is conflicted as to whether the family should be changing with the times, selling the estate, and settling somewhere else. As she has been managing the estate for some time, she feels a particular responsibility for the fate of the beloved family home and everyone who lives within its walls.
Mary finally makes a decision and comes to realize her duty and true desires. It was refreshing to see her being honest with herself about what she really wants and her place within Downton Abbey. As her faithful friend and lady's maid, Anna Bates, tells her in the movie, "Downton Abbey is the heart of this community—and you're keeping it beating." (Speaking of Anna, I was thrilled that she finally seems to be enjoying the happiness she so deserves!)
If I have any critique of this movie, it's that we didn't get to see enough of Mary's charming new husband, Henry Talbot (played by one of my favorite actors, Matthew Goode). I do wish we could have gotten a better glimpse into their marriage; however, I recognize that there was only so much time for character exploration in the two-hour film.
The Dowager Countess
I know I'm not the only person sincerely hoping that Dame Maggie Smith picks up an award or two this season for her beloved role as Violet Crawley, Dowager Countess of Grantham. She's a long-time fan favorite—and for obvious reasons. She says exactly what she is thinking every single time, which is both hilarious and refreshing. She is the strong backbone behind Downton Abbey, and she is as fierce as refined old ladies come.
There is truly nobody quite like the Dowager Countess, nor is there any relationship quite like the one between the Dowager Countess and Isobel Crawley, who equals the Dowager in determination if not in wit. Their playful yet biting banter has always been a source of comedy in the show, and it was absolutely superb in the movie.
The Dowager (or "Granny") has a record number of zingers in the movie, and they serve her character well. What I loved best, however, is how the movie portrayed her as more than a fiery old woman—it also showed her complexity. Always clinging to the "old world" and struggling to come to terms with change, the Dowager has some important insights and conversations in the film. I appreciated the film's ability to show her as not merely a comedic figure, but a moving, interesting, and thoughtful character.
Tom Branson
I knew Tom was one of the good ones from the very beginning, despite—or maybe because of—his rebellious, Irish nature and his strong will. He never pretends to be something or someone that he is not, and I've always admired him for that. By marrying the youngest Crawley daughter, Sybil, he undergoes a major change in status—moving from his downstairs chauffeur position to become a distinguished member of the Crawley family upstairs. He eventually wins the respect and love of all of the Crawley family, even becoming the estate manager for Downton.
His marriage to Sybil is far too short (don't make me get into it—I'm still not over her tragic death), and I've always lamented the fact that such a handsome, principled man spends years alone raising his daughter and living in Downton Abbey without finding love again. Until now, that is.
I don't want to give too much away, but let's just say that I was elated to find the possibility of a happy ending in store for Tom in the movie (no, this isn't really a spoiler because you see this much in the movie trailer!). Perhaps the most satisfying aspect of this budding romance is that the woman is exactly the type of woman I would have expected him to end up with. This new romance does not seem forced, contrived, or out of character for Tom in the slightest.
Tom's stand-up character truly shines in the movie. He proves his loyalty to his family, his country, and to what is right by going above and beyond to keep his family and the monarchy safe—all without drawing any attention to himself. He ends up a silent hero, in typical Tom fashion, and I couldn't help but get teary-eyed at how proud of him I was (is it possible to be proud of a fictional character?). Though he's always been "one of the good guys," we see in the movie that Tom's once hot-headed, rebellious nature has matured into calm, prudent strength.
Each of the characters I loved through six seasons of Downton Abbey found well-deserved happiness and love in the movie, and I left satisfied. There is a certain magic about Downton Abbey that accounts for the affection millions of people still have for the show, and the movie captured this same magic. While it may not have been a revolutionary film, Downton Abbey was a nostalgic, comforting reunion that left me totally gratified.