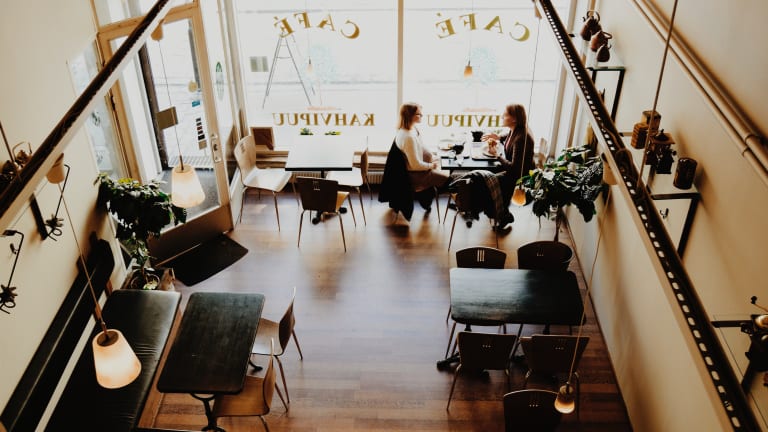 How Frequenting Local Coffee Shops Fosters Community
Next time you're in need of a java-hit, consider forgoing the chain coffee shops.
My love affair with coffee shops began several years before I actually started enjoying coffee. My senior year of high school, I often met up with a few classmates after school to work on our calculus homework together at our favorite coffee shop: a quaint little place with multiple rooms, each stuffed with worn-out, comfy couches.
I remember saving my money to buy my favorite "coffee" drink every week: the "Jumpy Monkey Mocha" (a chocolate-banana milkshake with just a splash of actual coffee). Not only was the Jumpy Monkey absolutely delicious, but drinking it made me feel like I was now part of the "grownup club"—each sip bringing me one step closer to college, where I would truly discover the necessity of caffeine. It was a gateway, of sorts, into my adult life.
Most importantly, though, drinking the Jumpy Monkey on the faded couches of this coffee shop introduced me to what they are all about: community. In all my years of frequenting coffee shops, I've learned that it's not the coffee that makes a coffee shop (although good coffee does help!), it's the people gathered there—the community at large supporting the shop and being supported by the shop.
There are so many reasons to appreciate local, independent coffee shops, but here are some of the best ones:
01. They encourage participation (and revival) in neighborhood life.
I occasionally bemoan the seeming decline of "neighborhood life." Families on porches, open doors, couples walking to restaurants, kids playing outside—secondhand nostalgia for days gone by sometimes washes over me. And this reaction may be a touch melodramatic; after all, I still see all of the above activities in my own neighborhood, even if kids don't spend quite as much time outdoors as they once did.
However, I have seen firsthand the power that a coffee shop has to transform and "wake up" a neighborhood. Two years ago, I was elated to discover that a dilapidated old brick building awkwardly stuck in the middle of my urban neighborhood had been bought by an Irish family to be transformed into a coffee shop for the neighborhood. As the owner explained to my husband and me on the busy opening day, his intention was that it would be frequented by the many people living in the family-filled neighborhood. He hoped to encourage friendliness and interaction among neighbors and more walking and exercise around the community (there is no parking lot, so walking and biking are strongly encouraged!).
Two years later, the owner's dreams have happily become a reality. This adorable little coffee shop is the perfect destination for a morning walk with kids and the ideal place to meet new neighbors. I am blown away by how much business they still receive daily, and I'm just as friendly with the baristas as they are with all of their customers. Because this shop is located in a historic Irish neighborhood, it also sells delicious Irish tea, treats, and lunchtime specials every day. Locally-owned coffee shops have the freedom to choose and sell products they know their target customers will want. They can, therefore, tailor to a neighborhood in a way that a larger coffee chain cannot.
Coffee shops have the potential to transform a neighborhood into a unique, thriving community that attracts new neighbors and even visitors, which in turn creates better neighborhoods for us and our children. One coffee shop can revive and possibly even spark a whole rebirth effort in a community or neighborhood in need of a little waking up.
02. They help small local businesses and the larger community prosper.
Shopping "small" by frequenting small local business has a subtle but potentially enormous impact on our communities. America was made by small local businesses, and it continues to thrive because of them. Since the end of the Great Recession, small businesses have created 62 percent of new private-sector jobs, according to the Bureau of Labor Statistics. The 2018 U.S. Small Business Profile documented 30.2 million small businesses in the country, employing 47.5 percent of the country's workforce. Accommodation and food services—which, of course, includes, coffee shops—is the second largest small business industry.
By supporting our local coffee shops, we are supporting people in the community by helping to create more jobs locally and investing in entrepreneurship. Coffee shops also frequently collaborate with other small local businesses by buying pastries and baked goods from local bakeries, thus helping the community even more. I discovered two of my current favorite bakeries by asking my local coffee shops where their delicious scones and muffins were made.
Because local businesses—like local coffee shops—pay taxes to their city and county, a lot of that money ends up going back to the community in the form of supporting local schools and parks. Your sales taxes get reinvested right back into your community! Research even shows that an average of 48 percent of purchases at local independent businesses is recirculated back into the neighborhood in some way, while less than 14 percent of purchases at larger chain stores do. Knowing that you are helping both a small business and the greater community by purchasing that latte just might make you feel better about a little splurge!
03. They have the three C's: character, conversation, and comfort.
In every new city I move to, the first locales I check out are the coffee shops, particularly the shops with a little local character. Each independent coffee shop I discover has something that makes it unique to the town or city where it's located, whether that means themed decor or a drink with some special meaning for the locals living there. For example, in Ohio, where I live, it's not uncommon to find delicious "buckeye" lattes or treats (based on chocolate-peanut butter "buckeye" candies and a tribute to the Ohio Buckeye tree, after which the football team is named) in different shops.
Every community is unique, and I love how coffee shops embrace and mimic that distinctiveness. In the same way that I would not want my town to look like every other town in the country, I love that my local coffee shops each have their own quirky character. While America may "run on Dunkin," I've noticed that people tend to prefer these larger coffee chains for their "grab and go" drive-through convenience than for their atmosphere for "coffee dates" with friends or just sitting down for a quiet drink.
Not only are you more likely to find meet-ups with friends or even informal business meetings occurring in local shops rather than chains like Dunkin Donuts, but you're also more likely to find spontaneous conversations occurring among strangers. It's not unusual for me to eavesdrop on a conversation in my local coffee shop between two strangers about their other favorite places to go in that town. Coffee shops are one of the best places to meet up with new acquaintances, whether for a date or a business introduction; I've met everyone from my realtor to potential new friends in local coffee shops.
Like most of us, though, I don't always go to a coffee shop to meet or make a friend. I usually go as a form of self-care to do some child-free, restful book reading or internet browsing after my husband gets home from work, or to write and work. Often a local coffee shop provides an opportunity simply to enjoy a little alone time in a place of comfort to me. A coffee shop is a place where I can recharge with a cappuccino or unwind with hot chocolate and a cookie, a place where I don't have to worry about appearing "strange" or feel awkward about being by myself.
In fact, I'm finishing this piece right now with a latte at hand at one of my local coffee shops. I honestly don't know what I would do without it! As if you needed another reason to go buy yourself a coffee today, you can assure yourself that you will be supporting your community by driving (or better yet, walking!) to your local independent coffee shop.