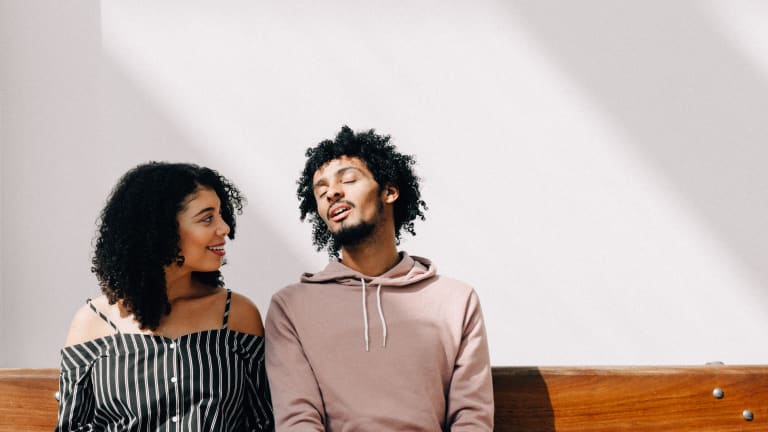 Navigating Fashion When You're Dating
"What to wear?" doesn't always have to exclude the man in your life.
There are many things that make or break a relationship; fashion is not generally one of them. (And if fashion can make or break it, chances are it was a pretty weak bond to begin with.)
With that said, how you dress is part of a relationship. We all want to be seen as attractive by our significant other! As a quick Google search reveals, most of the time the question of dress in relationships leads to conversations about how men need to dress better/more maturely/more stylishly for their women. But I'd like to suggest an equal and opposite situation: sometimes women would do well to dress for their men.
If this seems silly or old-fashioned to you, pause for a moment. I can think of multiple conversations over the years with girlfriends, guy friends, and boyfriends, all coming to the same conclusion: men and women often think very differently about female style—and this can sometimes be a strange source of tension in a relationship.
We women are up on the latest trends, eyeing the outfits of friends and strangers alike to compare and inspire. We love nothing more than a welcoming chorus of, "Oh wow! I LOVE your outfit!" from our girlfriends when we arrive at a party. But often what we women like on ourselves and other women is different from what the men in our lives find most attractive. Take jumpsuits, for instance. I have yet to meet a man who loves jumpsuits as a fashion item, but any woman would know herself to be utterly on-trend in wearing one.
There are many reasons for this discrepancy, I think. First and foremost perhaps is that often women's tastes are driven by the fashion industry, which is built on novelty. To sell more clothes, companies need to come up with "new fresh looks" every season. The appeal of edginess takes many forms and keeps us wanting to look "cool" rather than conventionally "feminine." This is especially true for those of us who since childhood have never wanted to look conventionally feminine. A lot of men, however, tend to favor traditionally feminine fabrics and shapes—anything that highlights the female figure and female delicacy tends to be a crowd pleaser.
So what do you do if you're in this situation? It might be tempting to utterly abandon your personal style to conform to his, but I think this is dangerous: you never want to lose sight of "you" in a relationship (unless that part of "you" is a little vice or weakness you're trying to move past!).
It might also be tempting to double down on your tastes and refuse to budge. There's nothing necessarily wrong with this—clothes are just clothes. But it's nice to feel appreciated, especially by your significant other. And I think there is a more profound reason to keep his tastes in mind when you dress yourself.
Dressing is a way we signal ourselves to the outside world, and this includes our significant other: how we dress is a way we communicate both our love for him and our own self-knowledge. As a relationship goes on, it's natural to slip into habits of ease and comfort with your significant other: work days are long, kids are exhausting, priorities shift the longer you stay together. We've moved past the Leave It to Beaver motif of the heels-dress-pearls-clad woman (thank goodness!), and I'm not advocating its return. But I think there is a happy middle here so that, both for your sake and his, you both find your personal style attractive. Flip the scenario on its head: we women often ask our men to change how they dress to accommodate our sense of style and masculinity, so it's worth considering whether we should sometimes shape our style similarly.
01. Compromise 
I'm not talking a "three days your style, four days mine" kind of compromise. That kind of nickel-and-diming is never good for a relationship. I mean something like this: if he loves you in florals, but you gravitate towards more masculine styles, go for an all-over dot print instead. Or, if you want to try a floral, look for a short one in a boxy shape to highlight your gorgeous gams, or pair it with tennis shoes instead of pumps for that androgynous edge you love.
02. Mix and match 
Try pairing a piece you love with a piece he loves. For example, most men I know hate the new cropped wide-leg pant trend. It deliberately creates a strange silhouette and can shorten the legs, so I don't blame them really (although I love the look myself!) But try pairing them with a slim tank or a blouse tied up around your waist to highlight your womanly figure.
03. Be detail-oriented 
One of the easiest ways to make an androgynous look feminine is to choose lovely details. Opt for a shiny gold hoop earring for a classic feminine look, or do something bolder and dangling for even more dramatic femininity. Pair cool heels with denim to add some delicacy to your function; go for nude strappy sandals over basic flats to lengthen your legs and show off your lovely feet. Makeup is part of this effort too—a polished manicure or a splash of bright lipstick turns a basic T-shirt-and-jeans look into an outfit fit for a woman. This kind of mixed-bag style is also utterly on trend, so don't be afraid to lean into it!
Define your own sense of style—yes! It's an important step in developing self-knowledge. But sometimes, it can be good to deliberately wear a style or item you know he likes. You'll make him feel loved—and that in turn will make you feel seen, appreciated, and beautiful.