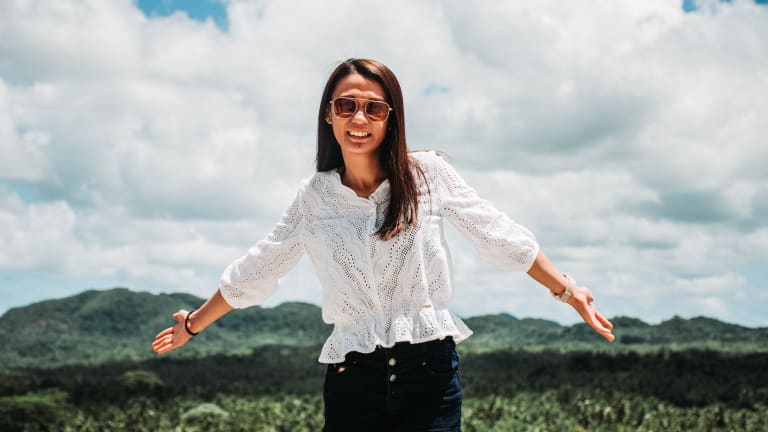 Dressing with the Pre-Fall, Post-Summer Season
The line between seasons makes for a fun wardrobe change.
September is upon us, and with it returns my love for fall fashion. Whether it's because of memories of back-to-school shopping or retail merchandising displays featuring denim and plaid shirts, I don't know, but as soon as the calendar turns to September, I find myself longing to turn over my closet and dive into fall fashion.
Unfortunately this enthusiasm is annually undercut by the realities of the weather: September is still true "summer" across most of the country. Today, for example, it is approximately one million degrees with one thousand percent humidity. However much I might long for them, it's simply too hot for boots and sweaters.
At the same time, it feels too "fall" to wear my summer favorites. Breezy summer floral dresses and white eyelet tops feel outdated and behind the times in these pre-fall days. How's a girl to dress to fit the needs of both fashion and function?
01. Color palette is key.
Fashion is as much about palette as about pieces. Summer showcases fluorescents, corals, turquoise blues, sunshine-yellows, whitest-whites, brilliant greens. Fall's colors are warmer and earthier (Madewell pretty much maximizes this palette year round). As we hit September, I won't be wearing my true-white shift dresses, but the cream floral dress I nabbed in a mid-summer sale will certainly get action; I'll trade out bright blues for navy or periwinkle (this year's "it" color, it seems!); leave sunshine yellows for saffrons, kelly green for forest.
02. Texture matters.
Summer's fabrics are linen and eyelet. Leave these behind as we move into fall: pull out your silks and laces instead. Too hot for "real" clothes? A simple lace cami does the work of a summer tank, but suggests the richness of fall instead of the breeziness of summer. Leave linen pants and skirts behind (and the eternal war with their wrinkles!), and reach for denim, corduroy (lightweight for now), and heavier cottons.
03. Put off layering.
This hallmark of fall fashion (blouse-under-sweater, skirt-with-tights-and-boots) has no place in 80+ temps, but if you break down your regular fall outfits, you can use the pieces now. The maroon corduroy mini that I normally pair with tights and booties can feature in pre-fall with simple flats or sandals and a summer blouse: the colors are "right" and so is the weight. The gingham long-sleeved button-down that I normally pair with a vest or pullover looks fresh with white denim shorts. Which leads me to…
04. Play with proportions.
While it's still too hot to wear much clothing, try pairing one covered item with a summer-nothing. My favorite look involves long sleeves on top with a leggier bottom. Continuing to show some skin keeps you season-appropriate, but a longer-sleeved top suggests fall and ups your edgy-fashion-factor: a tank top and jeans is expected; a long-sleeved blouse and cute shorts is not. Cue the compliments!
05. Shake up your shoes.
While it's too early (read: hot) for tall boots and even perhaps for classic black booties, it's definitely appropriate to shift into shooties, loafers, and low-heeled pumps. Again, color palette is key here—heavy black is probably a bit much, but lighter browns and grays are ideal. Pairing more covered shoe options with your shorts and skirts will lend a weightiness evocative of fall without significant increase to your personal heat index.
No need to wait for crisp days to break out your fresh fall fashion! With these tips, you can live these liminal days between summer and fall with style and flair.