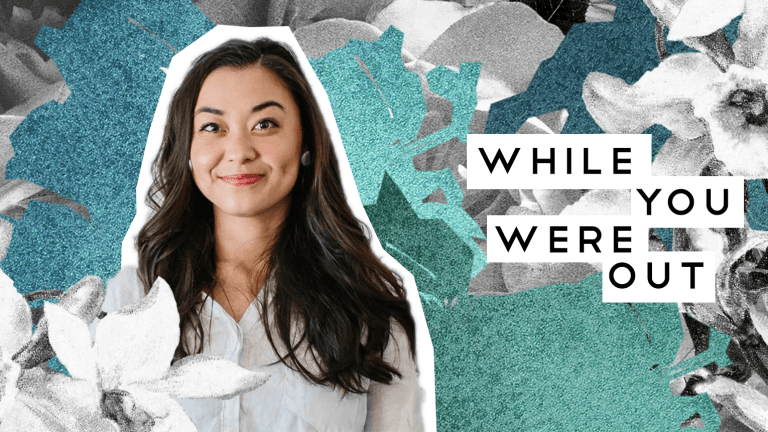 'Emily Doe' from Stanford Rape Case Reveals Her Identity—and Other Notes from the Week
Catch up on all the news you might have missed with our handy summary of the week's top stories.
We're pleased to bring you "While You Were Out"—Verily quick takes on the happenings of this week.
Hurricane Dorian Devastates the Bahamas
On Sunday the category-five Hurricane Dorian ravaged the Bahamian islands of Abaco and Grand Bahama with torrential flooding and winds so powerful that they sent cars and trees flying. Flooding destroyed much of the communities' infrastructures, leaving many homeless and most others without access to food and clean water.
On an international scale, multiple governments and organizations have come together in solidarity to offer aid to the devastated islands. The Bahamian government has sent mass numbers of law enforcement and healthcare workers. Both the United Nations and the International Red Cross have mobilized, faced with a grave humanitarian crisis as people search desperately for loved ones or wait on rooftops to be rescued. The U.S. Coast Guard was able to airlift some injured people while other rescuers reached those in need by jet-ski. The U.S. government, meanwhile, sent rescue teams to assist the local government as Britain's Royal Navy provided its own aid. Jamaican defense force officers will soon deploy to enforce security in the midst of mass chaos and looting. In monetary terms, the United Nations pledged $1 million in aid and the Canadian Prime Minister pledged $1.5 million.
Even those islanders not completely stranded are currently badly in need of vital resources. A Red Cross spokesperson stated that almost half of the homes in Abaco and Grand Bahama are either severely damaged or completely destroyed, while U.N. officials say that more than sixty thousand people will need food and even more than that will need clean drinking water.
The destruction and suffering are profound, as is the generosity of those rallying to help those in need. Click here for a list of ways to contribute financially or otherwise. —Mariel Lindsay
Meet Chanel Miller
In 2016, a young woman identified only as Emily Doe read a powerful impact statement regarding her sexual assault at Stanford University, in the since infamous case against Brock Turner. Now, Chanel Miller has identified herself publicly, and her memoir Know My Name will be released later this month.
Previously going by her pseudonym, Miller was at the center of national headlines after Turner attacked and raped her outside a fraternity party in 2015. The crime, trial, and its subsequent media coverage created national controversy especially as Turner was judicially treated with kid gloves—his status as an athlete was continuously cited as part of the plea to spare him punishment, and Judge Aaron Persky sentenced Turner to just six months in jail, of which he only served three. Persky has since been recalled.
Although Chanel Miller's experience preceded the #MeToo movement, there is no doubt that her experience, and the injustice she received from the judicial system, played an influential role in the massive surge of women who came forward about their experiences of sexual assault and harassment. "It is one of the most important books that I've ever published," Andrea Schultz, the editor-in-chief at Viking, said. She says that it has the potential to "change the culture that we live in and the assumptions we make about what survivors should be expected to go through to get justice."
A CBS News "60 Minutes" special featuring Miller is set to be aired on September 22, just two days before the release of her book. Although I expect it to be a heavy read, I look forward to reading Miller's courageous words. —Gabriella Patti
Palestinian Women Demand Justice after Alleged Honor Killing
Hundreds of women protested outside the Palestinian prime minister's office in the West Bank city of Ramallah this week, insisting that the government investigate after a young woman died in what many suspects to be an honor killing.
Israa Ghrayeb, twenty-one, died last month after suffering severe injuries. Her relatives say she was possessed by demons and was being "treated" by local clergy when she leaped from a second-floor balcony outside her home. According to their claims, Ghrayeb died after breaking her spine in the fall. Friends, meanwhile, said she was beaten by male family members after a video was disseminated online showing her venturing out with a romantic partner. They've circulated an audio recording in which Ghrayeb's cousin allegedly complains to her brothers about the young woman's post on Instagram.
Ghrayeb was a makeup artist with twelve thousand Instagram followers. The clip she uploaded showed her with a man who had proposed marriage—and although her family says they approved of the match, the two were not formally engaged. In some Islamic communities, her behavior would have been viewed as bringing dishonor to her family.
The case has sparked widespread outrage and calls for justice in the local community. The Palestinian Authority has vowed to investigate and punish any perpetrators, but women's rights activists say what's needed most of all is a reform of the penal code, and new laws to protect women and children from domestic violence. —Margaret Brady
Hospital Receives Violation after Forcing Nurse to Perform Abortion against Her Will
A nurse at a Vermont hospital who says she was forced to participate in an abortion procedure, despite having made it known to her employer that she objected for reasons of conscience. The nurse submitted a complaint in May of 2018, and this past week the Office for Civil Rights at the Department of Health and Human Services issued a violation against her employer, the University of Vermont Medical Center (UVMMC), charging the hospital with breaking the law.
The Atlantic reports, "After being told that she would be treating a patient who had experienced a miscarriage, she discovered that she had actually been scheduled to help with an elective abortion . . . and the nurse's boss allegedly would not allow her to step out of the procedure. Fearing retaliation, or that she would lose her job, the nurse agreed to go through with it." The hospital defended itself in a statement saying it "has robust, formal protections that strike the appropriate and legal balance between supporting our employees' religious, ethical, and cultural beliefs, and making sure our patients are not denied access to safe and legal abortion."
But as Roger Severino, the head of the Office of Civil Rights, told the Atlantic, "Religious-freedom laws are the ones mentioned in the very first amendment to the Constitution—they have pride of place. And they have been neglected for too long." Per the HHS violation's requirements, the Vermont hospital must agree to honor "an unqualified right for health-care personnel to decline to participate in abortions without fear of adverse employment actions or loss of staff privileges." —Mary Rose Somarriba
Julie Andrews Gets Lifetime Achievement Award in Venice
This week, actress and singer Julie Andrews received honors for a lifetime of achievement at the Venice Film Festival. Now 83-year-old, Andrews won an Oscar in 1965 for her role in Mary Poppins and continued to receive international acclaim with her role in The Sound of Music the following year, continuing with more recent roles such as her part in The Princess Diaries alongside Anne Hathaway.
Upon receiving the Golden Lion for Lifetime Achievement, Andrews exclaimed, "I consider myself so blessed to have spent a large part of my professional life in the cinema arts . . . I still marvel at the fact that I was the lucky girl who was asked to play those wonderful roles." The rest of us were blessed to watch her. —MRS
#MeToo: Voice Singer Sues Disney, Former Manager for Sex Abuse
Singer-songwriter Jordan Pruitt, who appeared on season three of NBC's The Voice, filed a complaint on Tuesday revealing accusations of sexual exploitation dating to when the singer was fourteen.
Pruitt has named her former manager, Keith Thomas, her former record label, Hollywood Records, and its parent company, the Walt Disney Co., as defendants. She claims that Thomas, a veteran Nashville producer who has worked with stars like Amy Grant, drugged her and had intercourse with her up until a week before her sixteenth birthday. He reportedly isolated the teen from boys her own age, all the while telling her that no one would understand their "special relationship" and that "their love was a secret." Hollywood Records and Disney are included in the lawsuit because they allegedly required Pruitt to work with Thomas and failed to stop the abuse.
In a statement to industry trade publication Variety, Pruitt said that speaking out about abuse is still a hurdle for members of the old-school Nashville music scene. "I am standing up and speaking out not only for myself but for the countless victims across the world who have never been given the opportunity for justice," Pruitt said. "It is extremely taboo for anyone to speak about sexual abuse, misconduct, and exploitation of minors in the ordinarily conservative and genteel South. Over and above decorum, many fear the repercussions of coming forward, for example (getting blacklisted from the industry, losing work, having YOUR reputation tarnished). To many victims, coming forward feels shameful."
This episode is just the latest incident in the wave of #MeToo accusations and revelations, which have exposed the exploitation of women in the entertainment industry. The movement shows no sign of slowing down. —MB
United States Negotiates Peace Deal with the Taliban
Over the past few months, U.S. officials have been meeting with Taliban members in Doha, Qatar to discuss a potential peace deal and a long-awaited end to the eighteen-year U.S. military occupation in Afghanistan following the September 11, 2001 terrorist attacks. This nearly two-decade conflict, commonly referred to as the U.S. war in Afghanistan, has, in the words of President Trump, "wasted billions and billions of dollars and more importantly thousands and thousands of lives." He, like many others, is eager to end the U.S. involvement in Afghanistan, a country marked by unending civil unrest.
It would seem that, at long last, the United States is making significant gains in the movement to make some sort of peace deal with the Taliban, an Islamic political and military organization within Afghanistan that frequently wages war against the national government as well as with others. The Taliban, for its part, has demanded the withdrawal of U.S. and other foreign troops, and they want it done within a matter of months, not years. The U.S. is willing to somewhat rush withdrawal despite logistical issues because of its desire to end the costly conflict. In return, the U.S. wants two things: first, they want the Taliban to not harbor international terrorist groups like Al Qaeda; second, they want the Taliban to begin peace talks with other groups within Afghanistan, most notably with the Afghani government itself, which the Taliban has long considered a "puppet government" that rules illegitimately.
On Monday the first phase of the tentative deal was announced: the United States would withdraw almost five thousand troops and close five bases, all within 135 days. Then, on Thursday, the Taliban orchestrated a deadly attack near the U.S. Embassy in Kabul. The world anxiously awaits to see how this will affect peace negotiations and, more specifically, how it will affect U.S. troop withdrawal. —ML
Female Inmate Sues Denver After Being Forced to Give Birth Alone In Jail Cell
An inmate at a Denver, Colorado jail is suing the city of Denver and the county jail after being forced to give birth alone in her jail cell. Diana Sanchez was eight months pregnant when she was placed in Denver County Jail in 2018. Several weeks later, she went into labor while in her cell, eventually giving birth to her baby boy in the small, dirty space after hours of writhing and screaming in pain. All the while, her labor and the birth of her son were captured on a surveillance camera, as she was supposed to be monitored by medical and jail staff, leaving no doubt that Sanchez's accusations are true. A deputy could see her baby crowning and went to fetch a nurse. However, the nurse allegedly told the deputy not to bother him until he was off the phone.
Sanchez is suing six individuals associated with the prison, along with the city and county of Denver, and the Denver Health Medical Center in federal court. "The pain is indescribable," Sanchez said. "What hurts me more, though, is the fact that nobody cared."
Sanchez's lawsuit comes following an investigation conducted by the Denver Sheriff's Department, after which the employees involved with the incident were cleared and the department made a standard, though empty statement about reviewing their policies. Sanchez's experience is not the first of its kind. Pregnant inmates have reported major injustices such as being denied care, not being properly fed, being held in cramped cells or solitary confinement, and being shackled while in labor. Information regarding the number of incarcerated pregnant women is not well documented, but the number of pregnant women in the federal and state prison systems may have increased, due to the fact that the number of female inmates across the nation has gone up dramatically and the United States now houses 30 percent of the world's female prisoners.
Here's hoping that some reform comes from Sanchez's horrific situation and that those responsible for her inhumane treatment are held accountable. —GP
Step Aside, Gatorade: The New Sports Edge is to Track Your Cycle
The U.S. Women's Team won the World Cup again this year. What many fans didn't know is that they may have owed their peak fitness, in part, to tracking their menstrual cycles.
According to a BBC report this week, elite athletes around the world are using sophisticated apps and data about their cycles to create adapted nutrition and training plans. The hormones a woman experiences throughout the month can impact everything from her energy level to the way her body reacts to exercise. Thus, women athletes can flip their menstrual cycle from a perceived drawback to a customized competitive advantage.
As one (male) swim coach told the BBC, "We could be proactive in adapting high-intensity sessions when it didn't fit their cycle. There are also points in a cycle where there are higher chances of injury—increased awareness of this allowed us to build in more recovery work and progressive warm-ups." Some apps even make recommendations for what foods to eat at different phases of the cycle, giving athletes and their trainers even more data to work with.
It's truly exciting to see women working at the very highest levels of their professions, who know that growth in understanding their bodies is a key to achieving peak physical performance. —MB
Good News of the Week: Photographer Creates Project Honoring Mothers Who've Experienced Pregnancy Loss
Arkansas photographer Melanie Paterak knows what it's like to lose a baby because she had a miscarriage in 2015. So when a local woman reached out asking if she would help create a project about pregnancy loss, she agreed. She recruited women and posed them with chalkboards that showed comments each woman had received after her loss. Some remarks were positive and helpful, others, less so. Some of the women shared their "rainbow" baby's birth date or due date. Check out the heartfelt photos that put these moms and their little ones in the spotlight. —MB
Watch of the Week
Emily Esfahani Smith, whose writing we have enjoyed Verily, was featured on The TODAY Show this week discussing her best-selling book The Power of Meaning: Finding Fulfillment in a World Obsessed with Happiness. Mary Rose Somarriba discussed the book in this 2017 Verily article when it first came out. Click the image below to watch the TODAY interview, and check out the book if you haven't already.
Miss our "Articles of Note" section? Subscribe to Verily Daily emails and check out our new suggested reading at the bottom, in our new "May We Recommend" section.