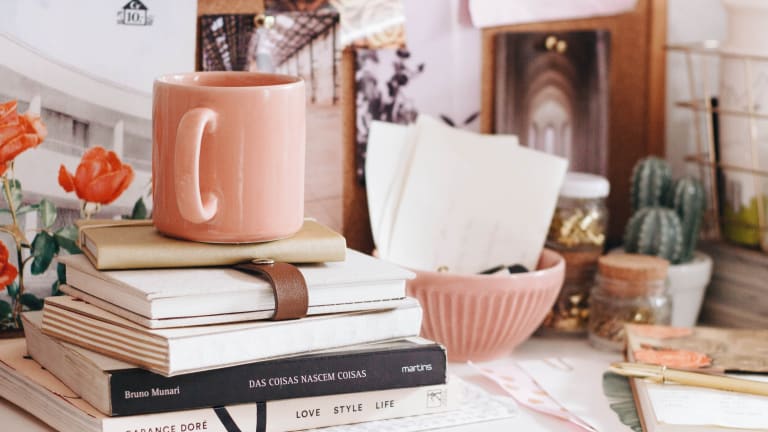 Get into the Back-to-School Spirit with These Literary Stationery Sets
"Back to School" is a season to be celebrated—even after we graduate.
I have always loved the back-to-school spirit of September. Growing up, it meant a new school year, new classes, new lessons to learn, and new reading lists. But it also meant all the trappings of academia that come with that: new binders, planners, pencils, notebooks, and the list goes on. Fortunately, the back-to-school tradition does not have to end after you've walked the graduation stage in cap and gown. With a new stationery set or office accessory, anyone, whether a student or not, can get into the back-to-school spirit. I find that a new notebook, book bag, or writing instrument tends to inspire me to check items off my to-do list, set new goals, and be more intentional with my time.
With that in mind, here are some bookish office accessories on my wishlist perfect for anyone looking to bring the spirit of September into their life. From tape featuring Virginia Woolf quotes to faux feather pens to a mug with the names of iconic mothers in literature, this list has something for every book-loving woman eager to hit "refresh" on her productivity.
01. Jane Austen Pencil Set
It is a truth universally acknowledged that every Austenite needs a little bit of Jane in her everyday life. This set of charming Jane Austen-themed pencils comes with seven pencils in feminine pastel shades, each with an iconic passage from her novels (or, OK, the movies) engraved in gold foil lettering, such as, "To love is to burn" and, "Know your own happiness."
Available from Etsy here.
02. Anna Karenina Tote Bag
If you're looking for something to transport your daily essentials (and new bookish office supplies, of course) to and fro, this Anna Karenina tote bag is perfect for you. It measures 17 x 14.75 inches, so it will fit most laptops, notebooks, and reading material, and has a handy inner pocket to slip your phone or wallet into. It is the perfect literary alternative to your average canvas bag; at first glance, it has a stylish portrait of Leo Tolstoy's classic heroine and, if you peer closer, you'll discover the design is made from 20 thousand words of fine-print text.
Available from Litographs here.
03. Book Nerdess Pouch
This pouch is the adult bibliophile's version of a childhood pencil case. It comes in two different sizes, has a minimalist black-and-white design with a gold zipper pull, and will let you display your deep fondness for literature every time you pull it out.
Available from Etsy here.
04. Virginia Woolf Tape
Whether you're a devoted washi tape user and love to decorate your planner and notebooks with strips of colorful patterns, or you simply use tape to seal envelopes or wrap parcels, you'll find a use for this bookish roll of tape. Available with either a transparent or white background, this tape features a quotation from Virginia Woolf's classic essay "Modern Fiction," looping endlessly in a hand-lettered print.
Available from The Literary Gift Company here.
05. Mothers in Literature Mug
OK, a mug technically isn't an office supply—but a cup of hot coffee or tea is arguably a necessary part of a productive work station. This mug has the names of moms from literature written across it, including my personal favorites: the ever-inspiring Marmee March and the always-flustered Mrs. Bennet. Whether you're a mom yourself and love an inspiring mug, or are looking for a thoughtful gift for your mom, this mug is a must.
Available from The Literary Gift company here.
06. Bibliophile Planner, 2020
Though the new calendar year won't begin for another few months, #planneraddicts know that now is the time to start looking for a new agenda. Get set for January with this bibliophile planner, which is full of cute illustrations of stacks of books by Jane Mount, has a convenient side pocket and ribbon to mark your place, and has notable dates from literary history noted throughout.
Available from Amazon here.
07. Reading Woman Wall Calendar, 2020
For those of you who prefer the at-a-glance functionality of a monthly wall calendar, this beautiful 2020 calendar featuring paintings that celebrate the power of reading. Each month includes an elegant painting by an artist from the eighteenth to the twentieth century that depicts a woman reading, accompanied by a quotation meditating on literature and the experience of reading.
Available from Calendars.com here.
08. Shakespeare Notebook
No literary-themed list could be complete without a little something from the Bard. This notebook features an empowering quotation from William Shakespeare: "And though she be but little, she is fierce." It comes in a small size, measuring 5 x 7 inches, and has a hardback cover and lightly lined pages, making it the perfect portable journal or notebook.
Available from Wordery here.
09. Bibliophile Vase
There's nothing like having a small plant or flower to brighten up your workspace. This ceramic book-shaped vase is the perfect fit for green-thumbed book lovers and is beautifully illustrated (once again) by Jane Mount. On the front, it reads "A compendium of flowers," and on the back are the words of Oscar Wilde: "With freedom, books, flowers, and the moon, who could not be happy?"
Available from Chronicle Books here.
10. Feather Gel Pens
Even though writing with a modern retractable pen is so much more convenient than dipping a quill into ink, there is something lovely and whimsical about the idea of writing a letter under the fading light of a candle with a feather pen. These colorful feather gel pens are the best of both worlds. They come in silver, gold, teal, and rose, and will be sure to inspire you as you write your next letter, grocery list, note, or calendar entry.
Available from Etsy here.