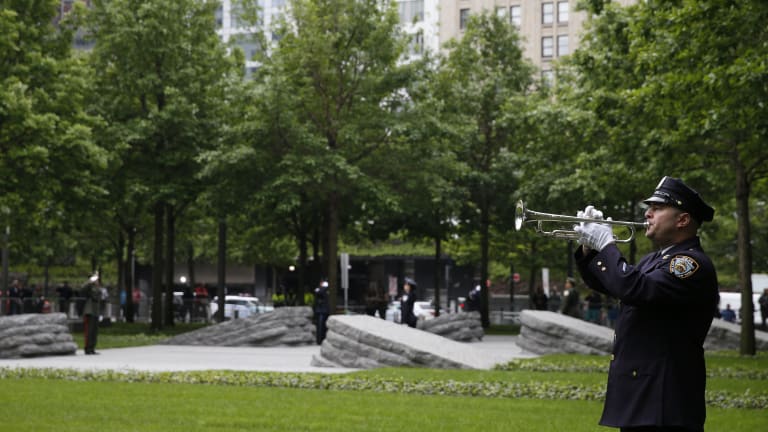 18 Years after 9/11, a New Memorial Honors Those Who Have Suffered Ever Since
9/11 is not merely a day–but an immense, unfolding tragedy.
Marcy Borders, age 28, felt the building shake.
She was still new at her job in the north tower of the World Trade Center, and her Bank of America supervisor tried to calm her down. But as she watched office furniture begin to fly past the windows of her 81st floor workplace, she knew she couldn't stay put. In a video interview with filmmaker Mike McGregor, Borders described what happened next.
She tried to escape down the main stairwell, but it was packed with panicked workers also trying desperately to get away. Firefighters pushed by, going the opposite direction, screaming, "Run and don't look back!" Just as Borders reached the bottom, the south tower of the World Trade Center collapsed in an inferno of pulverized concrete. She fled from a massive cloud of debris that seemed to be chasing her, but she couldn't run fast enough. When it caught her, she was thrown onto her hands and knees.
"Every time that I inhaled, my mouth just filled up with it. I was choking, I couldn't see my hand in front of my face," Borders told McGregor. She repeated, "I don't want to die; I don't want to die." That's when a stranger grabbed her and pulled her to safety. At that fateful moment, a photographer for the press agency AFP snapped her photo.
In the image, Borders is shown completely coated in dust, from her hair to her jewelry to her boots. Her hands are outstretched and covered in gloves of powder. The expression on her face conveys the trauma she is living through. The photojournalist did not get her name, but unbeknownst to Borders, her picture would be transmitted around the world, earning her the moniker, "Dust Lady."
To many who saw the photo, Borders was a symbol of survival. But in the years that followed September 11, the young professional who went to work that morning was consumed by the fallout from the day's events. In 2011, she told the New York Post about the crippling depression and anxiety that led her to turn to drugs and alcohol. She lost custody of her children. "It was like my soul was knocked down with those towers," she told the Post. As the ten-year anniversary of the attacks approached, she'd gotten her life on track and had her family back.
Then, Borders got bad news from her doctor: she had stomach cancer. She'd long feared that the toxic dust she inhaled would destroy her health. She died in 2015 at age 42, leaving behind two children, the youngest six years old.
At the time of Marcy Borders' passing, she was a part of a swelling tide of Manhattan residents, workers, first responders, and others who were falling ill, and often dying, of ailments related to September 11. The World Trade Center Health Program has certified more than 14,000 cases of cancer caused by the toxic brew of asbestos, jet fuel, lead, and other poisons that lurked in the rubble around Ground Zero. Thousands more occurrences of respiratory illnesses and mental health conditions have been identified, with names like "WTC-Exacerbated Chronic Obstructive Pulmonary Disease." For the general public, the terrorist attacks are part of the past; "September 11" neatly confines the events to a single day. But for these survivors and their families, the suffering of that morning is not just something that happened: it is happening, even as you read these words. The death toll continues to rise, and eventually we will lose more 9/11 victims in the aftermath than we did on the day itself.
Deaths deferred
"If you look back at the initial 9/11 memorial design competition, all the way back in 2002, the jury that selected the design knew that the story probably wasn't over so soon after such a catastrophic chapter in our history, even though they couldn't anticipate in what ways," Allison Blais told me. She is the Chief Strategy Officer for the National September 11 Memorial & Museum in New York.
As designed, the Memorial reflects that it is hallowed ground made sacred by grief and sacrifice. Two reflecting pools occupy the space where the two towers once stood. Surrounding the pools are panels engraved with the names of each person who died in the attacks on the World Trade Center in 2001 and 1993, in the Pentagon, and near Shanksville, PA. It has become a place of pilgrimage for presidents, popes, and thousands of ordinary citizens.
"The memorial jury actually included guidance in their selection of that design that it should be able to evolve over time," Blais said. "So several years ago when it became clearer and clearer that the sacrifices that were made after 9/11 would be met with such suffering, we brought back the original architects of the Memorial to see how we could live up to that promise to evolve."
In May this year, that promise took shape when the 9/11 Memorial Glade was officially dedicated. The Glade honors and remembers the first responders, survivors, residents, and others who continue to bear the consequences of that day in their bodies and their spirits. Designed within a grove of trees, the Glade features a pathway winding between six giant, rough-hewn stone monoliths, which rise up from the ground. Cracks in the stones are inlaid with remnant steel from the Twin Towers, intended as a reminder of how we can be strongest at our broken places.
Blais spoke about the group of stakeholders, including survivors and family members, who shared their hopes for the Glade with the architects. "One of the first things they all said was that they wanted it to be inclusive of everyone who is suffering," she said. "And that includes the residents who came back downtown and had the same suffering because of that."
Bridget Gormley was present at the moment the Glade was dedicated. Her father, William Gormley, passed away in 2017 from bladder and lung cancer he contracted as a result of months of grim work with the FDNY in the mangled ruins of the World Trade Center. She told me about her own experience of 9/11, sitting in a neighborhood classroom filled with fellow students whose fathers were firemen and policemen. Child after child was removed from the room without explanation, until finally only about five students were left, Gormley among them. A foul smell drifted through the open schoolroom windows.
William Gormley's fire company was the first on the scene after the towers collapsed. "All the guys started coughing almost immediately," his daughter said. "Even today, if you get a group of firemen around a table and they start laughing, they start having coughing fits." Gormley was diagnosed with cancer around Christmas 2016; he died six months later.
Other family members who worked at Ground Zero are still alive. "Every little cold they get, they have to think 'this could be it.'" Bridget Gormley explained. "They're living, knowing this is a very real possibility that could happen to them," she said. "People wake up every morning and have to address that day, again and again and again, whether it's because of their health, or their mental health."
She says that the Memorial Glade is "huge" because it acknowledges that September 11 is not just one day, but a vast, unfolding tragedy. "The new memorial has no names," she points out. "Because there are going to be so many victims, it would be impossible to keep track of all of them and not leave anyone out. The first responders get the limelight, as they should, but you have a whole community of people that were told to go back home, that were told to go to school, that were told to go back to work, and now they're all getting sick. They're dying."
On this eighteenth anniversary of the attacks, we have an opportunity to remember and honor the pain of people for whom September 11 is a day that will never end. As one of the Memorial Glade's inscriptions poignantly does:
Here we honor the tens of thousands
From across America and around the world
Who came to help and to heal
Whose selflessness and resolve
Perseverance and courage
Renewed the spirit of a grieving city
Gave hope to the nation
And inspired the world.