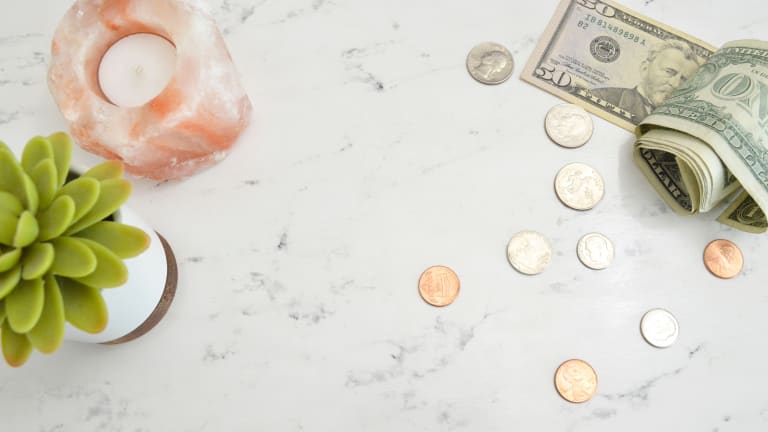 Three Podcasts for Women Looking to Makeover Their Finances
Open your wallet with confidence
The world of personal finance can feel incredibly overwhelming. Whether you're trying to start a retirement account, invest in stocks, or just put a little extra money aside each month for those impromptu coffee runs, it's important to know how much is in your bank account and where your cash is going.
The problem? Talking about money can feel awkward. If you (like me) are not a numbers person, the mere sight of a bank statement is enough to make you click away from your inbox. But the truth is that the more time you spend confused about the state of your finances, the less time you're spending living your life and giving generously.
Money doesn't have to be complicated. The longer you push off knowing your numbers and evaluating your finances, the bigger the mess you'll have down the road. By understanding financial topics now, you'll be able to open your wallet more confidently, knowing that your money is going where it should.
Here are three podcasts—for women and by women—that will help you give your bank accounts a makeover and get your financial house in order.
The Rachel Cruze Show
Rachel Cruze is probably best known for being the daughter of finance guru Dave Ramsey, but she's also a money whiz in her own right. If you're drowning under a mountain of debt (hello, student loans!) or trying to figure out in which order to make money decisions (should we buy a house? Pay off our car? Save for retirement?) The Rachel Cruze Show will help you understand how your money is working for you. The show tackles mainly base-level finance topics like saving money on everyday items and avoiding shady credit card companies.
Can't miss episode: Stop Letting Food Eat Up Your Budget
So Money
Farnoosh Torabi is a world-renowned finance expert. Her podcast, So Money, not only helps women with complicated finance issues like mortgage refinances and purchasing stocks, it also helps uncover your money mindset and assists women in unpacking some of the unhelpful perspectives we were raised to have about money.
A former finance reporter, Torabi understands that the way we spend our money is deeply personal and that our history affects our finance decisions. As she says on her website, money is "more than dollars and cents." Listeners will walk away not only knowing more about how to make money, but also about why making money isn't something to be ashamed of or embarrassed about. Along the way, Torabi interviews power women like Shark Tank's Barbara Corcoran.
Can't miss episode: All About That Roth IRA
Money Girl
Laura Adams tackles money topics in quick, digestible episodes. If your schedule is jam-packed and you're trying to fit in financial education on the margins, Money Girl will help you do just that.
Laura's theory is that money doesn't have to be that complicated—with a few simple ground rules and a bit of information, women can grow their bank accounts and live their life without constant financial stress. Her episodes are the perfect combination of informative and empowering. The way she shares complex information in everyday language makes this show a must-listen.
Can't miss episode: A 6-Step Guide to Managing Your Student Loans
Getting a handle on your finances can be daunting. But listening to the wisdom of women who have been there and done it is a great way to start.