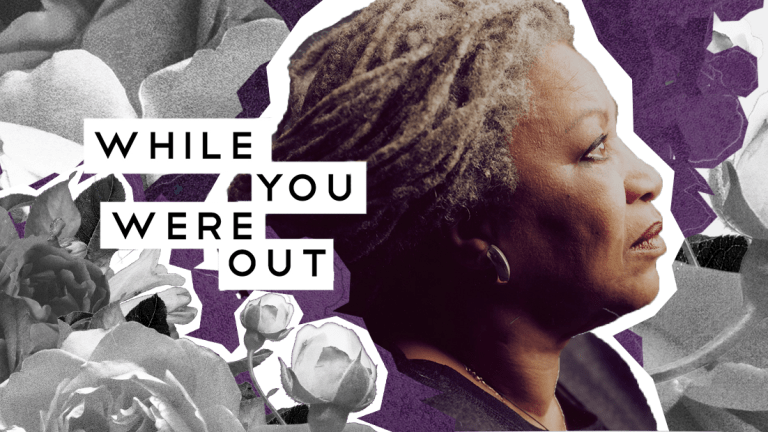 Toni Morrison, 'One of the Great Voices of 20th-Century Literature,' Dies—And Other Notes from the Week
Catch up on all the news you might have missed with our handy summary of the week's top stories.
We're pleased to bring you "While You Were Out"—Verily quick takes on the happenings of this week.
Toni Morrison, 'One of the Great Voices of 20th-Century Literature,' Dies
Toni Morrison passed away this week at the age of 88, due to complications from pneumonia. In her decades as a novelist, essayist, editor, and professor, Morrison shaped American culture through her resonant and powerful voice.
Morrison's career began at her alma mater, Howard University, where she taught English. She then became the first black female editor in fiction at Random House, and shortly thereafter added the title of author to her resume, with her first novel, The Bluest Eye. In the course of her life, Morrison published a total of eleven novels, the last of which was released in 2015. Her works have at times been controversial, especially when included in school curriculums. At the same time, these books, with her numerous nonfiction writings, also contributed to the many awards with which she was honored in her lifetime, including the Pulitzer Prize, the Nobel Prize for Literature, and the Presidential Medal of Freedom.
Sonny Mehta, chairman at Knopf, which published the majority of Morrison's novels, said in a statement, "I can think of few writers in American letters who wrote with more humanity or with more love for language than Toni. Her narratives and mesmerizing prose have made an indelible mark on our culture."
One of the beautiful things about literature is that it allows voices to live on beyond human years. That was something Morrison appreciated much before her death. In her Nobel Prize acceptance speech, Morrison said, "We die. That may be the meaning of life. But we do language. That may be the measure of our lives." By this measure, hers was a life well-lived. —Lindsay Schlegel
Mass Shootings in El Paso and Dayton Reignite Debate on How to Reduce Mass Shootings
This past weekend, within hours of one another, two mass shootings left dozens dead and incited a renewed, highly emotional, wave of debate regarding gun laws.
On Saturday a gunman opened fire at a busy Walmart in El Paso, Texas, a town bordering Mexico, where Latinos from both sides of the border were congregating to do their back to school shopping. Patrick Crusius, 21, who had traveled a distance to this specific Walmart, had posted a manifesto to an online message board just minutes before the shooting, in which he expressed his hatred for immigrants and Latinos in general.
Among the 22 killed were a young couple, Andre and Jordan Anchondo, who visited the store with their 2-month old son Paul to buy supplies for Jordan's older daughter's birthday party later that day. When the shooter aimed in their direction, Jordan desperately shielded her child from the gunfire while Andre tried to cover them both. While both parents died, the baby who suffered broken fingers and was grazed by a bullet, miraculously survived.
Then, just hours later, another shooter, Connor Betts, opened fire in a busy area of downtown Dayton. Ohio, killing nine people—including his own sister—and injuring many more. Not much is yet publicly known in regards to Connor's motivations, although he's been found to have harbored violent ideologies.
Many people, grief-stricken and terrified by the dual mass shootings, are clamoring for a change to gun laws. Policy proposals and calls for politicians to 'do something' inundate the political climate as shell-shocked citizens demand freedom from fear of another mass killing. Meanwhile, those studying the trends of mass shooters have published findings that indicate childhood exposure to violent trauma, fatherlessness, and misogynistic views are among some of the significant factors many perpetrators share in common, beyond gun access. Here's hoping our culture can come together to find real solutions to move forward, alongside healing. —Mariel Lindsay
Public Health Officials Outwit Terrorist Group in Nigeria
Boko Haram, a West African jihadist organization regarded as one of the world's deadliest terrorist groups, has been kidnapping and killing civilians for a decade. Perhaps most notorious for kidnapping hundreds of female high school students in 2014 (spurring Michelle Obama's #BringBackOurGirls campaign), they pose another threat to Nigeria as the country works industriously to eliminate polio, a crippling and potentially fatal infectious disease.
The group isolates and misinforms people in remote Northern villages under their control, claiming wrongfully that the vaccine causes "infertility and bone injuries." They even resort to violence in their fight about the vaccine, having murdered at least 9 vaccination team members in 2013. As a result, approximately 66,000 Nigerian children are currently being blocked from receiving life-saving medicine.
Public health officials, however, aren't going down without a fight, despite the significant risk to their own lives. They are determined to get the medicine to those children in remote locations controlled by the terrorist group, and so they employ satellite imagery and military aid, as well as invaluable vigilantes, young men trained by the military as well as in how to properly administer vaccines.
UNICEF's deputy representative for Nigeria has stated, "We are fortunate to have informants within largely inaccessible areas…[Nonetheless] we are not sure of the full polio picture in these areas if any children are experiencing paralytic symptoms, or how many kids remain unvaccinated…The inaccessibility to these children is a far bigger issue than even the misinformation campaigns that exist."
UNICEF, along with military members and heroic volunteers, continue their battle against both polio and Boko Haram, whom Nigerian officials hope to neutralize despite their volatile history. —ML
Emma Watson Announces New Harassment Helpline
Actress Emma Watson continued her women's rights advocacy this week, as she helped to launch a free hotline for women experiencing workplace sexual harassment.
The hotline will offer legal advice to victims living in England and Wales and is backed by Time's Up UK. Watson, along with members of the public, donated to get the service up and running, after it became apparent that there was a gap in services for women who needed an affordable way to learn about their rights and their legal options in the face of harassment at their jobs.
In a statement, Watson said of the hotline, "It's completely staggering to think that this is the only service of its type given that research has found that as many as one in two women experience sexual harassment in the workplace."
One hopes that efforts like Watson's will help survivors of sexual harassment get all the support they need. —Margaret Brady
Barneys New York Goes Bankrupt
The iconic luxury department store Barneys New York filed for Chapter 11 bankruptcy protection on Tuesday, the latest retailer to stumble amid the online disruption of traditional shopping patterns.
The brand began in the 1920s when Barney Pressman used the proceeds from pawning his wife's engagement ring to open a discount men's clothing store in Manhattan. In the 1960s, Barneys shifted to luxury goods and in the 1990s, expanded across the continental United States. Stores that will close as a result of the bankruptcy include those in Chicago and Seattle, but Barneys' crown jewel location on Madison Avenue in New York will remain open as the company seeks a buyer.
Although the luxury sector is traditionally considered "recession-proof," retailers of all stripes have been struggling to adapt as consumers spend more dollars online and less time in stores. Shopping at a high-end store like Barneys does provide a unique experience that can't be duplicated on the Internet, but younger shoppers pinched by housing costs and student loans have found resale sites like RealReal.com a more realistic alternative. Meanwhile, the customers who fueled Barneys' growth in the 1990s are now 25 years older and no longer spending on luxury consumables like they used to.
If executives can find the right path out of bankruptcy, it may not be the end for Barneys. We wish them, and especially Barneys employees, the best of luck. —MB
It's Not a Bird or a Plane. It's a Frenchman!
Amazing footage this week shows French inventor Franky Zapata flying through the air and over the English Channel on a jet-powered hoverboard.
Zapata made the trip from Sangatte near Calais, France, on Sunday, riding a "Flyboard," a machine of his own design. He stopped halfway, landing on a boat to refuel by switching to a second backpack. He returned to the air and completed his trip to St. Margaret's Bay in Dover, England, where he addressed a gathered crowd, tearfully telling them he'd reached speeds of more than 100 miles per hour. He made the entire 22-mile trip in twenty minutes.
Zapata made a previous attempt at the feat in July, only to fail when he fell into the water while trying to land on the refueling boat. This time, a bigger boat was used, and he was accompanied by a helicopter escort.
Zapata's device is powered by kerosene and was funded in part by a $1.4 million grant from the French military, which sees some potential logistical and warfighting possibilities in the floating machine. Zapata had debuted the device at a military demonstration on Bastille Day in France, with observers likening him to the Green Goblin from the Spiderman comics. His next goal: a flying car.
Although civilians won't be floating across the sea on hoverboards any time soon, Zapata's invention is undeniably incredible. Bravo! —MB
Kashmir's Autonomy Is Revoked
This past week, India striped the Muslim majority state of Jammu and Kashmir of its autonomy, revoking Article 370 of the Indian Constitution. The Article gives the state of Kashmir special privileges, including its own flag, constitution, and gives residents rights to property and residency. So when the Indian government deployed tens of thousands of military troops into the state this past weekend, panic and protest ensued. The Indian government cut Internet and phone services and placed key politicians under house arrest. The government announced that this measure was taken as a way to integrate Jammu and Kashmir into the rest of India and bring development into the region.
Jammu and Kashmir's relationship with India is unique, to say the least, and the recent turn of events threatens to disrupt the delicate balance that has been in place since the 1940s. Both Pakistan and India have claimed that the Himalayan region is fully theirs, and at the end of British rule in 1947, the two countries went to war over the region, subsequently coming to a ceasefire agreement that split the region in two. Despite the special privileges afforded to Kashmir under Article 35A (a part of Article 370), violent insurgency has still occurred in the Indian-run part of the state led by separatists protesting the Indian-rule. This history leads many to believe that Kashmiris and their supporters will not go quietly into the night and that protests will ensue against the Indian government's decision. —Gabriella Patti
11-Year-Old Iranian Girl Scores Higher Than Einstein on Mensa IQ Test
Tara Sharifi, an 11-year-old Iranian school girl in the UK received a score of 162 points on her Mensa IQ Test—surpassing both Albert Einstein and Professor Stephen Hawking by two points. Mensa, also known as the High IQ society, offers membership to "anyone with an IQ in the top 2% of the population." Sharifi scored well above the "genius benchmark" of 140 points. "I was shocked when I got the result—I never expected to get such a good score," Sharifi said. She said that when she is older she wants to pursue something in mathematics. Congratulations to Sharifi on her incredible accomplishment! —GP
Good News of the Week: Cyntoia Brown Is Released from Prison
Thirty-one-year-old Cyntoia Brown, who at age 16 was given a life sentence in Tennessee when she killed a man who bought her for sex, was released from prison this week, after being granted clemency in January by then-Governor Bill Haslam. Brown's case received public attention in past years when advocacy groups and celebrities alike brought attention to her story, which upon closer scrutiny reveals she was sex-trafficked into prostitution and was acting out of self-defense. During her 15 years in prison, Brown has completed her GED, Bachelor's degree, and has secured a publisher for her memoir, which will be published in October under the title Free Cyntoia: My Search for Redemption in the American Prison System. "I look forward to using my experiences to help other women and girls suffering abuse and exploitation," Brown said in a statement following her release. —Mary Rose Somarriba
Watch of the Week
In other great news this week, 75-year-old actor Danny Trejo, best known for his grisly and tough-guy roles in film and TV, passed a car accident and helped save a child from an overturned car. He also spared the child from witnessing more of the damage than he needed to. See why ABC News calls Trejo a "Good Samaritan" in this brief news clip.
Miss our "Articles of Note" section? Subscribe to Verily Daily emails and check out our new suggested reading at the bottom, in our new "May We Recommend" section.