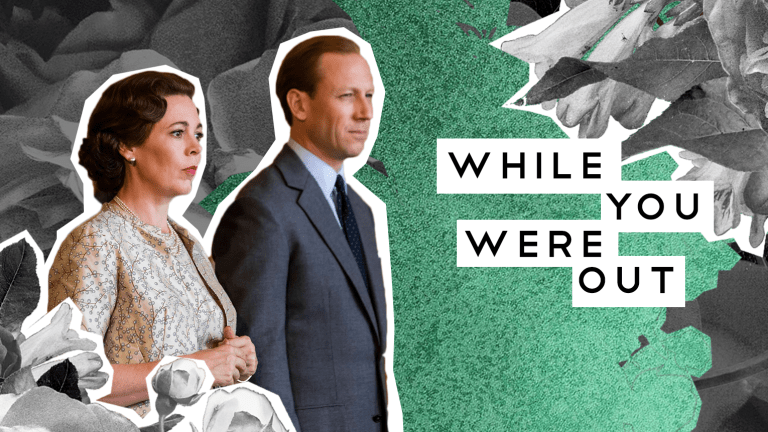 The Crown Returns With New Faces, And Other News from the Week
Catch up on all the news you might have missed with our handy summary of the week's top stories.
We're pleased to bring you "While You Were Out"—Verily quick takes on the happenings of this week.
Get Ready to Put On The Crown
Netflix has announced that the long-awaited third season of historical drama The Crown, will premiere on November 17.
The announcement was paired with a teaser trailer showing Academy Award-winning actress Olivia Coleman in the starring role as Queen Elizabeth II. Coleman replaces Claire Foy, who scored an Emmy for her work on the series. In fact, the entire cast is brand new—the producers have opted to use older actors to reflect an aging British royal family in the series' historical timeline, instead of employing makeup and prosthetics to artificially age the younger original cast. Oscar nominee Helena Bonham Carter will take over as the Queen's sister, Princess Margaret.
The third season will feature the first appearance of Camilla Parker Bowles, who met and dated Prince Charles in the 1970s. She infamously continued her romantic relationship with Charles even after his 1981 engagement to nineteen-year-old Lady Diana Spencer. After Diana's divorce and untimely death, Camilla and Charles married, and she's in line to be the next queen after Elizabeth II. Reports say that Diana will not enter the story until season four, which begins filming this year.
Fans haven't been treated to new episodes of The Crown since 2017, so anticipation has been building. The sumptuous costumes, music, and sets make the show irresistible. Let the countdown begin! —Margaret Brady
Accused Sex Trafficker, Jeffrey Epstein, Dies in Jail
Billionaire Jeffrey Epstein, who faced federal charges for sex trafficking underage girls, died by hanging in prison early Saturday morning. He had pleaded not guilty and was set to stand trial next year. News of Epstein's death has led to much public speculation and an FBI investigation.
Epstein's accusers, as well as victim advocates, have expressed fury at the fact that despite Epstein being under 24/7 suicide watch following an attempt to kill himself in July, he was unsupervised by prison staff long enough to complete the act that would forever remove him from facing criminal charges. In addition, one of the lawyers to Epstein's victim said it is "no coincidence" that Epstein took his own life just hours after the release of documentation illustrating in great detail and depth the horrific scope of his international sex trafficking ring—one that included elite world leaders as clients.
Victims and their supporters have loudly decried what they view as incompetence on the part of the prison staff and management, and likewise, are urging law enforcement to actively pursue any and all of Epstein's accomplices and enablers. The most obvious is Epstein's long-term close friend, socialite Ghislaine Maxwell, who is currently in hiding as she fears repercussions for acting as Epstein's "procurer of girls" for years on end.
One such victim, Jennifer Araoz, who was raped by Epstein at fifteen, said in a statement addressing his suicide: "I am angry Jeffrey Epstein won't have to face the survivors of his abuse in court . . . he will never face the consequences of the crimes he committed, the pain and trauma he caused so many people."
At the same time, attorneys for the victims are determined to aggressively continue the investigation and pursue justice to the full extent of the law, suing his estate. One hopes that though Epstein has escaped his day in court, his accomplices will not. —Mariel Lindsay
Researchers Seek a New Medication for Loneliness
A report this week indicates that scientists are working on a new medication to combat the side effects of loneliness.
According to National Post, researchers at the University of Chicago have been experimenting with Pregnenolone, a hormone normally produced in the adrenal gland in the human brain. Studies in socially isolated lab mice have shown that the substance can neutralize a mouse's exaggerated threat response, which is similar to the anxiety that lonely people experience. That heightened alertness, in turn, causes them to have a hard time accurately interpreting other people's intentions and emotions. Human studies have gotten underway as part of "Project Loneliness," and researchers are hopeful they will show similar results.
If it's shown to be effective, this drug would certainly be a novel approach to the mental health consequences of what some call an epidemic of loneliness in the modern world. Many of the current psychiatric medications used to help people struggling with the side effects of isolation are poorly understood, even by the researchers who developed them. In contrast, Pregnenolone would seem to be straightforward, coming as it does from the human body itself.
One thing's for sure: although medications could make it easier for lonely people to feel comfortable enough to make connections, it's up to the rest of the world to be ready to reach out to them in kindness. Relationships are ultimately the only cure for loneliness itself. —MB
Report: Pornhub Still Profits from Ties with Problematic Porn Maker
Vice reported this week that Pornhub is still hosting content from Girls Do Porn, a company being sued by twenty-two former performers for allegedly coercing them into having sex on camera.
According to the lawsuit, Girls Do Porn representatives coaxed women into agreeing to participate by telling them their films would only be sold on DVD in Australia and New Zealand, and that no one they knew would ever see the movies. Some women say they were bullied into signing contracts in the hotel room where their scenes were to be performed, under the influence of alcohol and with male porn performers standing by.
Contrary to what the women say they were told, Girls Do Porn films are available on Pornhub, one of the most popular websites in the world, and clips have been stolen and circulated online. Many of the movies have millions of views. The fallout, the women say, has included doxing, major depression, and destroyed relationships. The plaintiff's attorneys have spoken to more than a hundred women who describe similar experiences with Girls Do Porn.
When the lawsuit was brought to Pornhub's attention, Vice reports, videos of the performers who have sued were removed. However, Pornhub still hosts Girls Do Porn's official channel and promotes the company as a premium content partner. Dozens of its videos are still on the site.
Regardless of the outcome of the lawsuit, the women's stories and Pornhub's reaction are just more examples of how the porn industry profits from exploitation. —MB
Holocaust Survivor Reminds the World of the Triumph of Good over Evil
Israeli news outlets reported a story last week that has since gone viral as a living representation of good's triumph over evil. The buzz first began with a photograph taken of Holocaust survivor Shoshana Ovitz on her 104th birthday. Not only does the photograph showcase her in front of the deeply symbolic Western Wall in Jerusalem, but she is also surrounded by her descendants—all four hundred of them.
As some of Shoshana's descendants told news outlets, she survived the Auschwitz concentration camp after her mother was taken from her and handed over to the infamously barbaric doctor Josef Mengele, who is widely known for performing torturous experiments on Jewish prisoners. What's more, Shoshana's husband, whom she met after the Holocaust, suffered the loss of his wife and four daughters to the same genocide. Together they started anew and built a family of their own.
And on this important birthday, Shoshana had one big request, one that took months of planning to pull off: she wanted all her descendants with her for one day at one of the holiest sites in Jerusalem. Nearly all were able to attend, and as one of Shoshana's granddaughters told reporters, "everyone was there with tears in their eyes" as they reflected on their triumph over the Nazis. Indeed, knowing the story behind the photograph imbues it with a profoundly spiritual and deeper meaning. Somehow, despite the unspeakable ugliness of their circumstances, love endures and it lives on in the hearts of their descendants. —ML
Opera Star Placido Domingo Receives Sexual Assault Allegations
Legendary opera singer and director of the Los Angeles Opera has received allegations of sexual assault that received coverage this week by the Associated Press. The AP reports, "eight singers and a dancer have told the AP that they were sexually harassed by the long-married, Spanish-born superstar in encounters that took place over three decades beginning in the late 1980s, at venues that included opera companies where he held top managerial positions." The accounts bear similarities in that most of the women were young, early in their careers, and invited by Domingo to consult about their careers in one-on-one environments. Dozens of others in the industry told the AP they were aware of Domingo's inappropriate behavior and there grew to be a culture where young women tried to "walk a tightrope" and dodge his advances silently in hopes of not hurting their careers.
Domingo has responded in a statement calling the allegations "inaccurate," adding, "I believed that all of my interactions and relationships were always welcomed and consensual. However, I recognize that the rules and standards by which we are—and should be—measured against today are very different than they were in the past." The LA Opera has stated it is hiring an outside firm to investigate the claims. —Mary Rose Somarriba
Nepal Government Increases Requirements for Mt. Everest Climb
After eleven people died this past year attempting to reach the world's highest peak, the Nepal government has increased the requirements for tourists to become licensed to climb Mt. Everest. According to news reports, "going forward, climbers must have scaled tall peaks, undergone proper training, and possess certificates of good health and insurance that would cover rescue costs, if required." 
Nepal is home to eight of the world's fourteen highest mountains. One hopes tourists can also learn to appreciate the less dangerous peaks in the region. —MRS
Good News of the Week
Nicole Leth, 26, is doing something amazing: she's responded to the grief of losing her father to suicide by spreading a spirit of hope.
Leth rented a billboard in Kansas City, Missouri, and displayed a simple message:
You are human / You are loveable / You are strong / You are enough
The billboard has gone viral and has inspired similar efforts across the United States and Canada. Due to the overwhelming response, the owner of the advertising space has told Leth her billboard will stay up, free of charge, for the foreseeable future. "I realized over the years I could never save someone's life for them, but I could create an encouraging and affirmative space to empower them to save their own life," she told Today. Leth says she's heard from people who saw the billboard and were inspired to live one more day. —MB
Watch of the Week
In a brief delightful Instagram video this week, 31-year-old model Ashley Graham and her husband Justin Ervin share some happy news. "These nine years have played out like a lifetime. I guess it's because my life really started once you came into it," Graham shared. "Now that we've made a life together, let's make a life together. I love you and I love us. All of us . . . "
Instagram
Miss our "Articles of Note" section? Subscribe to Verily Daily emails and check out our new suggested reading at the bottom, in our new "May We Recommend" section.