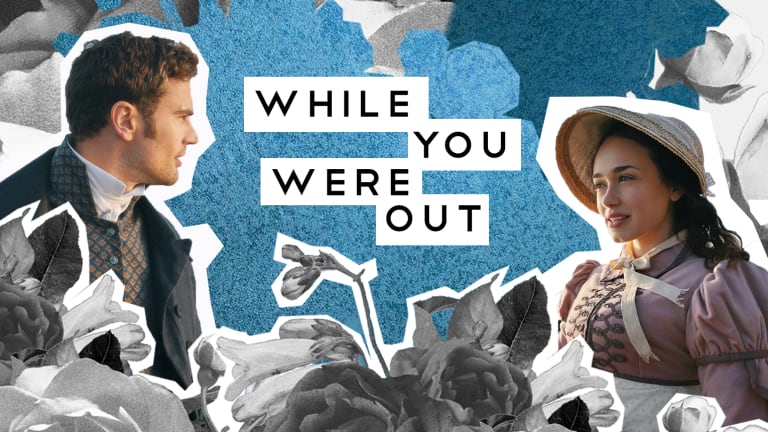 Jane Austen's Unfinished Story Is Coming to PBS—and Other Notes from the Week
Catch up on all the news you might have missed with our handy summary of the week's top stories.
We're pleased to bring you "While You Were Out"—Verily quick takes on the happenings of this week.
PBS Brings Jane Austen's Last Work to Life
Period drama fans can rejoice—PBS's Masterpiece has a new Jane Austen-based program on the way.
The trailer for Sanditon, an adaptation of Austen's last work, was released this week, hyping the project which is due to hit the small screen next year. In 1817, Jane Austen was dying but also hard at work on a new novel. Sadly, she never got the chance to finish it, succumbing to what scholars speculate may have been Addison's disease. She was only 41-years-old. She did manage to introduce her characters and the overall premise, however, and PBS has attempted to finish her story.
Fans of the version of Pride and Prejudice starring Colin Firth will perhaps enjoy that the writer of that series, Andrew Davies, is also the writer and producer of this upcoming jaunt into Austen-land. Sanditon is also noteworthy in that Austen's original work includes a black West Indian character, an heiress named Georgiana Lamb. It's a growing trend in pop culture for directors to experiment with unexpected casting choices when it comes to their source material and race or gender, but in this case, it wasn't up to the director: Austen herself actually wrote a more diverse story than we usually associate with Regency period authors. Miss Lamb will be played by Crystal Clarke, who has also acted in the British TV series Black Mirror.
Sanditon will certainly be a must-see if only to check whether PBS managed to come up with a Jane Austen-worthy ending.⁠ —Margaret Brady
Tigers Are On the Rebound in India
Monday was International Tiger Day, and India marked the occasion by announcing a huge win in the fight to save tigers from extinction.
Prime Minister Narendra Modi shared the results of last year's tiger census, called the All India Tiger Estimation, which showed that the population had soared from around 2,200 in 2014 to just under 3,000. That means about 70 percent of all tigers worldwide now live in India. Back in 2010, leaders set a goal to double India's tiger population by 2022. The new figures indicate they've already reached that goal.
The World Wildlife Fund states, "This news brings us another step closer to securing a future for one of the world's most iconic species and is further proof that tiger recovery is possible when political will and the right conditions exist."
The big cats are an archetypal part of how we view the animal kingdom. They're featured everywhere from beloved comic strips, to cereal boxes, to baseball diamonds. The very fact they're so ubiquitous could make it easy to overlook how close they've come to extinction. In 2006 the population was at an all-time low, and it was actually possible that these beautiful creatures might disappear from the wild. Kudos to India for finding a way to turn the trend positive. ⁠—MB
Two U.S. Shootings Target Community Events
In what has become a tragically common story, two mass shootings took place at public events in the United States this past week. On Sunday, a shooter opened fire at the Gilroy Garlic Festival in California leaving three dead and twelve wounded. The shooter has been identified as 19-year-old Santino Legan. Legan bypassed security by entering and later exiting by crossing a creek. During the shooting, Legan was apprehended and killed on site. The victims include 6-year-old Stephen Romero, 13-years-old Keyla Salazar, and 25-year-old Trevor Irby.
A day before the Gilroy Garlic Festival shooting on Saturday, on the other side of the country in Brooklyn, New York, a community gathered for the 56th annual Brownsville Old Timers Day, when the block party honoring older citizens was interrupted by at least two gunmen who opened fire on the crowd. The shooting left one dead and eleven injured. Police are investigating whether or not the shooting was related to a gang dispute. The Brooklyn neighborhood of Brownsville has traditionally faced high rates of violence and poverty, but it had finally seen a decline in shootings over the past year. In an interview with the New York Times, Brownsville native, Latrice M. Walker "said the shooting broke a 'code'—an unspoken pact to avoid violence at the event, which she said symbolizes the predominantly black neighborhood's resilience. 'Growing up is an anomaly in our neighborhoods,' she said. 'And so for individuals who are in their 40s, 50s, 60s and 70s to be able to enjoy themselves and come back and just connect is a seminal moment for us.'" The police have not yet released the names of the victims. —Gabriella Patti
Meghan Markle Guest Edits Fall Issue of British Vogue
Duchess of Sussex Meghan Markle can add "editor" to her resume, having guest-edited the September issue of British Vogue, which hits newsstands today. Her project is titled, "Forces for Change," and the cover features fifteen women in various fields, as well as one reflective space in which the reader can see herself. Interviews in the issue include one Markle conducted with former First Lady Michelle Obama and another that her husband, Prince Harry, conducted with Dr. Jane Goodall.
Markle is the first guest editor of the fall issue of the magazine, which is generally regarded as the most impactful of the year because it contains previews of fashion trends for the fall and winter. But Markle has looked to incorporate trends beyond clothing and style in the seven months she spent preparing for publication.
Editor-in-Chief Edward Enninful remarked, "As you will see from her selections throughout this magazine, she is also willing to wade into more complex and nuanced areas, whether they concern female empowerment, mental health, race, or privilege." Markle has also recently announced the formation of a new foundation, Sussex Royal, with her husband. We look forward to seeing how the American-born princess will use her status and opportunities for charitable works. ⁠—Lindsay Schlegel
Katy Perry Faces the Music in Court
After a seven-day trial, a jury has declared that Katy Perry's hit song "Dark Horse" broke the law by copying a Christian rap song.
The verdict found Perry, five songwriters involved in her music, and four corporations liable for copyright infringement. The suit was filed years ago by musician Marcus Gray and two co-authors; Gray released the original rap song, "Joyful Noise," in 2008 under the stage name Flame. "Dark Horse" was a monster hit when Perry released it in 2013. It was nominated for a Grammy and she performed it at the 2015 Super Bowl halftime show. The accompanying music video currently has 2.6 billion views on YouTube.
The crux of the case was not about lyrics, but about the beat, which does have an uncanny similarity. Perry and her co-defendants claimed they had never heard "Joyful Noise," nor did they listen to Christian music, but the plaintiffs only had to establish that the original song was widely available and there was a reasonable possibility Perry and her collaborators could have heard it. "Joyful Noise" does have millions of plays on Spotify and was released as part of a Grammy-nominated album.
Perry was not present when the verdict was read. The jury will now decide how much she and the other co-defendants should be penalized for the copying. ⁠—MB
Fourth Female Coach Is Hired in the NBA
The Boston Celtics just hired their first female coach. Joining the basketball team is Kara Lawson, the team's new assistant coach, who is the fourth female coach ever hired within the NBA. Lawson holds an impressive resume having been on the Olympic team that brought home the gold medal from the 2008 Beijing games. She is also the former point guard for the WNBA team, the Sacramento Monarchs, and she most recently worked as an analyst for ESPN.
"She is as sharp as they come," Celtics head coach Brad Stevens said of Lawson. "We're excited to have her on board and she's really excited to get going . . . I'm not sure she knows just quite how crazy (coaching) can be, but thank goodness she's on our staff. I think she'll do a great, great job for us." Congratulations to Lawson! —GP
Serena Williams Debuts A Red Dress for Every BODY
Superstar athlete Serena Williams went viral on Tuesday when she launched a new dress for her clothing line.
The tennis legend has a second career as a designer and calls her fashion line simply, Serena. It features the usual assortment of sweaters, pants, and accessories, but Williams made a splash this week in a video on Instagram wearing a new red dress. Next to her were friends and family members of all different shapes and sizes, all wearing the same red frock, which she has called a "Twist Front Dress."
The diversity was intentional. "I designed the Twist Front Dress for everybody and every BODY," Williams said in the caption. The idea is that the $120 dress is flattering on all body types, and watching the video, that certainly seems to be the case. It also comes in black, in sizes from XS to 3X. The red version sold out in all sizes almost immediately, while the only size still in stock in black is 2X.
The dress features long sleeves, a V-neck, and a hemline that falls just above the knee on most of the women pictured with Williams. "You know I'm curvy, but I'm confident in my curves. You have really taken something and made it work for different sizes," William's older half-sister, Isha Price, is depicted saying.
Bravo to "Serena" for showcasing women with a variety of body types of attempting to serve them all with flattering fashion. ⁠—MB
Good News of the Week
Ethiopia Plants a Record-Breaking Amount of Trees in only 12 hours
On Monday, Ethiopians planted more than 353 million trees in 12 hours, as a part of a campaign called "Green Legacy." The campaign, spearheaded by the country's prime minister, Abiy Ahmed, is part of a reforestation effort and a way to combat land degradation. According to the organization Farm Africa, currently less than 4 percent of Ethiopia's land is forested compared to 30 percent—what is was at the end of the 19th century. As reported by CNN, "The landlocked country is also suffering from the effects of climate crisis, with land degradation, soil erosion, deforestation, and recurrent droughts and flooding exacerbated by agriculture. Eighty percent of Ethiopia's population depends on agriculture as a livelihood." And Ethiopia is not the only African country committed to land restoration: 20 countries total including Ethiopia pledged to restore 100 million hectares of land (around 247,105,381 acres) as part of the African Forest Landscape Restoration Initiative. One hopes these efforts will help improve peoples' lives and livelihoods in these areas. —GP
Watch of the Week
Austenites, allow this trailer to whet your appetite for PBS's adaption of Jane Austen's unfinished novel, Sanditon.

Miss our "Articles of Note" section? Subscribe to Verily Daily emails and check out our new suggested reading at the bottom, in our new "May We Recommend" section.