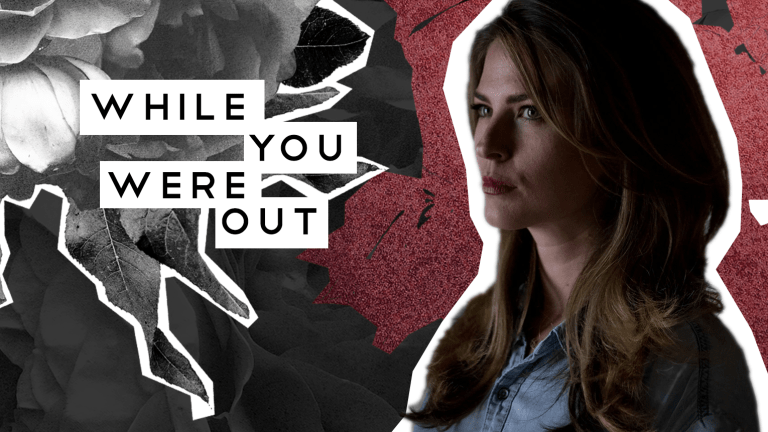 Betrayed Fertility Patients Find They've Been Inseminated by Doctors' Sperm—and Other Notes from the Week
Catch up on all the news you might have missed with our handy summary of the week's top stories.
We're pleased to bring you "While You Were Out"—Verily quick takes on the happenings of this week.
Women Find Out They Were Artificially Inseminated with their Doctors' Sperm
A New York Times investigation revealed this week a disturbing practice in which children conceived with artificial insemination are at times the product of an unexpected person's sperm—their fertility doctor's. The report documented multiple instances across the globe in which DNA tests revealed numerous women's trust was betrayed by the very doctors who they turned to for help at a vulnerable time in their lives.
The motives of the doctors' is unclear; whether they got some satisfaction knowing they had fathered dozens of children, or whether they simply did a shoddy job of maintaining sperm donations in their clinic, their actions have led to revoked medical licenses, shuttered clinics, and other legal consequences, including sex-offender status in states like Texas and Indiana. Given the New York Times coverage, it's likely that this will lead to more people seeking DNA tests and justice. —Mary Rose Somarriba
Taylor Swift Announces Plan to Re-Record her Catalog
Not only is her album Lover dropping today, Taylor Swift announced in an interview this week that she plans to re-record her first five records as soon as her contract allows, as early as November 2020. This comes after the recording company that owned her work since she was a teenager, Big Machine, sold her catalog of music to Ithaca Holdings, a company owned by Scooter Braun, with whom Swift has had a number of past feuds. If Swift re-records her old songs at her new recording company, she will own the songs, and she will profit from those future sales, not Scooter Braun. It certainly seems like an empowering way to make the best of what she can and reclaim her hard-earned work. As NPR quipped in its headline, "Look What You Made Her Do." —MRS
Planned Parenthood Withdraws from Title X Funding
News sources cited Monday as a deciding day in the decades-long struggle between Republicans and abortion supporters. Planned Parenthood withdrew from federal Title X funding, which provided the organization about $60 million per year, due to its unwillingness to comply with new rules disallowing doctors from providing or referring patients for abortion, though they can still talk about abortion. There was already a restriction in place disallowing recipients from using the money to directly fund abortions.
Alexis McGill Johnson, acting President and CEO of Planned Parenthood Federation of America, called the restriction a "gag rule" and "an attack on reproductive health care," saying the rule is unethical, in so far as it will interfere with the doctor-patient relationship. Those in favor of the rule, however, see Planned Parenthood's action as a step toward completely separating federal funding from any organization involved in providing abortions.
Planned Parenthood was the Title X program's largest grantee. A federal court will hear oral arguments on September 23, through which Planned Parenthood hopes to be awarded an injunction to suspend the rule, which will otherwise go into effect September 18.
Going forward, organizations that were previously ineligible for the funding may have a new opportunity: another of the new rules says that recipients no longer need to provide "all forms of effective contraception approved by the Food and Drug Administration." This means that groups who provide services using fertility awareness-based methods (FABM) as opposed to only pharmaceutical birth control will have access to federal funding. As numerous as the predictions are, it remains to be seen which populations will be adequately served and by whom. —Lindsay Schlegel
Arizona Jury Unanimously Awards Millions to Planned Parenthood Whistleblower
In the latest confrontation between Planned Parenthood its employees, a jury unanimously delivered a $3 million verdict in favor of a former clinic director, after a trial found the women's health organization wrongly fired her for complaining about unsafe and illegal practices at her Arizona abortion location.
Mayra Rodriguez was a 17-year veteran of Planned Parenthood and the organization's 2016 Employee of the Year. Yet, she was illegally fired in 2017 after she objected when an employee failed to report a case in which a girl came in for an abortion, accompanied by her partner, who was an adult man. She also had expressed concerns about the high post-abortion complication rates in the patients of one particular doctor at her clinic.
Rodriguez told the local ABC affiliate that she filed the lawsuit in order to help protect Planned Parenthood's patients. "I always thought it could have been my daughter, my niece, my friend's daughter, my friend," she said.
Controversially, Planned Parenthood has made an issue of the fact that Rodriguez is an undocumented immigrant. But her status seems to only lend credibility to her claims; without the proper immigration papers, she risked everything by taking on a lawsuit and all the attendant publicity. Rodriguez's case is part of a deeply troubling trend in which Planned Parenthood workers are finding themselves at odds with their employer's health and safety practices. We hope women, and Planned Parenthood's donors, are paying attention. —MB
Brazil's Amazon Forest Is Burning at a Record Rate
A significant portion of Brazil's Amazon rainforest has been on fire for over two weeks now, which some scientists are warning could severely damage attempts to reverse, or at least slowdown, climate change. Indeed, the Amazon is not only home to a countless variety of flora and fauna but is also commonly called "the planet's lungs" due to the fact that it produces roughly 20 percent of the oxygen in the Earth's atmosphere. The cause of the fires decimating vast regions (which are at an 80 percent rate increase from last year alone) are subject to contentious debate as environmentalists blame the Brazilian president, who in turn blames non-governmental organizations.
In regards to environmental activists, they largely accuse Brazilian President Jair Bolsonaro of not only relaxing environmental controls but also of actively encouraging deforestation as part of his political promises to restore the nation's troubled national economy. Accused of being more concerned with the Amazon's economic potential than environmental harm done to it, he recently fired a director for defending data that suggested deforestation was wildly increasing. To Bolsonaro, the findings were not only harmful to trade negotiations but also lies designed to impede his efforts to further monetize the forests.
What's more, Bolsonaro has argued the cause of the fires themselves, claiming that NGOs, vengeful over his taking money from them, ignited the fires as a way to draw widespread negative attention to his government. "This is the war we are facing," he said in a statement addressing the crisis. —Mariel Lindsay
Katy Perry Faces Sexual Misconduct Allegations
Josh Kloss, the model who appeared with Katy Perry in her music video for "Teenage Dream" has accused the singer of sexual misconduct. In an Instagram post, he alleges that the star approached him at a party in 2012 and proceeded to pull "my Adidas sweats and underwear out as far as she could" in order to show some friends his genitals.
Kloss said he felt "pathetic and embarrassed" following the encounter, and he went public with his story just days after the nine-year anniversary of Perry's album, Teenage Dream. He said he decided to tell his story, "because our culture is set on proving men of power are perverse. But females with power are just as disgusting." In a later post, he said, "You hear over and over a million times that Males are the great evil on this planet," but, he insisted, it's positions of power that have the potential to corrupt people, "regardless of their gender."
Friends of Perry's, including Johnny Wujek, a former creative consultant for America's Next Top Model, and the person whose party was the site of the alleged abuse, have spoken up defending the pop-star.
However, Kloss is not the only one to come forward with sexual misconduct allegations against Perry. Following his statements, Tina Kandelaki, a Russian journalist, alleges that Perry approached her at a party and attempted to kiss her without her consent. Kandelaki says she was able to "fight back" and Perry moved on. This allegation has been less highly publicized than the statements from Kloss, and if you look at the Katy Perry news cycle, it appears that journalists have moved on from these serious allegations and are refocusing their attention on Perry's relationship with Orlando Bloom and her fashion choices. While in some ways the vapid and short-lived attention span is endemic in media coverage of celebrities, I also wonder if it has something to do with society's discomfort at the idea of a woman being accused of sexual misconduct. While the majority of offenders called out in the #MeToo era have been men, it's important that we give voice to those who have been victimized by powerful women as well. —Gabriella Patti
NYPD Fires Officer Who Killed Eric Garner
It's been five years since the tragic and appalling video surfaced of Eric Garner being placed in a chokehold by an NYPD officer. Garner's final words "I can't breathe" became a battle cry as people began to rally against police brutality and helped to fuel the Black Lives Matter movement. Now, the NYPD has fired the officer responsible for Garner's death. Officer Daniel Pantaleo has been on paid desk duty since the incident occurred in July of 2014 and has not been criminally charged. However, New York City Police Commissioner James O'Neill decided to fire Pantaleo following a recommendation from a judge who ruled that Pantaleo's use of a chokehold in the Garner case was misconduct.
Pantaleo detained Garner in 2014 for allegedly selling loose cigarettes, subsequently putting him a chokehold while other officers restrained Garner. In a public statement, O'Neill said, "I stand before you today confident that I have reached the correct decision. The unintended consequence of Mr. Garner's death must have a consequence of its own." —GP
Trump Cancels Trip to Denmark After They Refuse to Sell Greenland
Denmark and the United States have long been amicable allies, that is, until this week when President Trump "postponed" his state trip to Denmark after suggesting the nation sell him the semi-autonomous region of Greenland. Trump characterized Greenland as a financial burden to Danes, saying, "they're losing almost $700 million a year carrying it." The Danish Prime Minister called it an "absurd discussion," and soon thereafter the U.S. President canceled his trip to the nation. A former prime minister called this snub a "diplomatic crisis," and churning headlines proclaimed the possibility of "wide-ranging consequences" in terms of Danish-U.S. relations.
Those worried about the possibility of soured relations between the two countries point to the fact that the Danish have proved a dedicated ally in the past, sending troops to Iraq, Syria, and Afghanistan following the United State's call to actions. One hopes the president will soon make a trip to Denmark to clear the air. —Mariel Lindsay
Harry and Meghan Aren't Hypocrites, Says Elton John
Music legend Elton John spoke up in defense of the Duke and Duchess of Sussex earlier this week. The royal couple has come under fire after reports surfaced that they've taken multiple private jet flights lately. Most recently, Prince Harry, Meghan, and their infant son Archie traveled on John's private plane to vacation at his residence in Nice, France.
The flights have raised hackles after Prince Harry gave an interview pointedly saying he only planned to have three children to minimize his environmental impact. His brother Prince William, who the press has reported has a tense relationship with the Sussexes, has three children. The couple's social media account has also spotlighted green issues. Environmental experts say a single private jet flight has a bigger carbon footprint than the average American generates in an entire year.
After voices ranging from a member of Parliament to a former royal security officer accused the royals of hypocrisy, Elton John spoke out on Twitter. He explained that he'd contributed to a green charity to offset the environmental damage caused by the flight, thus making it carbon neutral. His comments drew more derision from the press, who pointed out the inequality in the wealthy being able to buy their way to carbon neutrality while the less privileged can't afford to.
This incident is certainly cringe-worthy for Harry and Meghan fans. Still, the press reaction has been over-the-top. It's hard to blame a new mom and dad for just wanting to get away from the enormous pressure they're under, and that same voracious media makes it impossible for them to bike to an English beach. —MB
The Obamas' First Movie Is Streaming Now on Netflix
American Factory, the first film from Barack and Michelle Obama's movie production company, was released on Netflix and in select theaters on August 21.
The film is a documentary about a shuttered GM factory in Moraine, Ohio, which was reopened by a maverick Chinese billionaire. Hundreds of Chinese workers were brought in to work alongside rehired Americans. Initially, attempts to bridge the cultural divide, like shared Thanksgiving dinners, help bring the workers together. But when the company faces financial headwinds, the Chinese managers begin firing Americans, crushing unionization attempts and stoking the Chinese employees' nationalist pride to encourage more productive work. In the end, both Chinese and American factions are left confused and disappointed.
American Factory is directed by the Academy Award-nominated filmmakers Steven Bognar and Julia Reichert. The pair documented the same GM factory when it closed, resulting in their 2009 effort The Last Truck: Closing of a GM Plant. The former President and First Lady acquired American Factory for their company, Higher Ground Productions, at the Sundance Film Festival this year.
"I think the film leaves you with a sense of unease," Reichert told a reporter from AFP. She attributes the Obamas' selection of the film to the themes of globalization, cultural conflict, and the Midwestern, blue-collar economic struggle that play out on the screen. The story Reichert and Bognar tell certainly sounds fascinating, although disquieting. —MB
Good News of the Week
Two teenage sisters from Delaware are sharing their love of books with children by reading bedtime stories aloud on Facebook Live. Zaria, 13, and Hailey Willard, 18, choose a variety of books from their library each week, and then alternate reading the stories out loud.
"We are already reading each night, but we thought it may be beneficial for children who don't get this luxury," wrote the sisters. "Parents sometimes work late or are too tired for stories [so] we are not only helping children, we are giving parents a nice break after a long day of work."
Zaria and Hailey said that when they presented the idea to their mom she was initially opposed to the girls being on social media, but eventually agreed because of the positive impact that the girls could have. The sisters have been sharing these stories on the Facebook page Zaria x Hailey since March, and have over 10 thousand followers and nearly 100 listeners every night. —GP
Watch of the Week
This week marks the ten-year anniversary of the 2009 MTV Video Music Awards heard around the world, when Kanye West interrupted 17-year-old Taylor Swift's acceptance speech to suggest Beyonce deserved the award more. Here's a moment that we remember more fondly—when Beyonce bypassed her own acceptance speech later that night to give Swift a chance to start over and deliver her speech. Billboard explains the behind-the-scenes details this week of what ultimately created the perfect ending to an otherwise painful night for the two singers. 
Miss our "Articles of Note" section? Subscribe to Verily Daily emails and check out our new suggested reading at the bottom, in our new "May We Recommend" section.