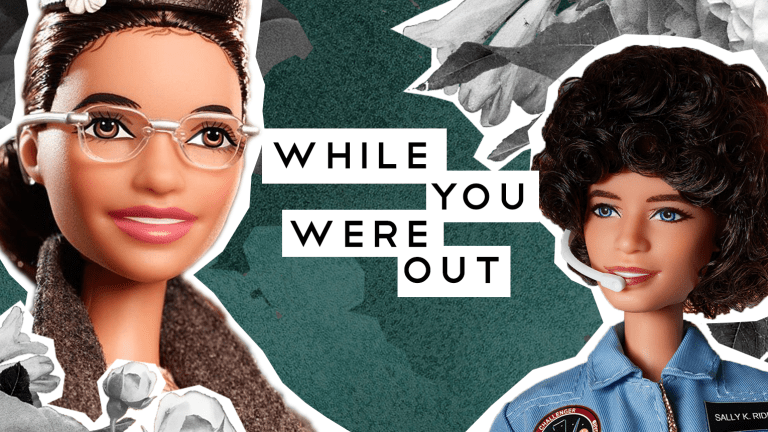 Rosa Parks Makes Her Barbie Debut—and Other Notes from the Week
Catch up on all the news you might have missed with our handy summary of the week's top stories.
We're pleased to bring you "While You Were Out"—Verily quick takes on the happenings of this week.
Epstein's Accusers Speak in Court, as Trafficking Case Is Dismissed
This week in New York City, at least twenty-three women spoke in court against accused sex-trafficker and abuser Jeffrey Epstein, who was found dead by suicide in prison last month. While the hearing was held for the purposes of closing the case, Epstein's accusers took the court date as an opportunity to express the impact his behavior had on their lives. Many expressed anger at how his death added to their suffering by depriving them of a chance at justice in court, while others recounted stories of abuse on the record. "Jeffrey Epstein robbed myself and all the other victims of our day in court to confront him one by one, and for that he is a coward," one accuser named Courtney Wild said.
One accuser said after escaping an assault as a minor, one of Epstein's employees warned her "to be careful, that Mr. Epstein knew powerful people including Bill Clinton." Another woman urged prosecutors, "Please, please finish what you have started . . . we all know he did not act alone."
"To be very clear, today's dismissal in no way inhibits or prohibits the government's ongoing investigation," federal prosecutor Maureen Comey stated. "This dismissal in no way deters the government's resolve in seeking justice for the victims in this case." Chief prosecutor Geoffrey Berman added, "I believe it is the court's responsibility and in its purview that the victims in the case are dealt with, with dignity and with humanity." —Mary Rose Somarriba
Brazilian President Refuses G7 Aid for Amazon Forest
On Monday, the world leaders of the Group of Seven Summit (G7) offered millions of dollars to Brazil to help fight the raging wildfires in the Amazon rainforest. However, Brazilian President Jair Bolsonaro refused the aid—that is, he refuses it until French President, Emmanuel Macron apologizes for remarks in which he stated that he thought Bolsonaro was a liar. Macron happens to be this year's G7 host, but he is far from the only world leader pledging this sum to Brazil to save the world's largest rainforest.
The spat between Macron and Bolsonaro began last week as global concern grew over the wildfires. Bolsonaro accused Macron of infringing on Brazil's sovereignty, claiming that the wildfires are a domestic issue. The fight escalated as Macron spoke out against rude remarks that Bolsonaro made about the French first lady's looks, and said that he believed that Bolsonaro must have lied to him during the G20 Summit earlier this year, where he promised to be a team player when fighting global warming.
As Vice so aptly put it, the "dispute between Jair Bolsonaro and Emmanuel Macron has reached new levels of pettiness." Due to the vital importance of the Amazon rainforest, it seems urgent that Bolsonaro accepts aid. Fires occur in the forest during the dry season every year, but this year they have reached record levels. While environmental groups have said that the aid being offered by the G7 leaders is not enough and doesn't address the issues of deforestation, the current crisis does need to be dealt with, and Brazil's attempts to downplay the problem are in vain. "The Amazon forest is a subject for the whole planet," said Macron. "We can help you reforest. We can find the means for your economic development that respects the natural balance. But we cannot allow you to destroy everything." ⁠—Gabriella Patti
Mattel Launches Rosa Parks Barbie (and Sally Ride, Too)
Two new Barbies made their debut on Women's Equality Day⁠—one honoring civil rights icon Rosa Parks, and a second depicting the first American woman in space, Sally Ride.
The new dolls are part of Mattel's "Inspiring Women Series," a collection which began in 2018 and has already featured Amelia Earhart, Hidden Figures hero Katherine Johnson, and artist Frida Kahlo. Each Barbie features clothing, hair, and accessories to match her real-life inspiration. The Sally Ride Barbie sports a 1980s hairdo and an astronaut jumpsuit. The Rosa Parks doll includes Parks' iconic glasses and pillbox hat.
"Both Sally Ride and Rosa Parks made the world better for future generations of girls. By celebrating their achievements with dolls made in their likeness, we hope girls will be inspired to pursue their dreams," CNN quoted a Mattel spokesperson as saying. The new Barbies were available for purchase immediately.
This is a brilliant move on Mattel's part. Research is mixed as to whether playing with Barbie dolls affects girls' self-image, but presenting kids with depictions of women who made the world a better place is surely a positive step. Frankly, the new dolls are so cool that they are tempting for grownups, too. It may be the first time in decades that Barbie is on our personal holiday wishlist!⁠ —Margaret Brady
Brides in Bangladesh No Longer Have to Declare Their Virginity
The highest court in Bangladesh ruled earlier this week that the Bengali word "kumari" must be removed from marriage registration forms. The word can mean "single woman" but also signifies "virgin." Previously, brides filling out the paperwork were forced to choose from one of three options declaring their marital status: virgin, divorced, or widowed. Women who have never been wed will now be able to select "obibahita," which straightforwardly means "unmarried." Grooms, meanwhile, did not have to make any statement at all about their marital status. That, too, must change, the top court ordered.
The resolution of the court case took five years after women's rights groups sued in 2014, stating that the conventional format of the registration papers was degrading and violates women's privacy.
Marriage is a fraught topic in Bangladesh, an extremely traditional society in which a conservative form of Islam has been ascendant in recent years. In 2017, the United Nations estimated that 22 percent of girls in the country were married before age fifteen. By their 18th birthdays, about 59 percent were married off⁠—one of the worst rates of child marriage in the world. Most marriages are arranged between families, not as love matches.
The new regulations reportedly will take effect in several months. They represent a small but not insignificant improvement in the ordinary lives of women and girls in Bangladesh. ⁠—MB
Dutch Doctor Goes on Trial for Euthanasia Case
A landmark legal case is underway in the Netherlands, touching on the country's controversial euthanasia laws.
The proceedings concern the case of a 74-year-old woman with dementia, who had previously made a written request to be euthanized if she needed to be admitted to a nursing home. But afterward, she began giving mixed signals about her wishes. Nevertheless, a doctor at the nursing home performed euthanasia on the woman after consulting with her family. In fact, when the time came, the patient resisted and was forcibly restrained by family members so that the doctor could inject the lethal drugs.
"As long as the woman was able to communicate, the nursing home doctor should have kept talking to her about her desire to live or to die. And as long as that conversation gave cause for doubt, the nursing home doctor should have refrained from euthanasia," the prosecutor's office said in a statement. Notably, authorities are not seeking to punish the doctor. The goal of the trial is to provide better clarity about how Dutch doctors should behave in such circumstances.
Since euthanasia was legalized in the Netherlands in 2002, the practice has grown by leaps and bounds and expanded to include people who are young or mentally ill. For a law that was intended to reduce human suffering, the Dutch system of legalized euthanasia has produced suffering of its own—in this case, for the doctor and family, who likely were deeply shaken by what happened, and most of all for the patient herself, who experienced the terror of being held down to die, with her protests ignored. May she rest in peace. ⁠—MB
Johnson & Johnson Made to Pay Millions for Its Part in Opioid Crisis
Johnson & Johnson was ordered by a judge on Monday to pay the state of Oklahoma $572 million for their culpability in the state's opioid crisis. The judge said that some blame for the epidemic fell on the company because of how they deceptively marketed opioids. This was one of the hundreds of ongoing lawsuits against pharmaceutical companies such as Purdue Pharma and Teva all across the United States. In fact, both Purdue Pharma and Teva were initially named in the lawsuit filed by Oklahoma state, but they chose to settle rather than go to trial. Oklahoma initially asked for $17 billion, and although they received significantly less than what they hoped for, as this is the first opioid-related lawsuit to have reached a verdict in the United States, its impact will be felt. —GP
Video Music Awards Took Place this Past Week
The Video Music Awards took place on Monday, with some artistic and mind-bending performances by some of 2019's top artists such as Lil Nas X, Lizzo, the Jonas Brothers, and Taylor Swift. Lil Nas X received the award for song of the year for his summer hit "Old Town Road," while Ariana Grande won Artist of the Year, and Taylor Swift took home the most awards overall. For me, the highlights included a performance from rapper Missy Elliot, who took home the Video Vanguard award, for her decades-long career and contribution to the music industry, as well as the powerful vocals of Spanish artist, Rosalía. While the VMAs usually serves as a showcase for the artists, bands, and songs that receive the most airwaves (and are the most ear-wormy), or for the artists who include conspicuous political messages in their videos, the high entertainment value cannot be denied. ⁠—GP
Lara Spencer Apologizes for Making Fun of Prince George's Ballet Lessons
Good Morning America co-anchor Lara Spencer apologized on-air this week for her commentary regarding a story on the future king of England.
The segment was about the back-to-school curriculum of Prince George. Reportedly, the six-year-old is taking classes in religion, computer programming, and ballet. "Oh, he looks so happy about the ballet class," Spencer said as images of the little prince scrolled on the screen. "Prince William says George absolutely loves ballet. I have news for you Prince William—we'll see how long that lasts."
Her remark drew instant criticism from viewers and members of the dance community. On social media, dancers and parents used the hashtag #boysdancetoo to voice their outrage and showcase the talents of ballerinos. Spencer apologized via her official Instagram account but followed up by addressing the controversy on Monday's GMA program. "I have learned about the bravery it takes for a young boy to pursue a career in dance. And last night, I sat down with three influential dancers who lived it—firsthand," she said, as she introduced a taped segment featuring interviews with famous dancers Travis Wall, Robbie Fairchild, and Fabrice Calmels. Meanwhile, dancers from the cast of the Broadway show "Cher" protested outside GMA's studio.
Spencer's critics correctly pointed out that ballet requires incredible discipline, strength, resilience, and athleticism. Certainly, these are qualities that are valuable for both boys and girls, men and women. ⁠—MB
Good News of the Week
This photo of three Italian grandmas holding migrant children at a migrant welcome center in southern Italy will make you want to hug your nonna. The three grandmothers, named Nicolina, Vincenza, and Maria, went viral after their photo was shared in a private Facebook group for their hometown, Campoli del Monte Taburno.
The woman who published the photo wrote, "I hope to brighten your day with this wonderful photo. It portrays the ladies of a small village in the province of Benevento that spontaneously and in a completely natural way (human, I dare to say) have become the grandmothers/babysitters of the little guests of the reception center. This is integration, and it's beautiful."
One of the grandmothers' grandsons commented, "To think that 37 years ago, I was on that same lap, wrapped in that same smile, and now miles away and a few years older, I'm very happy to be able to share the same emotions with a child I don't know, but who deserves it all and more. You're beautiful, grandma, obviously all the people in the photo are beautiful."
As a granddaughter of an Italian nonna whose love cannot be replicated, I second his comment, and it brings me joy that these three babies get to experience something like it, too. ⁠—GP
Watch of the Week
Here's hoping your Labor Day weekend is a chill-vibed as this now-viral video of baby Ella, eating fries and listening to the Jonas Brothers.
Miss our "Articles of Note" section? Subscribe to Verily Daily emails and check out our new suggested reading at the bottom, in our new "May We Recommend" section.