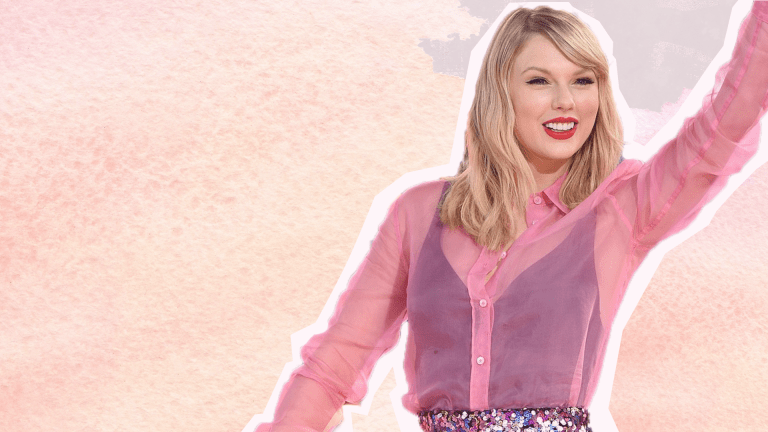 Love Is Complicated: A Review of Taylor Swift's 'Lover'
She's back—or is she?
Taylor Swift's new album, Lover, has met with almost ubiquitous critical acclaim since its drop on Friday. Awash in pastel colors and accompanied by a PR campaign studded with rainbows, butterflies, and glitter, the album is a pivot from the angsty (and unsuccessful) Reputation—a move out of the darkness into the light, back from the frustrating complications of celebrity drama to the warmhearted and earnest songs we used to expect from Taylor. But Reputation's most chilling line, "Sorry, the old Taylor can't come to the phone right now. Why? Oh! 'Cause she's dead!" keeps haunting me as I play the album on repeat.
Like most albums, Lover has hits and misses. I found the lead single of the album, "ME!" as obnoxious as its title; songs like "Afterglow" and "I Think He Knows" feel like they are hitting the album's two major themes—how happy she is with boyfriend Joe Alwyn and how afraid she is to lose him—a bit too hard. As others have noted, the album overextends itself in attempting eighteen songs, and everyone is not a winner.
But there is also something here for every fan, even for fans who are new to Taylor: "Miss Americana and the Heartbreak Prince" has been compared to "noir-pop" artist Lana Del Rey; "Soon You'll Get Better" is a beautiful country number that might bring you to tears; the setting of "It's Nice to Have a Friend" sounds like a Sufjan Stevens song. And if you're looking for catchy-pop Taylor, she's here in force, with powerful heartbreak ballads like "Cornelia Street," pristine, witty insults like "I Forgot That You Existed," and earnest, joyful bubblegum pop like "London Boy" (almost guaranteed to make you smile). One of the accomplishments of Lover is that, even amid all these genres, it still sounds coherent: it's all Taylor.
Uneven tracks
But two new strains are appearing in this album, in a way, two sides of the same coin: intensely personal, understated synth tracks that seem to give us a glimpse into Taylor's deepest feelings and a couple of boppy, insulting numbers that feel heavy-handedly political.
"The Man" is the first explicitly political track on the album, in which she aligns herself with mainstream feminism. As Genius.com reports from Vogue, "In the song, Taylor 'plays with the idea of perception.' According to Vogue, 'she has often wondered how she would be written and spoken about if she were a man.' Taylor explains: 'It's a thought experiment of sorts: If I had made all the same choices, all the same mistakes, all the same accomplishments, how would it read?'"
Given Taylor's catapult to fame (she received a Grammy nomination for her eponymous first album), it's hard to believe that she really would have "[gotten] there so much quicker" if only she were a man. At a time when women are facing real issues of gender inequality, Taylor strikes a false note here while trying to commiserate by turning the spotlight on herself: "I'd be a fearless leader / I'd be an alpha type / When everyone believes you / What's that like?" Coming from a child prodigy and super pop star whose more than 120 million Instagram followers grow by the second, the line falls flat. Unequal treatment between the sexes does exist, and Taylor has certainly faced real challenges over the years, but this song makes gender inequality about Taylor and feels more like a quick PR power-up than an authentic moment.
The same could be said of the heavy-handed "You Need to Calm Down," where Taylor appears to swoop down in defense of the LGBTQ+ community. Besides oversimplifying the issue so that every person on one side of the political argument is a mindless hater who "would rather be in the dark ages," the song is also condescending and dismissive, a foolproof way to shut down any open and earnest conversation: "You just need to take several seats and then try to restore the peace and control your urges to scream about all the people you hate." Yikes. Treating her political opponents like four-year-olds makes the song feel more like an attention grab than a serious attempt at a meaningful message. Plus, Taylor didn't even focus the song on one issue, sliding in one or two digs at people who compare female celebrities, as if "the bad guys on the internet" are one big alliance of evil. As The Guardian puts it, "'You Need to Calm Down' is a forgettable bit of how-dare-you, in which the actions of celeb-baiting internet trolls get mixed up with those of homophobes."
Striking chords
But there are beautifully vulnerable moments, as well. In her live stream debut of "The Archer," Taylor publicly acknowledged the fan "track five theory"—that her most emotionally vulnerable tracks are usually placed fifth on her albums. Coming in the wake of Reputation's "Delicate," 1989's "All You Had to Do Was Stay," and Red's "All Too Well," this latest fifth track is indeed a more intimate glimpse into the inner life of an already emotionally vulnerable artist. For a moment it feels like Taylor is letting the listener into the insecurities and anxieties lying behind the serial relationships she conducts in the public eye.
As I listened, I started to wonder: what is it like to have these kinds of widely publicized romantic relationships, haunted by her public image, while still living through the same struggles, insecurities, and difficulties that so many women face while waiting for their happily ever after? "Easy they come, easy they go / I jump from the train, I ride off alone / I never grew up, it's getting so old / Help me hold on to you," she sings. And I hear in her words the same fears that linger in the minds of so many women desiring marriage and feeling their age and frustrations are creeping up on them.
Worse, I realized while listening that I wasn't really expecting Taylor to have a "happily ever after." It might seem heartless, but it's just a fact of life that celebrities don't have good track records for relationships. When I think about what I anticipate for Taylor's love life, I realize that I'm expecting to keep seeing her on the covers of Vogue and People, circulating through messy divorces, semi-fictional affairs, and child custody drama. It's a sad story we've seen play out too many times.
The story that I project for Taylor isn't the story I project for myself or the people in my life that I know well. In certain ways, perhaps, we don't think of her as a human being but as a celebrity—someone who has sold her privacy and domestic happiness for spotlights and dizzying wealth. In Lover, she's reminding us that what she wants is what all of us want: happiness.
"Daylight," the last song on the album, is also the climax. Taylor takes us through the journey that she's been on with more honesty and clarity of thought than was accessible in Reputation, acknowledging both her own faults and the faults of others: "I wounded the good and I trusted the wicked," she sings, in a relatable moment of coming to self-knowledge. The hopeful beauty of "Daylight" makes for a stunning end to the album as Taylor sings, "I've been sleeping so long in a twenty-year dark night / And now I see daylight, I only see daylight." The song ends in a spoken sentence: she says that she wants to be defined by the things she loves, not the things she is afraid of or the things that she hates. To me, that sounds a lot like "less of who you should be, more of who you are."
But the clarity of sight in these two tracks is obscured and distorted at various other points in the album. In the end, I'm not sure "the old Taylor" is back—it's not clear yet who she is after this quasi-resurrection. Has she sold out? Is the Taylor portrayed in "Daylight" and "The Archer" the real artist behind the album, or is she leveraging these genuine moments and savvy political moves to amplify her own fame? At the end of Lover, it's still unclear. We can only watch Taylor from afar and hope for the best.