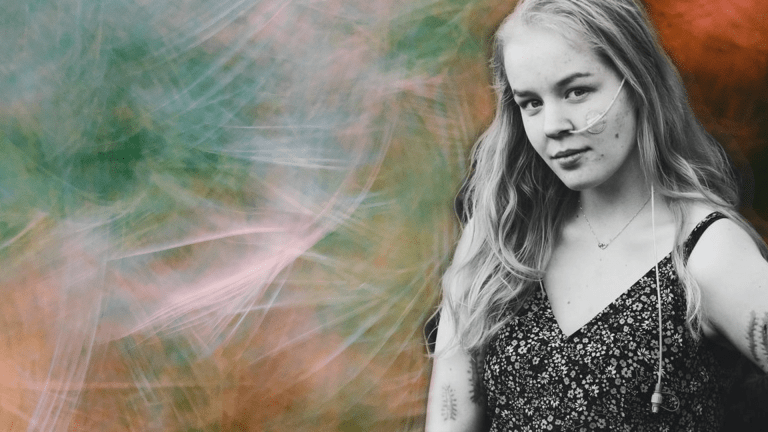 Girls' Suicide Numbers Are Increasing—and Current Media Isn't Helping
It's time to take a look at the role societal views and TV shows have to do with trauma-justified death.
This year, the Journal of the American Medical Association (JAMA) published some troubling findings: suicides in girls have significantly increased in the past decades. The article cited a report in which "female youth aged 10 to 14 years experienced the largest percentage increase in suicide rates compared with other age groups," and another report found "youth aged 15 to 19 years showed suicide rates for female individuals more than doubled from 2007 to 2015."
In a commentary published alongside the JAMA study, psychiatrist Dr. Joan Luby and psychologist Dr. Sarah Kertz stated a possible cause could be how negative content on social media affects girls more than boys. "Compared with boys, girls use social media more frequently and are more likely to experience cyberbullying," they wrote. "Combined," CNN reports, "these findings suggest that the negative effects of social media may be stronger on girls and may provide one explanation for why young girls are more vulnerable to suicidal thoughts and behaviors."
What troubles me is the connection being made between negative experiences and self-harm in girls. This is something we have seen play out in global headlines this summer.
This past June, the death of Noa Pothoven, the 17-year-old Dutch teen who died by starvation after her request for euthanasia was declined, quickly became viral news. The girl's gentle face in contrast with her internal turmoil created an emotional chemical reaction across social media. Caught up in the horror, many news outlets mistakenly attributed her death as assisted suicide at the hands of Dutch doctors. While euthanasia is legal in the Netherlands, records show that Pothoven's request for euthanasia was denied, and her parents were not aware when she requested it.
One element that made Pothoven's story a viral news story was that she was a victim of sexual abuse. Having been sexually assaulted at age eleven and raped at age fourteen, Pothoven struggled to find healing for years. In some ways, she's a casualty of the sexual assault crisis that the #MeToo movement is helping to uncover. Some crimes cause anguish that is extremely hard to undo.
But, for me, there was something in the news coverage that was more unsettling than your average depressing news story, something in the connection between suffering a sexual crime one did not choose, and a death penalty one did choose in response to it. It reminded me of Shakespeare's tragedy Titus Andronicus, a story that includes in its plot the Roman custom of rape victims ending their lives out of shame for the crime committed against them. In Shakespeare's story, the victim Lavinia is killed by her father, Titus. But whether the woman took her own life or her father did—whether Noa was killed through her own actions or by Dutch doctors—the scenarios are almost equally tragic.
The problem with 'reasons' for suicide
There are two troubling things that I can pinpoint, both related to the aspect of how Pothoven shared her plan on social media ten days before her death and carried it out. First, there was a sense that a certain amount of pain, such as the trauma of rape, makes suicide a reasonable option. Second, there is a cultural acceptance of suicide that allowed her to carry out her death wish, at least in the Netherlands.
When I read the first the story of Noa Pothoven, I shuddered at how it resembled the story of the main character in 13 Reasons Why. The best-selling book by Jay Asher is curriculum reading for some high schools and was later developed into a much-watched Netflix show. The first season follows the storyline of Asher's book, and the series has since continued beyond the book's content into a second season. In 13 Reasons Why, the story begins with the knowledge that the main character Hannah has killed herself, but before she did so, she documented her reasons in 13 audio tapes that are delivered to different people. Among Hannah's reasons for ending her life is the fact that she was raped.
The Netflix show has not been without controversy. While teens watched it in scores, mental health professionals spoke out in concern for its depiction of suicide—in particular, its final episode in which viewers saw a three-minute graphic portrayal of death by slitting wrists.
A psychotherapist named Brooke Fox wrote a blog post that later went viral: "This scene was, plain and simple, a tutorial on how to complete the act of ending your life. It was graphic, it was bloody, and it was unnecessary. The book ended with a pill overdose, and yet the series ended with razor blades. Why? What purpose did changing Hannah's method—and graphically depicting the suicide—serve?"
Fox later told Verily in an interview, "The show made the terribly complicated issue of suicidality far too simplified—which was one of the largest problems with the series. If I were the school counselor, she would've been empowered to tell her parents and then the police. Let's start there."
Mental health professionals like Fox had good reason to be concerned about how 13 Reasons Why would affect viewers. An NIH study showed a 28.9 percent increase in youth suicides in the month after the show's release.
Then, in a stunning move this summer, Netflix announced its decision to edit the season one depiction of suicide, removing the three-minute scene altogether. Producers cited in their reasoning an objection by the American Foundation for Suicide Prevention that the scene showed a dangerous level of detail that could encourage more viewers to commit suicide.
"Our creative intent in portraying the ugly, painful reality of suicide in such graphic detail in season one was to tell the truth about the horror of such an act and make sure no one would ever wish to emulate it," show creator Brian Yorkey said in a statement. "We believe this edit will help the show do the most good for the most people while mitigating any risk for especially vulnerable young viewers."
It is unknown whether Noa Pothoven read the book or watched the Netflix series 13 Reasons Why, but her story similarly justifies suicide as a response to the trauma of sexual assault.
"After years of battling and fighting, I am drained." Pothoven wrote in an Instagram post that has since been taken down. "I have quit eating and drinking for a while now, and after many discussions and evaluations, it was decided to let me go because my suffering is unbearable . . . This is my decision and it is final."
The reality of recovery
It must be mentioned that Pothoven's story—and even the fictional story of 13 Reasons Why—is a reminder of just how devastating it is to suffer sexual assault. To have one's body violated sexually does as much damage as physical assault—often more. There's a mental component to the abuse that can wreak havoc on a rape survivor's sense of security, self, and worth. Being treated not as a person but as a thing can cause a victim to struggle to re-grasp their worth as a person. And this only scratches the surface of the complexity of the trauma that can leave lifelong effects that are difficult to unravel.
In her 2018 autobiography Winning or Learning, Pothoven wrote that her trauma from being raped remained a daily part of her life. "I relive the fear, that pain every day. Always scared, always on my guard. And to this day my body still feels dirty," she wrote.
Still, despite sexual trauma being uniquely damaging, there remains hope for assault survivors to reclaim their lives and worth and recover. It may require good therapy for years; it likely will require some form of a support group with other survivors who "get" what you're going through, reminding you you're not alone. But it is possible.
For some, the existence of the #MeToo movement is depressing because of how much abuse it reveals, but, for me, it is quite inspiring to see bands of women feeling less alone in their pain and coming forward to break the silence, a silence that can stifle attempts to truly heal.
Given what we know about sexual trauma and post-traumatic stress disorder, Pothoven likely continued to feel daily fear because she was exposed to triggers on a regular basis. Only a therapist caring for Pothoven would know what intervention would be best suited for her healing, but given Pothoven's account, it appears an intervention to help restore her sense of safety wasn't implemented effectively or at all.
Self-defeating perspectives
Last fall, Verily published an article by Baleigh Scott that voiced concern about the treatment of suicide in media like 13 Reasons Why. "I'm afraid that in a well-intentioned attempt to understand and cope with suicide," Scott writes, "we've developed a cultural attitude toward it that is at best passive and, at worst, fatalistic." For one, there is no good "reason" for suicide, "no circumstance or event for which suicide is the appropriate or right response." On the other side of the coin, Scott points out, it's also unhelpful to view suicide as an inevitable action for someone with mental illness; such a perspective views "the suffering person as an irredeemable victim of circumstance. And if we want to combat the suicide epidemic, this is precisely the messaging we need to reject."
While the suicide rate in the United States is alarmingly high—and has sky-rocketed for adolescent girls—we still treat suicide as abuse in America; we take care to look for signs, we report them, and we intervene. Pothoven couldn't have given a clearer warning sign of her suicidal ideation, and tragically, it appears that, instead of stopping it from being carried out, everyone around her accepted the unacceptable. It's a stark reality that shows how laws affect societal behavior.
This brings me back to why I believe stories like Titus Andronicus are impactful. They highlight tragedies that should strike our hearts—injustices that should never happen. That it could somehow be acceptable, even honorable, for a rape victim to be killed, whether by her hand or another's, is appalling to our modern sensibilities. It's uncivil because it misdirects attention from the true cause of harm, and it fails to prioritize the safety and value of the injured person. It's illogical because it compounds violence upon violence.
Part of what makes the old Roman custom of death after rape—and honor killings in any culture—so heinous to us is how it appears to attempt to erase the crime by erasing the victim. But one could also see how the logic of the killing was to highlight the torment that victims experience, end their shame, and put them out of their misery. When Livy describes the rape of Lucretia in his history of Rome's founding, Lucretia herself exclaims to her father and husband: "What can be right when a woman's virtue has been taken from her?"
Viewed from a distance of more than two thousand years, most of us today can see how far we've progressed from such thinking. But the Dutch perspective that allowed Noa's death—the idea that the ending of life can be a solution to trauma—seems downright regressive.
In Shakespeare's play, Titus mourns the death of his daughter Livinia, and viewers are left reflecting on the sadness of the injustice she experienced. Stories like these are meant to sting and should point us back to the values of stopping violations like rape. But these stories should also sting because death is never a solution to a problem, and all it signifies in the real-life story of Noa—and the fictional accounts of Titus's Livinia and 13 Reasons' Hannah Baker—is the further tragedy that the victim was never restored to the dignity she deserves.
If you or someone you know is struggling or having suicidal thoughts, please call the Suicide Prevention Lifeline at 1-800-273-8255.