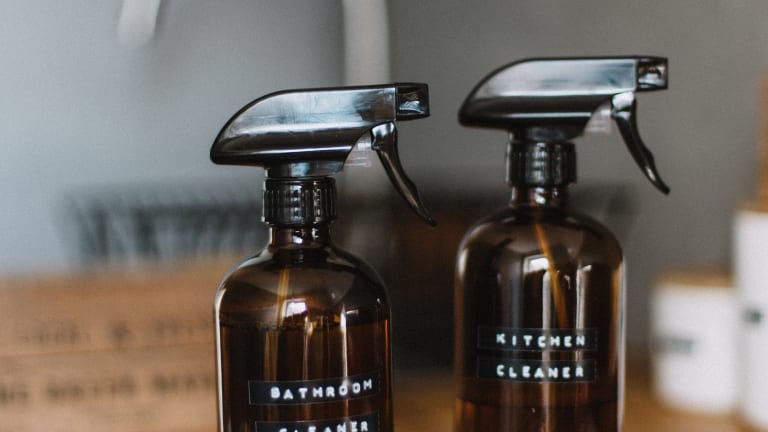 How to Clean Your Home without Chemicals and Why It Matters
Have a chemical-free home without sabotaging your gut or wallet.
As a self-confessed germophobe, I used to be a huge fan of bleach and antibacterial cleaning sprays, wipes, sanitizers, and just about anything else that claimed to kill 99.9 percent of germs.
But after my thyroid started having serious problems and I was diagnosed with Hashimoto's thyroiditis, I became more aware of toxins in chemicals. I started wondering how factors other than just diet could be affecting my health.
Turns out, the germ-killing stuff in our cleaning supplies is bad for the body's microbiome. We need good bacteria to live in our gut to protect us, but when we are routinely exposed to bleaches and antibacterial agents, we hurt the bacterial balance of the gut.
In an effort to stop getting sick all the time and to build my overall health, I decided to only use natural cleaning agents for a while and see if I noticed a difference. Before this, I had relied so heavily on anti-germ products because I was so afraid of getting sick, but I got sick all the time anyway. In fact, I had gotten sick for ten straight flu seasons, usually more than once.
So I stopped using harsh chemicals and antibacterial agents in my home; I did not change my diet or the rest of my wellness routine. After an entire flu season of using only natural cleaning products, and not getting sick once, I became convinced that natural cleaners could actually be more effective at safeguarding me from germs.
Since then, I have spent nearly a decade without getting sick during flu season. By practicing basic hygiene, like washing my hands frequently (but not with antibacterial soap) and wiping surfaces after food prep, I have avoided getting sick and boosted the overall health of my home. Here's what I use on a regular basis.
Vinegar
This is my number one go-to for cleaning nearly everything in my home. At first, I could not stand the smell of it, but I adjusted pretty quickly. Besides, it doesn't give me a headache like bleach did, and it's truly nontoxic—kid and pet safe.
For everyday cleaning, I use basic white vinegar. I add it to a spray bottle and use it undiluted for cleaning kitchen countertops, bathroom surfaces, and mopping the floor. Sometimes I add a few drops of essential oil to it for scent, or if I am cleaning extra dirty surfaces, I might add tea tree oil or eucalyptus oil for antimicrobial benefits. I also add white vinegar to highly soiled loads of laundry and in the fabric softener dispenser in place of liquid fabric softener.
When I want to deep clean or wipe down surfaces after, say, raw chicken has touched them, I use apple cider vinegar undiluted or diluted 50/50 with distilled water. Research finds apple cider vinegar to be effective at killing bacteria, including E. coli, and it's a great staple to keep in your cleaning cabinet. To reap the benefits, make sure you use a product that has "the mother" (the filmy remnants that are naturally found in apple cider vinegar), which provides good bacteria.
Baking soda
When I use baking soda, it's for hard-to-clean grime or for extra-dirty laundry—which means I don't use it a ton. A small box of baking soda usually lasts me more than a month, and, for few a few dollars, it's a really good bargain.
To clean grimy counters or glass stovetop surfaces, I take a tablespoon of baking soda and mix with enough water to form a thick paste. Then I use a cotton washcloth to scrub the dirty spots, rinse with pure water, and finish with a vinegar spray clean.
Lemon essential oil
For kitchen cleaning where icky food smells can remain, I use lemon essential oil. If you have a garbage disposal that ends up smelly, adding just a few drops before running it can help produce a clean, fresh smell and helps clean it, too. Lemon is such a fresh, clean smell for the kitchen that I also add it to my mopping vinegar.
Eucalyptus essential oil
When I want to disinfect laundry or bathroom surfaces, I add five or six drops of eucalyptus oil to my vinegar spray. To produce a cleaner toilet, you can also add a few drops to the back of the tank every few days.
Unscented plant-based dish soap
While you can certainly make your own soap, I find that it's easier to use an unscented, plant-based version and dilute it for my needs. I use it for washing dishes, of course, but I also pair it with baking soda for surface scrubbing, and I add it to laundry stains to help break them up. For an easy (and cheaper) hand soap, I dilute dish soap and add a few drops of my favorite essential oil.
White cotton cloths
Instead of relying on paper towels, I have a box of about fifty plain white, cotton washcloths that I use for my cleaning. At the end of the week, I wash them in hot water, with some unscented laundry detergent, some baking soda (about ½ tablespoon), and a cup of vinegar. Not only does it cut down on the trash and waste I am sending out of my house, but it is also inexpensive and simple. I keep a small metal wastebasket under the sink in the kitchen where I put my soiled cleaning rags and wash them once or twice a week, depending on how heavy my cleaning load was from the week.
Bottom line
My positive experience has taught me that I can effectively clean my home with natural ingredients, without sabotaging my gut microbiome or spending a fortune. Not only are they less toxic for me and my family, but they're better for the environment and are every bit as effective at keeping me from being exposed to needless germs, dirt, and filth.