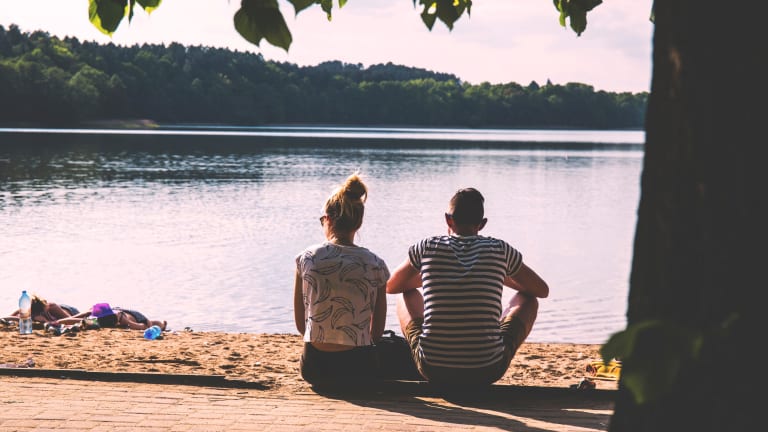 Is Pornography Use the Same as Cheating?
Both compulsive pornography use and infidelity are indicative of intimacy issues. But are they the same?
I was chatting with a friend from my psychology graduate school recently who exasperatedly declared, "I can't believe I didn't have one full lecture on infidelity and affairs in graduate school! Almost all of my couple clients are dealing with infidelity."
Certainly, there is a self-selecting bias at play with couples who have decided to make the big investment of time and money to see a therapist (who may not be covered by insurance). Many couples only make this type of investment when they're facing a major crisis, and infidelity is, unfortunately, the big kick in the pants that sends many couples to therapy.
Since sex addiction is one of my areas of expertise, I thought my friend's experience may be an anomaly. But a few days later, a colleague shared a similar frustration that he felt woefully under-prepared to treat couples with a history of infidelity. My curiosity and concern for therapists and couples alike were piqued. I dusted off my copy of the DSM-V (the official diagnostic manual used by mental health professionals to diagnose conditions) and started looking for what, specifically, the assessment and diagnostic experts have to say about infidelity and affairs.
The answer? Not much. The DSM-V gives us a fairly generic label of "Relationship Distress With Spouse or Intimate Partner" or the more the suggestive "Sex Counseling," both of which fall under "Z Code" identifiers. Z codes do not denote a disorder, but rather circumstantial factors that impact a person. Without getting too "inside baseball" on this classification system, I was reminded again that working with clients with compulsive sexual behavior and intimacy issues is still a niche that is misunderstood and minimized by mental health experts and regular folk alike.
But infidelity is a big issue affecting many people. The Institute for Family Studies finds that "20 percent of men and 13 percent of women reported that they've had sex with someone other than their spouse while married, according to data from the recent General Social Survey (GSS)." We also know that social desirability bias—"the tendency of survey respondents to answer questions in a manner that will be viewed favorably by others," over-reporting "good behavior" and under-reporting "bad"—may be artificially lowering these survey results. The problem of infidelity may, in fact, be more widespread than 20 percent of U.S. adults.
A digital form of cheating
Pornography is an even bigger phenomenon. As I wrote in "What is Sex Addiction?" the year of 2018 heralded in an unprecedented 33.5 billion views on just one porn platform. To put that in perspective, that is nearly 4.5 views of pornography for every single person on the planet (according to 2017 population data). The DSM-V does not have a diagnosis or code for problematic pornography use.
Both compulsive pornography use and infidelity are indicative of intimacy issues. But are they the same? Is using pornography equivalent to cheating?
The answer to whether using pornography falls into the same category as infidelity depends upon whom you ask and what is meant by infidelity. Some of my clients whose partners use pornography would say, "I don't like it, but . . . " while others may squirm in their seats as they reluctantly admit that it feels to them just like cheating.
There are three broad categories of infidelity. The first is purely a physical and sexual affair. This is when a person sexually acts outside of the marriage or relationship and has no personal or emotional connection or attachment to his or her partner in the affair. The second category of infidelity is the emotional affair in which a person does not have extramarital sexual contact but feeds an emotional attachment to a person other than their spouse or partner that resembles intimacy found in a romantic relationship. The third type of affair is one that encompasses both the physical and emotional dimensions of bonding.
While each is different, all three types of infidelity involve significant boundary violations that can harm a relationship. If pornography use was to fit neatly into one of these three infidelity boxes, it would probably be the first in which the infidelity occurs only on a physical level. But it's important to remember that this does not mean that the involved partner sexually acting outside of the relationship does not have emotional issues. Sexual acting out devoid of relational connection—with another person in the flesh or on a screen—is indicative of a deeper intimacy issue rooted in trauma, attachment wounding, and even addiction.
The trap many people fall into is believing that because the relationship they knew before the betrayal is not what they thought it was, the future of the relationship is doomed. If you are dealing with infidelity and/or porn use in your relationship, all hope is not lost. Healing and a new beginning are possible with the right help and support.
You can find highly trained couples therapists in your area through the International Centre of Excellence for Emotionally Focused Therapy or the Gottman Institute. If you believe sex addiction is impacting your relationship, find a Certified Sex Addiction Therapist (CSAT) or Certified Clinical Partner Specialist (CCPS).