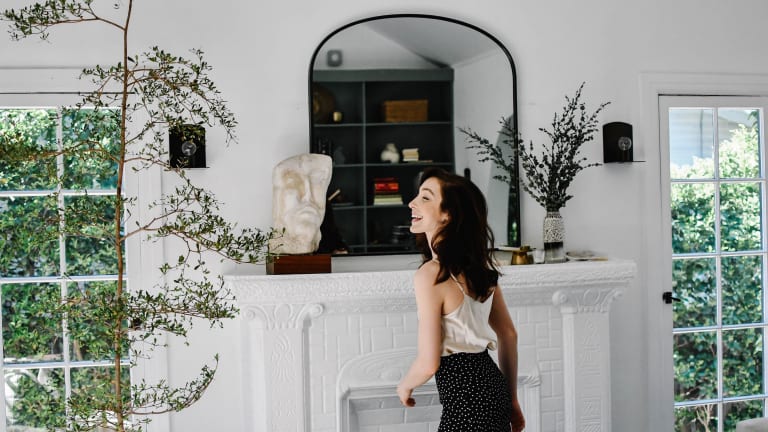 An Interview with Olympian Meryl Davis
How self-care and the simple things can ease the largest life changes.
Meryl Davis learned a lot on her road to becoming an Olympic champion ice dancer. Skating from the age of five and ice dancing from the age of eight, Davis and her partner won the silver medal at the 2010 Olympics and four years later, the gold. Davis has also been a champion off the ice. Three months after taking the gold at the Winter Olympics in Sochi, Davis was announced the champion of Dancing with the Stars. Along the way, Davis has learned how to set goals, work towards them, and pace herself with healthy self-care. She also learned just how much those lessons count when she shifted from Olympic training toward the more normal routines of everyday life.
Now, after years of adjusting to post-Olympic life and a month after getting married, Meryl shares with Verily how she balances the reality of everyday life with the highlight reel of social media and keeps a firm grasp on the simple lessons in life that never change.
Mary Rose Somarriba: Few goals are as intensive as Olympic training. While you no longer need to do intense daily work toward perfect scores, are there any parts of the prior rigorous lifestyle that you have intentionally held onto or adapted to your life beyond the Olympics?
Meryl Davis: Yes, I definitely find that I thrive with structure. And so I like to sit down and put things on paper, plan my day out, and know what I would like to be doing at what time of day, especially if I have a lot going on.
Since a young age, I've had to squeeze a lot of things into every day, whether skating, working out, going to ballet class, going to school, homework, and so on. So structuring my day and figuring out how to use my time to its max—that's something I've tried to roll over to the present. It's definitely not every day, but it's something that's helpful to me.
MRS: I can imagine the Dancing with the Stars competition coming right after the Olympics, in which you also took home first place, helped feed the competition bug a little longer. Have you found any ways to take the competition mentality and adapt it into something more applicable in daily life? Or is it something you've found helpful to drop?
MD: It's almost the opposite of a competition mentality for me. I definitely have very much appreciated my life as a competitive athlete, which has facilitated an understanding of setting a goal and how to work toward that goal and be disciplined. And I think today our society encourages competitiveness by way of social media and our constant connectedness to other peoples' highlight reels. So I've tried to spend the last couple years not being in a competitive mindset all the time. I've prioritized inner peace, not seeing where you fall in the pecking order. I think finding the difference between competitiveness and striving after one's own personal goal is hugely important in our culture.
MRS: What self-care practices helped you recharge in Olympic training that still help you now?
MD: I love taking baths. I just think it's such a nice small way to show yourself love. Just taking twenty minutes and a book and some Epsom salt in the bath, and letting your body and mind recover.
One of the things I learned as an athlete is you can't just go-go-go all the time because you'll never be healthy and productive and sustain a healthy pace if you haven't included rest and recovery. My coaches taught me this early on, and I've definitely sustained that. I learned when to push and when to slow down—really to listen to my body. I think that's a huge component to success.
MRS: Would you say you've developed (or are you developing) a new capacity to "slow down" after the rigorous pace of Olympic training?
MD: I'm still working on it. My now-husband and I—we just got married a month ago—we love getting out into nature, going on hikes, going to the beach, and leaving our phones at home. Reconnecting and disconnecting, if that makes sense. It's a great way to slow down because we're also busy with work, and constantly available on our phones and our laptops, so just remembering to breathe and get out into nature is what inspires us to be our best.
After the Olympics, I thought I'd like to rent a place on a beach somewhere and recover from years and years of intensity. But pretty quickly I thought, OK, what's next? I felt the desire to find something I'm really passionate about and embrace new adventures and challenges. I've sort of been in that phase since then—about five years now.
MRS: How much do health and fitness remain a central part of your life and how is it different?
MD: I think it's about balance. For me, definitely the physical working out and being active is something that has sort of transitioned since moving away from competitive sport—when you have a team and coach and so on. Since moving away from that, I've had to find my own balance and motivation and what feels good. I think that is the key—knowing how wonderful it is to feel good and healthy.
I don't have to be in Olympic condition at all times anymore, and yet in the way that I eat, work out, or skip the gym—whatever my choices are, it's motivated by listening to my body about what I need to choose in order to do my best. Taking care of my body is a huge part of my life and will continue to be.
MRS: You have hundreds of thousands of followers on social media. What do you enjoy most and least about social media today?
MD: I definitely enjoy connecting with people. I love getting messages from people—"What you said today really resonated with me," and so on. I enjoy sharing my adventures and inspiring others to be open and honest. And I think that's also the challenge—sharing real life. I think that social media has such positive elements to it, and yet I think it also can make people out of touch. When you're exposed to a constant highlight reel of other people's lives, it sort of makes you put your own life into question. And so it's great to try to remind people that everybody has highs and lows, and challenges and things are never perfect.
I think that as somebody who is followed, it's important to me, every once in a while, to remind people that, while I'm sharing things and adventures I'm excited to share, no one's life is perfect. That's a major challenge with social media, and I try to strike that balance with my platform and social media accounts—being inspiring and real at the same time.
MRS: After so much accomplishment early in life, I can only imagine that leaving the Olympic race might feel like an early version of a post-retirement identity crisis. Many people senior in their careers struggle with finding purpose after leaving jobs they devoted decades to. What has helped you navigate your own version of this challenge earlier in life?
MD: That's something that I talk about all the time as I'm sort of discussing my transition. It's a part of my life and a big part of athletes' lives—and a part of everyone's lives, but for athletes, it happens sooner. There comes a time when it's time to step away from your job, and at that point, you can wonder, "What's my role, what's my purpose, how do I contribute to society?" I've spent a long time thinking about that—and the answer is that unfortunately, it takes a lot of time. It takes time—a lot of time—to try new things, whether they're things you've always wanted to try or new challenges to surprise yourself. Since in today's culture a lot of our identity is wrapped up in what we do, allowing ourselves to encourage and support growth in other areas is great.
Lastly, I think talking about it is huge. Whether I'm talking to my fellow athletes, family, or others, having open conversations about the challenges of seeking purpose is huge.
MRS: Does it help to have a husband who understands the Olympic world you've navigated?
MD: It's huge. The fact that he understands these schedule and my days, and when I'm on tour for months at a time is huge for us as a couple. But also our lives together—the things we cook together, the activities we choose—are in large part dependent on our mutual understanding of the role that healthy living plays in our lives.
MRS: Do you ever ice dance with your husband? Or is dancing on the ground more your style?
MD: We never ice dance together or skate together, to be honest. We always dance on the ground.
MRS: How did you two meet?
MD: We had known each other for many years, and we didn't train at the same time, often. But his mom was my longtime coach, so we knew of each other through the skating world and had a lot of mutual friends, so we spent some time together. And it sort of blossomed from there.
MRS: I can't help but think about how charitable work, such as what you've done with Classroom Champions and Figure Skating in Detroit, could help in the finding-purpose department. Tell me a little about those.
MD: The organizations I work most closely with are Classroom Champions and Figure Skating in Detroit. Figure Skating in Detroit uses skating as a tool to educate young ladies—as a tool to get back up when they fall and persevere through their challenges. And what we do with Classroom Champions is athletes share with kids in school the lessons of perseverance—setting a goal and working toward it. For me, it's important to give back and use your own life experiences to help educate, motivate, and inspire other people.
It's also a great way to keep reminding myself of the simplicity of these lessons. We all go through these phases in life when we feel, I don't know what to do, or this feels insurmountable. At those moments, I appreciate reminding myself of the simplicity of these lessons.
MRS: What do you love most about being from (and living half your time now in) Detroit?
MD: Detroit has such a unique vibe. It's such a unique city, and I just love being from there. I'm from a suburb called West Bloomfield. I think it's so interesting to watch the city grow and evolve over the last decade. There's an energy in the city and a feeling of mutual support and encouragement that I think is unique. Detroit has been through a lot of challenges, and I think there's a buzz and excitement in the city that is infectious, and I love that about Detroit.
It's a really great city destination these days. A lot of great restaurants, bars—partly because of what the city has been through and its renewal, people have opened a lot of experimental restaurants. It's fun to embrace the new scene.
Editors' Note: Verily exists to empower women to be more of who they are. Support this mission by joining us at Verily Yours. Your subscription gives you exclusive content (that is different than our website content) and supports our publication, including our efforts to develop a print magazine. Subscribe here.