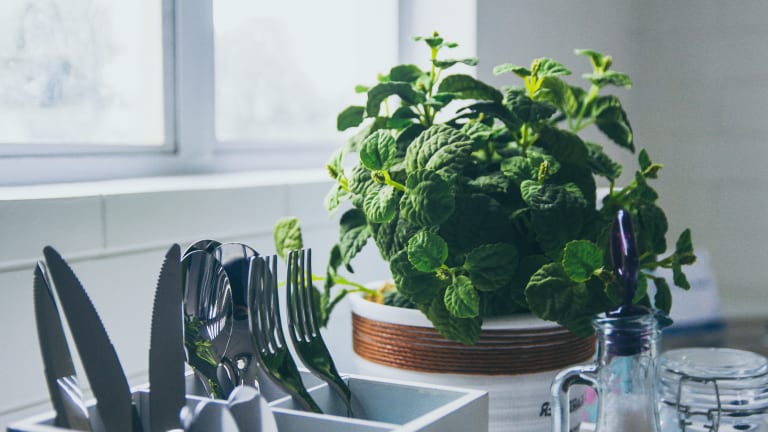 At Home with Her: The Incomparable Lushness of a Window Herb Garden
An interior jungle taking center stage
Tell us about your favorite spot in your home. Why is it your favorite spot?
My window herb garden is truly my favorite spot in our small apartment. When my husband and I first toured our apartment, the large bump-out window in the living room captured my heart, but once we moved in, I wasn't sure how to use it. It was his idea to put a few potted plants on the floor in front of the window. Later that summer, we found the perfect plant stand and filled it with planters of various sizes and textures. Now we obsess over the many herbs we are growing there: basil, mint, and marjoram, to name a few. I use them regularly for cooking, but we also just love how they look—a little tamed jungle taking center stage in our living room.
Is there a particular story about how this spot came to be arranged/decorated the way it is? Are there any particular pieces that have a significant history to you or your family?
When we first moved in, we had a small budget and few pieces of furniture—but over the summer, that slowly changed. One evening while out on a run, my husband noticed the base of a large aquarium sitting on the sidewalk; the tank was nowhere to be seen. Together, we carried the heavy wooden bench down the street to our home. It fit perfectly in the nook created by the window. I still find fish food sometimes when I dust behind it, but it serves our needs perfectly. We have actually found a lot of our furniture this way; it made furnishing our first apartment a delightful joint effort.
Have there been particularly inspiring or moving moments in this corner of your home? Or, is there a particular feeling you get when you are in this space in your house?
I will always be someone who loves to shop for new things. But I have been trying lately to throw away less and reuse when possible. My window herb garden has felt like a small step in the right direction. When I snip just the right amount of chives for a recipe, I feel a small sense of accomplishment. I don't buy packages of basil and let them rot on the counter (as much) anymore or throw out mint when I forget about it in the back of my fridge. My beautiful container garden doesn't solve all the world's problems, but it's a tiny step in the right direction—and you can't beat the aroma! 
Editor's Note: At Home With Her is a Readers Write column. We want to see these corners of your home, and let them inspire our own homes! Submit yours here.