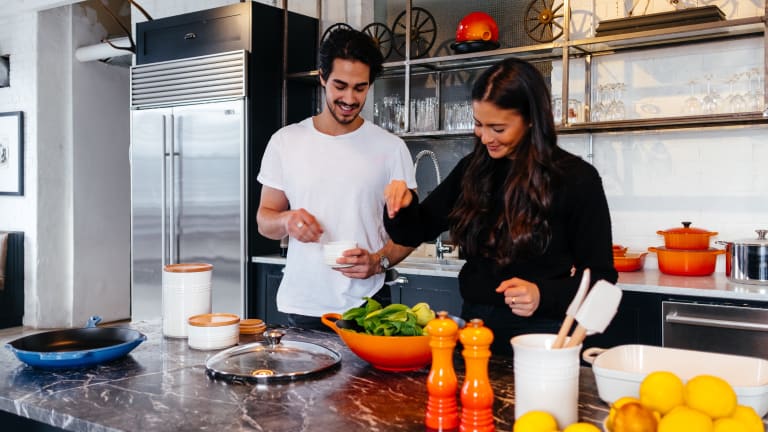 How to Enjoy More Fruits and Vegetables This Summer (and All Year Round)
And no, we're not expecting you to substitute your meals for carrot sticks.
Throughout our lives, we've all been told to "eat your veggies!" We all know the story: if we want to have a healthy diet, we need to be eating fruits and vegetables. Some of us also know that the recommended amount we should be eating is about five servings, although this depends on age, gender, physical activity, and overall health.
And yet, this simple goal sometimes seems impossible to achieve. We might want to eat more fruits and vegetables, but practical issues seem to always get in the way. Maybe the types of vegetables you're used to aren't available at the store, or you think it just costs too much money to purchase five servings of produce a day. Then there's the question of how to actually prepare the produce, how long it lasts before you need to throw it out . . .  plus, you need foods that are convenient and quick to prepare since you're always on the go.
I only recently started to get the hang of eating enough fruits and veggies. It took intentional planning in the beginning, but now it has become second nature. Here are a few things I discovered that help me add more fruits and veggies to my day!
In the grocery store
Let's start where it all begins, shall we? When you're at the grocery store, remember that any types of fruits and veggies count! This includes fresh produce, yes, but frozen, dried, canned, and juiced can all be a part of your intake. Don't limit yourself! Buying a variety of fruits and veggies other than fresh produce can help you prevent spoilage. Use perishable produce right after you buy your groceries and frozen or canned selections as you get to the end of your stock.
The best way to ensure you're getting a good variety of fruits and veggies? Remember to follow the rainbow! Red plants include apples, cabbage, grapes, red peppers, and beets. Some examples of orange and yellow fruits are cantaloupe, carrots, squash, pineapple, sweet potatoes, and corn. Spinach, broccoli, peas, honeydew melon, and kiwi are all green. Foods in the blue/indigo/violet group include raisins, eggplant, figs, prunes, and blueberries. And finally, don't forget your white fruits and vegetables like potatoes, bananas, ginger, jicama, and parsnips. Before you check out, just look down in your grocery basket, and see if you've gotten at least one item from good ol' Roy G. Biv.
If you're too busy to wash and cut fruits and veggies (or just too lazy, like me), you can purchase the washed and pre-cut kind. You may be more likely to eat it since most of the work is already done for you, which means you won't waste money on spoiled food. Win-win!
At home, it's very easy to add fruits and vegetables to the meals you're already making.
Breakfast
Do you enjoy omelets for breakfast? Substitute spinach, onions, or mushrooms for one of the eggs or half of the cheese. Vegetables add volume and flavor to the dish, and they have fewer calories than egg or cheese.
Or perhaps you're a simple milk and cereal person. Cut back on the amount of cereal in your bowl, and add some sliced bananas, peaches, or strawberries. You'll have a full bowl, but with fewer calories.
Need an even easier way to add fruit to your breakfast? Have a glass of 100 percent orange or grapefruit juice.
Lunch
If you're like me, lunch is your easy, no-prep meal. Sandwiches and wraps are staples in my lunchbox. If you tend to pile on the meat and cheese, why not swap out some slices for lettuce, tomatoes, cucumbers, or onions. Better yet, why not change your sandwich up with some unique vegetables that you've probably never thought to put between two pieces of bread⁠—like this spiced sweet potato sandwich with feta?
If you're more into crockpot or make-ahead lunches, soup is an easy place to sneak in a few vegetables. Just add a cup of chopped vegetables in place of two ounces of the meat or one cup of noodles in the soup. Some good veggie options for soup are broccoli, carrots, beans, and red peppers. Have you ever thought about adding fruit to your lunch recipe? Why not try this watermelon goat cheese salad or this peach, feta, and avocado toast? I'm willing to bet you never thought about adding fruit to the popular avocado toast trend—I never had until I saw someone else do it!
Dinner
Oh, dinner. The meal that always seems hardest to get on the table. So let's make this veggie addition as easy as possible. Add one cup of chopped vegetables, such as broccoli, tomatoes, squash, or peppers to your favorite dish. If you're really trying to earn extra points, you can add those veggies in place of some of the rice or pasta that's more than likely in that recipe. In fact, a big trend right now (and one that I've tried out myself with great success) is cauliflower rice. My favorite way to do this is with the Instant Pot (find the recipe here), but it's pretty easy to make even if you don't have one (see how to do that here). And of course, if this still intimidates you, you can always just purchase frozen riced veggies at the store now that the trend has become so popular.
Then there's pizza! And tacos! Yes, you can make these dinner staples into a vegetable rainbow. "Paint" your pizza with peppers, broccoli, spinach, and pineapple. Or dress up your taco dinner with sweet peppers, cucumbers, and avocado. My husband and I like to buy a simple frozen cheese pizza and just add fresh veggies on top.
On the go
Keeping fruits and veggies on hand can prevent you from reaching for those last-minute sugary, high-fat snacks that can slow you down for the rest of the day. Try picking up one or two of these ready-to-eat favorites: red, green, or yellow peppers, broccoli or cauliflower florets, carrots, celery sticks, cucumbers, or snap peas.
If you have a sweet tooth, never forget that apples and bananas are nature's fast foods—plus, they're mess-free in the car. My favorite thing is a DIY fruit roll-up; I just slap some peanut butter on a tortilla, add whatever fruit I have on hand, and then take it with me! Dried fruit is a great snack, as well, and you can even save money by making it yourself (or if the fruit you have on hand is about to go bad). You don't need a dehydrator—pop your fruit in the oven for six to eight hours.
Eating out
 When eating out, the key is to choose the right menu combinations. Try starting with a main dish that includes lots of veggies—something like stir-fry or fajitas. If your main dish is lower in veggies, order vegetable soup or a salad on the side, or simply order a side of veggies, which you can order individually at many restaurants.
Don't pressure yourself to be perfect 100 percent of the time in eating your recommended number of servings of fruits and veggies every day. Getting the right amount most of the time—try shooting for four out of seven days a week—is a great start to changing your health for the better!