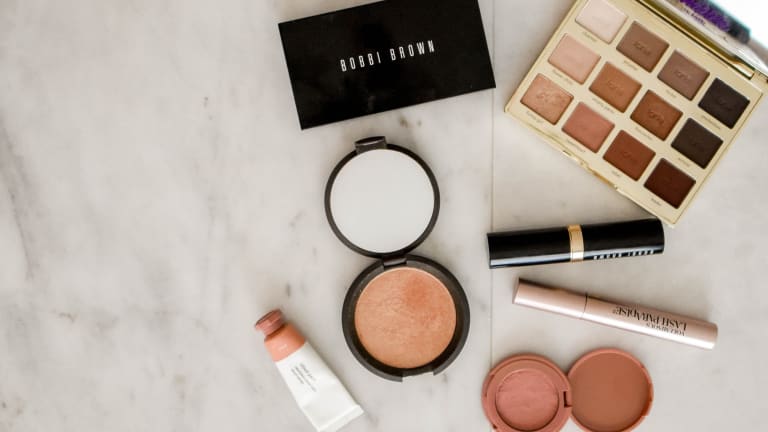 Building a Makeup Capsule Wardrobe
Another place to simplify.
Nearly everyone these days is familiar with the concept of a capsule wardrobe: a pared-down selection of items from your closet meant to help you get the most out of clothes you already own for the length of a season.
I created my first capsule at the end of my sophomore year of college, and it radically changed the way I shop. Even though I no longer restrict my closet to a set number of items, this exercise taught me to treasure the garments I already own and shop with an eye towards quality and versatility.
That experience got me thinking: what if I applied the same edited-down principle to other aspects of my life? A simplified wardrobe cut the time it took me to get dressed in the morning in half and saved me a ton of money. Could "capsuling" other aspects of my life have the same effect?
Without even thinking about it, I started to subconsciously create a "capsule" makeup bag. I switched to a smaller, easily portable bag, and, over a few weeks, I trimmed down what I owned until the whole collection fit in that bag. I invested in a few quality products after sampling them in-store and stuck with them. My makeup routine became simple and straightforward, leaving me with extra time in the morning to enjoy my first cup of coffee.
The unexpected benefit? Now that I only have limited space in my makeup bag, I'm no longer tempted to fill it up with impulse purchases, from the random lipsticks snagged on grocery runs to the redundant neutral palettes from TJ Maxx (how many shades of brown does one girl need?). And it's easier than ever to travel with my makeup bag when it's so small!
For the girl who finds makeup overwhelming, a capsule approach can make the experience less intimidating. For the girl who likes variety when it comes to cosmetics, a capsule set-up can help you keep your items fresh and organized. If you want to give a capsule a try, here a few basic guidelines to help you get the most out of the experience.
01. Purge.
Tossing old products you no longer use will not only clear up extra space in your capsule, but it's also good for your health. Ophthalmologists recommend throwing away eye makeup after three months and always tossing products if you have suffered from an eye infection. This is especially important with mascara. It's bad enough to accidentally poke yourself with a mascara wand. You don't want to accidentally get an infection, too!
I know that it is tempting to hang onto products even if you do not use them regularly or even at all. After all, you spent money on this stuff! But old, unused makeup is just a breeding ground for bacteria. It's better to let it go.
As you make decisions about what to keep and what to toss, hang on to items that you regularly reach for daily to keep in your capsule. I also recommend keeping items that you enjoy using on special occasions—but do make sure to keep these products fresh.
02. Embrace seasonal shades.
Just as your wardrobe naturally tends to vary season by season—sweaters in the winter, sleeveless in the summer—chances are your makeup routine varies, too.
Try using more lightweight options for foundation and mascara in the hotter months to avoid sweating them off. You may also wish to choose different shades of makeup depending on the season. If you tan, you might even need a different shade of foundation to match your new sun-kissed hue. You can swap out eyeshadow and lipstick with the seasons, too. I favor a lighter, peachier blush in summer and a deeper rose shade in winter. Same with lipstick. Jewel-toned eyeshadow tends to better match my winter wardrobe; sometimes, I will skip shadow altogether in the summer.
What does this mean for your capsule makeup kit? As you sort through your makeup collection, identify the products you reach for year-round. Then sift through the remaining items, and ask yourself whether you anticipate wearing them in the next few weeks. I basically use two makeup capsules: one for spring/summer and one for fall/winter. But you can break it down even further depending on your wants and needs.
03. Try before you buy. 
After you have pared down the contents of your makeup kit to what is clean, useful, and seasonal, you may find that you need new products or want to upgrade from a product that no longer works well for you.
If you are in the market for new makeup, I highly recommend trying before you buy. Try products on in-store whenever you can. That way you can ask someone at the beauty counter for help—they are the experts, after all! Staff can also help you locate the best products for your skin tone and make personal recommendations.
Go into the store bare-faced to ensure an accurate match, and be sure to check how the product looks in natural light if you can. The right shade will blend right into your skin. You should be asking yourself, "Where did it go?"
Take advantage of free samples. Stores like Sephora give these out with your purchase, and sometimes you can find samples or smaller sizes through eBay or Poshmark. (But steer clear of pre-used items to avoid getting an infection!) Purchase trial or travel sizes of a new product when you can. A larger size might be a better value, but it's also a risk if you aren't sure whether you want to commit to the brand permanently.
Sometimes, you may not have the option to try a product you are interested in beforehand. If that's the case, take some time to read online reviews. Try to find reviewers with similar needs or preferences to your own. I'm very pale, so if a reviewer says that the lightest shade of a foundation still looked orange on her, chances are this product is not for me. And read up on store return policies before you shop to find out whether you can return products you dislike.
After trying out all of these steps for myself, I am much happier with the contents of my makeup bag. My beauty routine is down to a handful of steps, and each item I use feels luxurious and perfect for me. Purging your current products and investing in new ones might take some time, but the payoff is ultimately more bang for your buck. Try cultivating a capsule mentality when it comes to your beauty products, and see what you think.