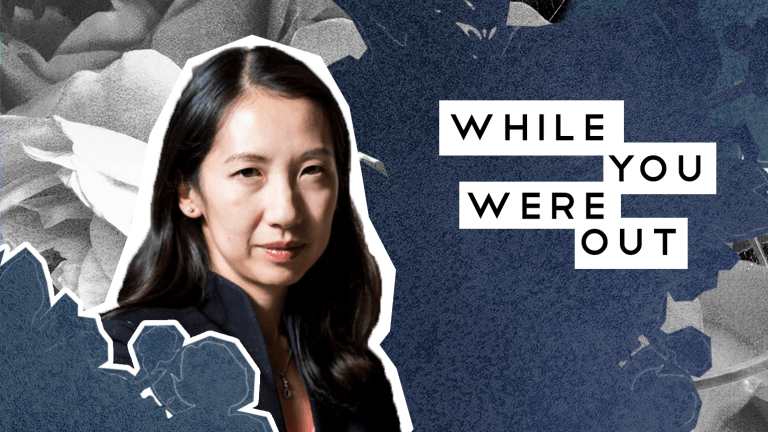 Planned Parenthood Removes President Dr. Leana Wen—and Other Notes from the Week
Catch up on all the news you might have missed with our handy summary of the week's top stories.
We're pleased to bring you "While You Were Out"—Verily quick takes on the happenings of this week.
Saudis Contemplate Letting Women Travel without Men's Approval
The Financial Times reported this week that authorities in Saudi Arabia plan to relax restrictions that prevent women from traveling without a male guardian's OK.
Under current law, women of all ages and men under 21 need their guardian's approval before traveling outside the Saudi kingdom. The proposed changes would allow both sexes to leave the country without asking permission after reaching the age of 18.
Saudi Arabia, an absolute monarchy and one of the most conservative societies on the planet, has experienced a gradual loosening of restrictions on women under the influence of Crown Prince Mohammad bin Salman. A ban on female drivers ended last year, for example. But "MbS," as the Crown Prince is sometimes called, has a menacing side as well: last year, women's rights activists working for an end to the male guardianship system were arrested and put on trial for charges that prosecutors describe as "coordinated activity to undermine the security, stability, and social peace of the kingdom." Currently out on bail after an international outcry, the women have described being sexually abused and tortured during their detainment.
It's possible that an official announcement of the changes to travel laws could be made by the end of the year. We're excited for Saudi women and the opportunities this new freedom could offer them. —Margaret Brady
Planned Parenthood Removes President Dr. Leana Wen Less than a Year into Her Role
This past Tuesday evening, emergency physician and president of Planned Parenthood, Dr. Leana Wen shared on her Facebook page, "Moments ago, I learned that the Planned Parenthood Board terminated my employment at a secret Board meeting to which I was not invited." Dr. Wen added that she had been in good-faith negotiations about leaving the organization, but that the news of abrupt termination was unplanned.
In a subsequent statement, Dr. Wen explained, "I am stepping down from the organization sooner than I'd hoped because of philosophical differences about the direction and future of Planned Parenthood." Dr. Wen shared that the differences were related to her motivation to lead the organization toward greater reproductive health care at large for women, including "improving maternal health and the health of women before, during, and after pregnancy; increasing programs for cancer detection and STI/HIV treatment; and calling attention to the social determinants of health like food insecurity and housing instability that deeply affect people's health and widen rampant disparities"; meanwhile the Planned Parenthood board had shifted its priorities to more politically-oriented goals than she had signed on for.
Less than two weeks prior to her termination, Dr. Wen shared in a Washington Post op-ed that she suffered a miscarriage. "I decided to write about my experience because I want to break the silence and shame that often come with pregnancy loss," she wrote, alongside a critique of states' laws that are scrutinizing women who have a miscarriage as complicit in murder. While it is certainly a tumultuous political landscape on the topic of abortion laws, the timing of Planned Parenthood's abrupt termination of Dr. Wen certainly seems heartless coming right after a public announcement of her personal loss. —Mary Rose Somarriba
Shaking, Stirring, and Breaking the Glass Ceiling: 007 Will Be Female
Filming for a new James Bond film is underway, and UK newspaper The Mail on Sunday said 007's "license to kill" will be turned over to British actress Lashana Lynch, a black woman.
To clarify: Daniel Craig will still star as the complicated and suave anti-hero, James Bond. But the plot of the new movie—the twenty-fifth in the franchise—finds him retired from MI6 and holed up in Jamaica. Lynch portrays his replacement, who's been awarded the 007 tag in his absence. "There is a pivotal scene at the start of the film where M [played by Ralph Fiennes] says 'Come in 007', and in walks Lashana who is black, beautiful and a woman. It's a popcorn-dropping moment," the newspaper quoted a movie insider as saying.
Writer Phoebe Waller-Bridge is said to be responsible for the change, an attempt to bring the series up to date in the #MeToo era. Bond will remain true to his history as a debonair heel for whom women are disposable sexual partners, but the movie script withholds its approval of his actions. The report even indicates that Lynch's character will be resistant to Bond's charms."The important thing is that the film treats the women properly," Waller-Bridge said. "He doesn't have to. He needs to be true to his character."
The movie studio has yet to confirm the reports as filming continues in Italy and the UK. It's perhaps too much to hope that James Bond would one day become a gentleman. However, we're certainly optimistic that this story will play out in theaters as insiders have described. It would be a pleasure to enjoy one of the usually engrossing Bond movies without having to squint past the glamorization of caddish behavior.⁠ —MB
Study Suggests Drug Epidemic is Causing Foster Care Spike
Research published this week in JAMA Pediatrics shows that the number of entries into the foster care system caused by parental drug use has more than doubled since 2000.
The report in the American Medical Association's journal examined statistics gathered by the federal government, analyzing nearly five million cases of kids beginning a journey through foster care. The number of cases doesn't necessarily correspond to the number of foster children nationwide, because unfortunately, some children enter the system more than once.
Researchers found that over a seventeen-year time period, nearly 1.2 million entries were the result of adult drug use. About 15 percent of cases were drug-related in 2000, compared to more than 36 percent in 2017. Meanwhile, other factors like abuse or neglect declined as official reasons for removing children from their homes. By 2017, the overall number of children living in foster care had increased by 12 percent over 2012 figures.
The trauma inflicted on kids by separation from their families is one of the most frustrating aspects of the opioid scourge, which is beginning in many communities to shift into a methamphetamine epidemic. More than once, disturbing images have been shared on social media that show children in the backseat of cars, with adults passed out and presumably overdosing in the front. The public reaction to the problem is understandably one of anger, but it seems that the typical response of incarcerating parents and removing their kids is not working to stem the tide. Advocates and public officials need to find new approaches that can keep kids safe. ⁠—MB
Emmy Nominees Announced This Week
This past week, the 2019 Emmy Award nominees were announced. HBO's Game of Thrones swept up the most nominations, at thirty-two total, which according to Variety, makes history as the most Emmy nominees for any one TV show.
Along with GoT, comedies swept the floor with nominations, such as Schitt's Creek, The Good Place, and Russian Doll. Verily favorite, The Marvelous Mrs. Maisel also received twenty nominations. The 71st Emmy Awards will air on September 22, and in the meantime, you can check out the full list of nominees here. —Gabriella Patti
Followers and Family Mourn Death of YouTuber Emily Hartridge
A post on social media star Emily Hartridge's Instagram account announced that the 35-year-old has passed away.
"Hi everyone. This is a horrible thing to have to say over Instagram but we know many of you were expecting to see Emily today and this is the only way to contact you all at once," the post said. "Emily was involved in an accident yesterday and passed away. We all loved her to bits and she will never be forgotten." Reports indicate that Hartridge died in London in a collision between an electric scooter and a truck.
Her last post to her 350k subscribers on July 8 was a humorous take on the benefits of dating younger men, like her boyfriend, Jake, who was eight years her junior. She had been making YouTube videos for seven years, on topics ranging from mental health to relationships.
In one series of videos published last year, Hartridge tearfully spoke of taking fertility tests and being told she was at risk. Her doctor advised her to buy several egg retrieval cycles, marketed as a "package deal," to preserve her genetic material for future IVF. Such egg freezing programs are always an expensive and risky gamble, and as often happens, Hartridge's attempt to protect her fertility never resulted in pregnancy.
Emily Hartridge's death comes as a shock to her followers, but her loss must be infinitely more painful to those who knew her beyond a screen. May they be comforted, and may she rest in peace. —MB
FaceApp's "Photo Aging" Goes Viral, Leading to Warnings from Lawmakers
This past week FaceApp, a smartphone app which allows you to add realistic looking face-altering filters to your photos—most notably the "aging" filter—went viral as celebrities and influencers shared their aged photos across social media. There doesn't seem to be a clear reason as to why the app, which debuted in 2017, gained such sudden viral popularity, however, this sudden surge in usage did lead to warnings from lawmakers who expressed concern about how the app may intrude on privacy. In a since-deleted Twitter post, one user claimed that the app was collecting way more data than users realized. Furthermore, the app was created by Wireless Lab of St. Petersburg, Russia. This realization was disturbing to many users as suspicions about Russia are high following their alleged interference in the 2016 presidential election.
The Democratic National Committee has since responded by sending out an alert to staff members urging them not to use the app for fear of a security breach. They expressed the importance of ditching the app in particular to staff members working on presidential campaigns. Security experts have responded by saying that some of their fears have been blown out of proportion, as the app doesn't collect personal data beyond what is typical for any app plus the photos that users upload. The company claims that most photos are deleted within 48-hours from their servers. Senator Chuck Schumer is urging the FBI and FTC to investigate the app: "It would be deeply troubling if the sensitive personal information of U.S. citizens was provided to a hostile foreign power actively engaged in cyber hostilities against the United States," he wrote.
It remains unclear as to whether or not we are simply dealing with a mob mentality of fear, based solely on the fact that the app originates in Russia, or if there is a real reason for concern. Either way, it's important to question what information we share, and what apps we choose to use. "We always have concerns," Jeremy Gillula, tech projects director at the Electronic Frontier Foundation, a nonprofit civil liberties group, said to the New York Times. "The fact that a lot of apps and services usually contain this catchall clause that says you grant us worldwide license to reproduce, modify, adapt, create derivative works from, distribute, publicly perform and display your user content always seems a little over the top to me." —GP
Good News of the Week
Mother Unofficially Sets Marathon with a Three-Person Stroller World Record
Montana mom of three, Cynthia Arnold is awaiting Guinness World Record approval to confirm she has set a new record for running a marathon while pushing a three-person stroller. Arnold ran a 3:11 race at the Missoula Marathon, while pushing her three children (ages six, four, and one), whose weight combined with that of the stroller is 185 pounds. The previous record was 4:06.
Arnold is no stranger to record-setting. She set the record for running a half marathon with a three-person stroller at the same event last year. In order to submit a record for approval, the entire event must be filmed. Shortly before the full marathon began this year, Arnold's camera fell off the stroller. Thankfully, she was able to reattach it, which meant she had a valid entry. It also means we can view this awesome moment, during which she hands her kids popsicles mid-race.
As inspiring as her race was, her thoughts on finding balance as a parent are even more so. "It's interesting to me how my perspective has changed as I have grown as a mother," Arnold said. "I used to really stress so much about racing, and now it's sort of the last thing I'm thinking about." At the same time, she says that continuing to run after she became a mother was an intentional and essential move. "Those of us who run know how much it is a part of our identity. You can't just give that up if you become a parent. The stroller gives one the freedom to carry on a lifestyle with new ones in tow." —Lindsay Schlegel
Watch of the Week
This week, NPR featured the band La Santa Cecilia in its World Cafe of emerging artists, with a music video that critiques our world of social media. The band members told NPR that they wrote the song after "realizing how disconnected and uninspired we felt because of social media. It's so distracting when it comes to being creative. Also, it puts you in a position of constantly comparing yourself to other people which isn't healthy for anyone."
Miss our "Articles of Note" section? Subscribe to Verily Daily emails and check out our new suggested reading at the bottom, in our new "May We Recommend" section.