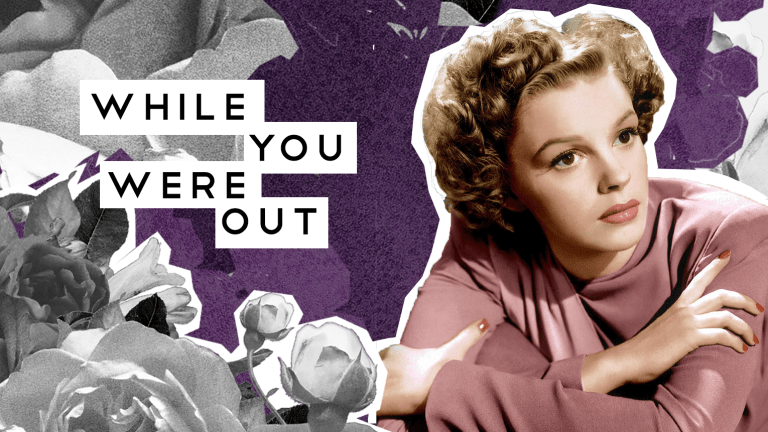 New 'Judy' Trailer Hypes Biopic—and Other Notes from the Week
Catch up on all the news you might have missed with our handy summary of the week's top stories.
We're pleased to bring you "While You Were Out"—Verily quick takes on the happenings of this week.
New 'Judy' Trailer Hypes Biopic
The theatrical trailer for the upcoming biopic of showbiz legend Judy Garland was released earlier this week. The movie, Judy, is due out in September and features a transformed Renee Zellweger in the title role.
The story picks up in the last year of Garland's life as she struggled to provide for her family in the wake of decades of mental illness, addiction, and financial abuse on the part of her agents. In one painful scene featured in the trailer, Zellweger's Garland takes a handful of pills, prompting her young daughter to plead, "Mama, please don't go to sleep now." "No, no, no, these are the other ones," her mother reassures her. The star later died of an accidental drug overdose at the age of 47, leaving behind her fifth husband and three children, including future Oscar winner Liza Minnelli.
As the trailer makes clear, the soundtrack alone will be worth checking out; it will include Garland-originated classic songs like "Have Yourself A Merry Little Christmas," "Somewhere Over the Rainbow," and "The Man that Got Away." Her acting performances in The Wizard of Oz and Meet Me In St Louis have scored her generations of fans. One of the few movies she made in the latter part of her career, A Star is Born, was remade in 2018, starring Lady Gaga.
Given how Garland's story ends, the material doesn't make for a feel-good trip to the movies. But, in a way, Judy will be an opportunity for fans to appreciate her talents on the big screen, where she dominated. —Margaret Brady
The United States Welcomes Its First Baby Born From A Deceased Donor's Womb
Doctors at the Cleveland Clinic announced this week that, for the first time in the United States, a mother has given birth after receiving a transplanted womb from a deceased donor. The baby was reportedly born in June.
Successful womb transplant surgery was pioneered in Europe, and several children have been born since. However, in most cases, those organs were taken from a living donor, often a friend or family member. In 2018, doctors in Brazil announced the first worldwide birth after a deceased-donor transplant. The difference is important because a living transplant means the donor must undergo a hysterectomy and be exposed to all the dangers of major abdominal surgery, all for a donation that is not life-saving for the recipient. By transplanting from a deceased donor, those concerns can be largely resolved.
The procedure is still ethically complicated, though. Recipients run significant risks of surgery, along with the devastating possibility their bodies will reject the new organ. They can also only conceive via in vitro fertilization. To truly restore function one would hope a procedure can be developed to allow these women to have a baby without being subjected to the emotionally and physically taxing process of IVF. This development is also a cause for reflection that women continue to receive the cultural message that personal childbearing is so important they must pursue it by any means necessary—even up to the cost of their lives. Regardless, the birth of a new baby is always wonderful news. Congratulations to the family and their medical team! —MB
U.S. Women's Soccer Team Wins World Cup Title
The U.S. women's soccer team once again won the World Cup title on Sunday, in their final match against the Netherlands. It is the United States Women's National Team's second FIFA Women's World Cup win in a row and their fourth altogether.
The celebration didn't end on Sunday, though. On Wednesday, the team entered New York City and were greeted by fans during a victory ticker-tape parade. Fans shouted "USA" and "Equal Pay" while throwing confetti on the team. Each member of the team was gifted a key to the city as well.
To top off their memorable week, the team flew out to Los Angeles on Wednesday night to attend the ESPYS (Excellence in Sports Performance Yearly Award), where the Best Female Athlete award went to soccer player Alex Morgan, who was responsible for six goals and three assists over the course of the World Cup. While accepting her award, Morgan quipped, "Sorry, but this is probably the second-best trophy we won this week." The team took home the Best Team award as well. —Gabriella Patti
Amazon Workers Plan a Strike for Prime Day
Warehouse workers at Amazon's facility in Shakopee, Minnesota have announced they are planning to walk out of work on July 15, marked by the company as "Prime Day," a major shopping event.
About a hundred workers, including some engineers, are reportedly involved. They are taking action to demand changes in Amazon workplace practices, including an over-reliance on temporary employees and productivity guidelines they say put employee safety at risk. Amazon has responded by saying most workers at the plant are permanent employees, and coaching is offered to those who struggle with productivity goals.
It is not likely that the strike will significantly impact the online behemoth's Prime Day logistics, but it does give the company another shiny black eye, underlining its fraught public reputation. In September, Democratic presidential candidate Senator Bernie Sanders introduced the Stop BEZOS Act, to require large companies to subsidize the cost of welfare services their low-paid employees use. Jeff Bezos is Amazon's CEO. In 2015, the New York Times published a report revealing employee complaints about mistreatment including during pregnancy, miscarriages, and cancer treatment. In one incident, Amazon officials kept a warehouse without the air conditioning running in 100-degree weather. An ambulance was on standby in the parking lot to remove employees as they collapsed in the heat.
Although many find Prime an essential service, these growing concerns about how the company treats its employees are problematic. Here's wishing the Amazon workers receive the treatment they deserve. —MB
Jeffrey Epstein Is Charged in Sex Trafficking More than a Decade after Allegations
Multi-millionaire financier and hedge fund manager Jeffrey Epstein was charged this week with one count of sex trafficking and one count of conspiracy to commit sex trafficking. That may sound like a small-scale indictment, but according to court documents, over the course of many years, Epstein created a network of dozens of underage girls—some as young as fourteen—to perform sexual acts on him in at least two of his six residences. He has entered a plea of not guilty.
In 2008, Epstein did plead guilty to two counts of prostitution on the state level. In a deal that has since been ruled unconstitutional, he avoided federal prosecution and served thirteen months in prison, during which he was allowed to work for twelve hours a day, six days a week. It's not yet clear what prompted the current charges, though information revealed in a 2018 Miami Herald report may have contributed.
Also making news is the fact that Epstein and President Donald Trump were once the only male attendees at a Florida party with twenty-eight women who were flown in for a "calendar girl" competition. In 2002, Trump said Epstein was "a lot of fun to be with," but he's since distanced himself from Epstein.
This week, White House counselor Kellyanne Conway stated that Trump, "like everyone else, sees these charges, the description of these charges against Epstein, as completely unconscionable and obviously criminal." Other prominent figures with connections to Epstein include former president Bill Clinton, Woody Allen, and Kevin Spacey. —Lindsay Schlegel
Twitter Bans Dehumanizing Posts Toward Religions
Twitter has updated its code of conduct this week to specifically prohibit tweets that target others based on their religion.
On its Twitter Safety blog, the tech giant said that "If reported, Tweets that break this rule sent before today will need to be deleted, but will not directly result in any account suspensions because they were Tweeted before the rule was set."
Twitter has taken this step amid an ongoing cultural conversation about free speech, social media "mobs," online bullying and hate group recruitment. Although initially taking a hands-off, almost libertarian approach to regulating the speech that occurs on their platforms, social media companies are moving off that position as incidents of offline harm related to online hate-make headlines. In 2018, for instance, eleven people died in a shooting at a Pittsburgh, PA synagogue, after the shooter had used a Twitter-like service called Gab to publish anti-Semitic rants. Twitter, meanwhile, has its own contingent of anti-Jewish users, who frequently identify Jews by enclosing their names in triple parentheses.
Twitter's policy remains frustratingly nonspecific, and questions about consistent enforcement remain. The social media giant largely relies on users to police content by reporting hateful tweets. It's also the case that plenty of commentary is shared on the platform that viciously targets people based on race, sex, and other categories far beyond just religious belief. Nevertheless, it's a step in the right direction to get more specific about what type of speech is not acceptable on Twitter. It will be interesting to see if this new policy actually works to decrease the number of harmful tweets aimed at religious people. —MB
NY Woman Sues Fertility Clinic for Implanting Her with Different People's Embryos
A New York woman and her husband are suing a California based fertility clinic, CHA Fertility Center, to which they paid over $100,000 for a host of procedures that led to the birth of two children that are related neither to the couple nor to each other. According to a report by The Lily, a publication of the Washington Post, "the federal lawsuit filed by the couple alleges that their embryos were swapped or misplaced, forcing the woman to carry other people's babies." The mistake became clear when the couple, who are both Asian, and who were told they were implanted with girl embryos, gave birth to two male non-Asian babies.
In addition to the gross mishandling of embryos like this couple's, there's reason to believe fertility clinics are deceptive in their claims about the efficacy of their procedures. Many women think freezing their embryos is a viable option for future children, but it doesn't deliver successful births for most patients. The Lily report cites, "According to the most recent data published by the Centers for Disease Control and Prevention, fertility clinics in the United States conducted more than 263,000 cycles with assisted reproductive technology in 2016. Of those, about 81,000 resulted in pregnancies, which led to nearly 66,000 deliveries." Those figures suggest a 75 percent failure rate—which is high considering the lofty promises and great expense of assisted reproductive technology procedures. The CHA Fertility Center's website, for instance, boasts "high success rates."
Here's hoping this couple's heartbreak and pain can be met with justice, and that more women and couples struggling with infertility find solace and ethical alternatives to highly profitable businesses that benefit from women's struggles, whether they conceive or not. —Mary Rose Somarriba
'The Little Mermaid' Reboot Gets Its Ariel
The live-action Little Mermaid just got its Ariel! Halle Bailey of the singing duo Chloe x Halle will be playing the teenage mermaid, alongside actors Awkwafina and Jacob Trembley, and Melissa McCarthy is in talks to play our favorite sea witch, Ursula.
"After an extensive search, it was abundantly clear that Halle possesses that rare combination of spirit, heart, youth, innocence, and substance—plus a glorious singing voice—all intrinsic qualities necessary to play this iconic role," said director Rob Marshall.
I couldn't agree more with Marshall's assessment—Halle's soulful vocals and pure talent have made her a singing sensation. Along with her sister Chloe, they first rose to fame after their Beyoncé covers were discovered by Bey herself (check out our Watch of the Week below), leading them to sign a record deal, appear in her visual album Lemonade, and open during parts of her Lemonade album tour.
We are excited for this reboot, which will feature the original songs along with some new numbers written by the 1989 animated version's composer, Alan Menken, along with Hamilton's Lin Manuel Miranda. The movie's production will begin early in 2020. —GP
Good News of the Week
The most adorable wedding we've seen in quite some time took place in the Toledo, Ohio area. The bride and groom are John and Phyllis Cook, ages 100 and 102. Phyllis, in fact, will be 103 in August. The happy couple met in a senior living facility and got married at the courthouse after dating for about a year. This is certainly proof that we are never too old to love. Congratulations to the newlyweds! —MB
Watch of the Week
On the occasion of Halle Bailey being cast for The Little Mermaid, enjoy this throwback video from 2015 of Halle and her sister Chloe covering the Beyoncé song, "Pretty Hurts."
Miss our "Articles of Note" section? Subscribe to Verily Daily emails and check out our new suggested reading at the bottom, in our new "May We Recommend" section.