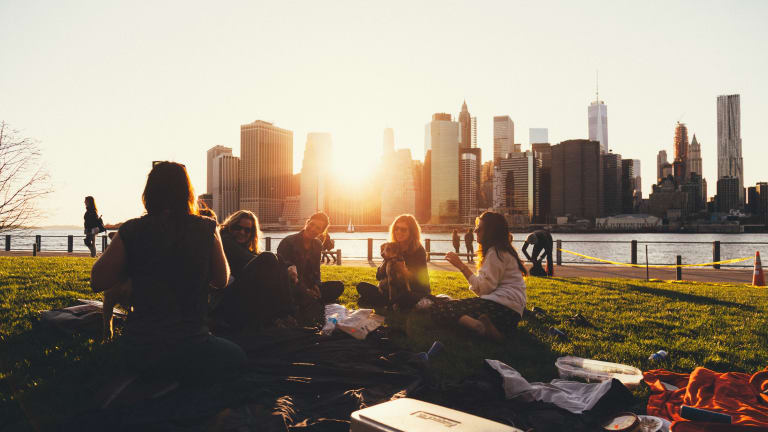 Motivated Women Who Inspire the Unplugged Life
Let these ladies inspire you to achieve distraction-free living.
The remedy for the perpetually distracted life isn't exactly a secret: don't use your inbox as a to-do list, don't mindlessly surf the Internet, limit screen time—the list of don'ts is lengthy and tiresome. Any lasting change comes from taking a step back and considering the shape of our lives, recognizing the distractions for what they are, and making habitual changes that serve us better.
Cal Newport, a computer science professor and advocate of long, uninterrupted working hours, issues a proactive three part-remedy in his latest book Digital Minimalism: Choosing a Focused Life in a Noisy World. Newport prompts readers to pursue solitude, deep, face-to-face conversations, and fulfilling leisure practices. For examples of solitary retreats, Newport points to Lincoln's refuge at the Soldier's Home in Northeast Washington, D.C. and Thoreau's Walden Pond. With regard to fulfilling face-to-face connection, Newport differentiates between high-bandwidth and low-bandwidth conversation, the former providing the fulfilling face to face connection we crave, while the latter offers a fleeting sense of pleasure at a vapid "like."
While Newport's prescription is undoubtedly on the mark, his examples of Thoreau, Nietzsche, and Lincoln feel rather removed from our quotidian realities peppered with the varied distractions many of us face at work and home. Pursuing meaningful connection, solitude, and leisure need not be confined to the realms of standout historical characters.
Considering women who are exemplars of the unplugged life inspires me to pay better attention to the world and the people around me. Their single-minded pursuit of beauty spurs me to throw myself a little deeper into my work, whether that's editing a paper or making a bundt cake. So I've drafted a list of a handful of standout heroines worth considering for inspiration, ranging from household names to the more obscure—but all of whom share the common thread of cultivating careful attention.
Annie Dillard
Pulitzer Prize-winning writer Annie Dillard strikes me as nearly impervious to passing distraction. In her collection of essays, The Abundance, she suggests monastic techniques for avoiding distraction, as well as Michelangelo's famous last instruction to his apprentice: "Draw, Antonio, draw, Antonio, draw and do not waste time." Her call to attention runs throughout her work from her memoir Pilgrim at Tinker Creek to her most recent essays. One of my favorite passages from her book speaks of stopping to pick up discarded pennies on the street. The world, in Dillard's view, is sprinkled with moments of beauty like discarded coins on the street. The joy of noticing them is there for the taking.
Ann Haymond Zwinger
Ann Haymond Zwinger, a naturalist, wrote thirteen books, hundreds of field guides, and made countless beautifully detailed drawings. She moved to Colorado Springs as a military wife where she raised her three talented daughters who share her love of art in the natural world. Her background in art history honed her deep attention to patterns in the natural world. Working long stretches of writing into her daily routine of caring for her farmhouse and her dedication to the work, produced a treasure trove of exquisite books.
Andi Ashworth
In her book, Real Love for Real Life: The Art and Work of Caring, Andi Ashworth writes, "The state of being frantic, overextended, and distracted drives people away rather than drawing them in and inviting them to the refuge of your company." Integrating theology and hospitality, Ashworth and her husband live in a one-hundred-year-old renovated, country church and founded Art House America, a nonprofit that nurtures creative pursuits. Ashworth promotes meaningful conversation through her writing, work, and hospitality at home. Her writing prompts the reader to slow down and to invite the unexpected into a moment of art appreciation.
Lanier Ivester
Lanier Ivester writes from her 1850s farmhouse in Georgia where she drinks tea and tends an impressive menagerie including an Australian Shepherd, cats named after the Oxford colleges, Nubian goats, hens, and Italian honey bees. For the sheer love of the written word, she opened her own bookbinding studio to bring some old favorites back into print. In a world dominated by a click and collect approach to literature, bookbinding for the sheer joy of it certainly meets Newport's criteria for life-giving leisure activities.
Nan Shepherd
Nan Shepherd, chief among nature writers, wrote The Living Mountain, a poetic treatise about walking in Scotland's Cairngorms mountains in the 1940s. Nan's prose stands out for its keen attention to detail and the gentle awe with which she approaches the mountain. She writes of the simple joy of walking: "Often the mountain gives itself most completely when I have no destination but have gone out merely to be with the mountain as one visits a friend, with no intention but to be with him." Nan lived and wrote long before the Internet, but her work is resonating deeply with a new generation of readers who long for a mind-clearing walk in the Scottish Highlands. Her creative prowess stems directly from her solitude in the mountains.
The thoughtful, undistracted way through the world has already been charted for us by generations of women who sought and are still seeking beauty in the natural world and the relationships around them.