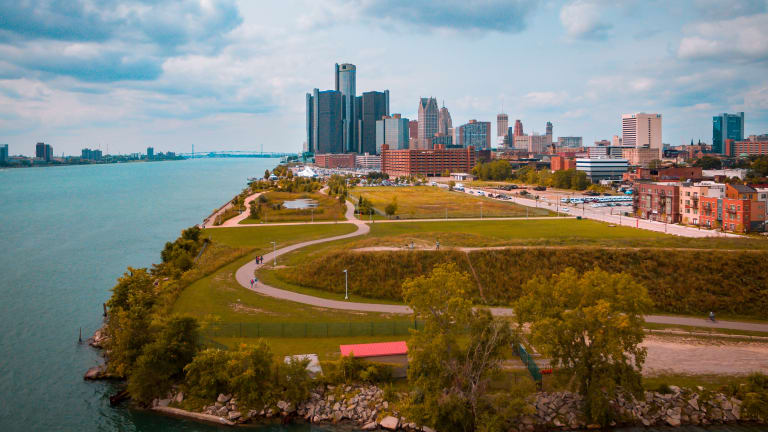 Travel With A Local: Detroit, Michigan
Abandon your prior notions—Detroit is a city being reborn.
The Motor City is making a comeback! Detroit has suffered economically over the past few decades, and that has given it a bad rap. But over the last decade the city is being reborn: music, food, culture, art, museums. This revival is making it a highly desirable yet still affordable destination. Located in southeastern Michigan, it is easily accessible from a variety of freeways in the Midwest and about a 25 minute drive from Detroit Metro Airport. I think you will be pleasantly surprised to enjoy a weekend in the D.
Where to stay
If you are looking for a little dose of luxury for a weekend getaway, there are some fancy options. Located in the heart of the downtown, the Aloft Detroit at The David Whitney is an Art Deco themed 1920's office building transformed into a hotel. The famous Detroit People Mover, an elevated and automated metro system, has a stop located right outside the front door, so you can easily get around different parts of the city. Another option is the Detroit Foundation Hotel, located in the historic former Detroit Fire Department Headquarters.
For some more mid-range options, the Trumbull & Porter Hotel is located in one of my favorite areas of the city, the historic Corktown neighborhood. The work of local artisans is displayed there, giving you a feel for the creative minds working and making in the city. If you want to see a Detroit team at Ford Field or Comerica Park, it is a short walk from the Hilton Garden Inn Detroit Downtown.
Where to eat
Over the last decade, many chefs have opened a wide variety of stellar restaurants. We are definitely becoming known for more than just a good Coney dog!
Detroit has lots of neighborhoods, each area with its own flair and style when it comes to delicious food. Looking for authentic Mexican food? Make sure you visit Mexicantown (easy enough, right?), and the London Chop House is a steakhouse legend in our area. Eastern Market is a six-block farmers market if you are seeking farm-driven deliciousness.
Midtown Detroit is located near the historic Woodward Avenue, and is complete with lots of great options for food. Some of my favorites include: Traffic Jam and Snug, Townhouse, and Selden Standard.
The Corktown neighborhood has some of my favorite restaurants. Ottava Via gets Italian food right and makes you feel like you are enjoying a weekend in a Tuscan vineyard. Complete with an outdoor patio, fireplace, and bocce court, it has the makings for the perfect summer evening. Mudgie's Deli and Wine Shop is a great option for lunch complete with homemade soups and tasty sandwiches. Gold Cash Gold (interestingly enough the home of a former pawn shop!) gives people a seasonal menu full of flavor and creativity. It's great option for after work drinks and appetizers or brunch on a Sunday afternoon. Lady of the House is a newer addition to the Corktown neighborhood, but what an experience when it comes to taste, flavor, beauty, and ambiance. You definitely want to make a reservation here.
Where to get your coffee
Astro Coffee is a cozy, quirky roastery nestled in the Corktown neighborhood on Michigan Ave. They have a delicious chocolate croissant. If you pair it with a lavender latte, you have the makings for a relaxing and tasty start to your day!
The Great Lakes Coffee Roasting Company is a homegrown Michigan tradition. This high end roastery supports local farmers and locally roasts their beans. This is where I buy my beans because they are really that good! The Corktown blend is hands down my favorite, closely followed by the Motor City blend. After you stop in for a latte, you are within walking distance to the Detroit Institute of Arts. Avalon International Breads is an organic bakery and coffee shop with several different locations in Detroit. They make the best cold brew hands down, and be sure to pair it with a sea salt chocolate chip cookie!
Sites to see
Detroit is known for having been home to some of the greatest American musicians like Aretha Franklin and The Temptations. Be sure to visit the Motown Museum and get a feel for the musical history of Detroit.
In the city center, there are a wide variety of different museums that can appeal to different tastes. The Detroit Institute of Arts houses a variety of some of the greats, including Van Gogh, Rembrandt, and Renoir. Located in the Midtown neighborhood it has regular additional programs like concerts, workshops, and traveling art exhibits.
The Detroit Historical Museum gives visitors a detailed, comprehensive history of the city. You will definitely learn some new things about The D after a stop here. Also located in Midtown near the DIA, The Wright is dedicated to exploring and celebrating African American culture and history. Throughout the year there is regular programming including lectures, plays, concerts, and events for children.
Need some outdoor activities? New York City has Central Park; Detroit has Belle Isle. Belle Isle means "beautiful island" and it's true to its name! It is a giant island-park right smack in the middle of the Detroit River. On the island you'll find a zoo, an aquarium, a conservatory, and plenty of beautiful places to bike, fish, or picnic.
Detroit is a city being reborn and I am so proud to see all the good, creative work coming out of my hometown. If you ever stop by for a visit, let me know. I will happily be your tour guide!