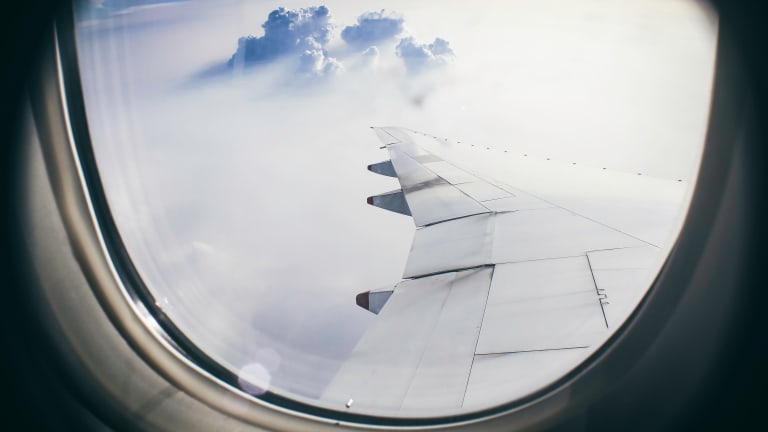 The Art of Traveling in Comfort without Sacrificing Style
Bonus: you probably already have these pieces in your closet!
I usually plan my travel outfits to meet the demands of comfort and packing ("wear the bulkiest items" is a tried-and-true mantra!), but lately I've been breaking free of this tendency. Here's why.
Air travel is a pretty uncomfortable enterprise these days. The limited leg space alone is enough to make even a shorter-than-average traveler long for the chance to stretch. Combine this with shoving carry-ons under our seats, dashing to catch plane transfers, and standing and sitting in close proximity to total strangers in spaces that start out too warm and then get too cold, and you have the makings of one miserable day.
In addition to the discomfort built into traveling in the modern world, you may need to transition very quickly from travel mode to social mode upon touchdown. Whether you're arriving at a work conference, meeting up with friends for a wedding weekend, or diving into sightseeing in a strange city, your plane-self usually becomes your life-self fairly quickly. So dressing in a way that can handle this transition is key!
Unfortunately, our travel style has gone the way of our loungewear⁠—athleisure rules the day.
I have a distinct memory of getting ready for a flight once at my grandmother's house. I was in middle school and had put on my comfiest clothes: sweatpants, sweatshirt, tennis shoes. She walked in, looked at me, and said, "You're going on an airplane looking like THAT?"
My grandmother was a classy San Francisco lady, and her travel style differed in no way from her daily dress; whether taking a car trip to L.A. or hopping on a plane to the Carribean, she always had on a true "outfit," accompanied by styled hair, gold earrings, and lipstick. She was a woman from another era, so I chalked her criticism up to old-fashioned standards and went my merry sweats-clad way.
But today I see the value in dressing for life the way she did. I've learned that the way I dress directly affects the attitude with which I face the day and engage the people I run into. If I dress badly, or even in athleisure, I feel like I haven't committed to living the day. My attitude changes when I wear what my family terms "real clothes." I feel more alive, more engaged, more in charge of my own life and attitudes. And traveling—perhaps even more than your average activity—can benefit from this boost in self-confidence and intentionality.
In order to make your travel outfits walk that fine line between comfort and style, I think it's key to pay attention both to trends and to your own timeless style in determining how you dress for travel. Ignoring your own tastes will make you feel even more uncomfortable than you would otherwise, but following trends is one of the easiest ways to make sure you look and feel "cool" even while you feel comfortable.
So here are a few travel outfits that you can adapt to your own personal style and travel needs. You likely have these items in your closet already, so no need to shop for that perfect plane outfit!
01. Jumpsuit + Denim Jacket
Jumpsuits are always cool and generally comfortable, so make yours do double-work. Wear the jumpsuit you're planning for the weekend night-out on the plane by pairing it with a denim jacket. Go for some crisp tennis shoes instead of your evening heels to make the outfit into day-wear, to up the comfort factor, and to keep those bulky shoes out of your bags.
02. Mom Jeans + Crisp Button-Down
Mom jeans are more comfortable (read: less tight!) than your basic skinny jeans. The button-down makes the casual jeans a bit more formal, and can easily transition from sightseeing to a night out: travel with it tucked in or French tucked, and then when you head out at night, tie it up around your waist, undo one more button, trade out your simple studs for a fun dangly pair of earrings, and you're set!
03. Soft Wide-legs + Crop Top
Wide-leg pants are ubiquitously on-trend right now, and wearing a pair made out of soft fabric will feel like sweatpants without looking like sweatpants. To counter the fluidity of the pants, pair with a cropped t-shirt or sweater to emphasize your waist. Trade out your flats for some cool wedges and let down your hair to transition from day to night.
Happy, comfortable, and stylish travels to you!
Editors' Note: Verily exists to empower women to be more of who they are. Support this mission by joining us at Verily Yours. Your subscription gives you exclusive content (that is different than our website content) and supports our publication, including our efforts to develop a print magazine. Subscribe here.