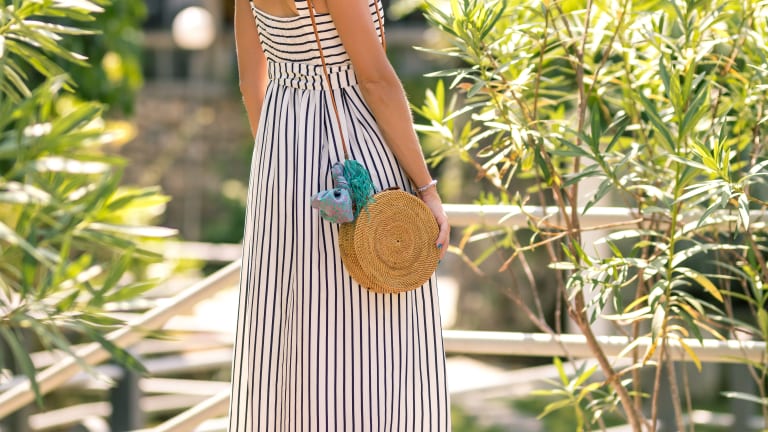 4 Steps to Achieving a Polished Summer Look
From hair product to accessories, here are a few tips for elevating your style this summer.
We all crave the beachy hair and sun-kissed glow that summer brings. But even if your job or summer gig has you locked inside most of the time, these beauty hacks can help you achieve that summery look without spending weeks in the water. Take advantage of Mother Nature's help and save time on your morning routine with these four easy tips and tricks!
Sea salt spray
Many women (and men!) love how their hair looks after a day at the beach—the classic texture of "beach waves." But the best part of that just-came-from-the-ocean hair is that it's effortless: go play in the saltwater, let your hair dry while relaxing on the beach, and, voilà, perfect beachy hair. Getting the look you want with minimal effort has many wishing they could take the ocean home in a bottle. And actually, you can! If you're not frequenting the beach, grab a bottle of sea salt spray for the next best thing.
Sea salt spray is the only hair product you need for summer. Regardless of the texture or thickness of hair, sea salt spray is a winner. You can spray it on damp hair or already dry hair to perk it up or give it some more texture, volume, or beach-like waves. Armed with sea salt spray, you'll have no need to fear the summer humidity; it will actually help your hair look a bit wavier. Plus, you don't have to worry about melting your make-up in the summer heat with blow drying—sea salt spray does great when hair air-dries. Bonus: these sea salt sprays are all nontoxic.
Scarf or headband
While your hair looks a bit undone (that's the goal with the sea salt spray!) repurpose that neckerchief/scarf/bandana that's been having a moment and put it in your hair. It doesn't matter if you have a pixie cut or hair all the way down your back, or whether your hair falls flat on your head or has a mind of its own: headbands look great with any do. Plus, scarves or headbands make fun and colorful accessories for any outfit and seem especially appropriate for the season of summer. Any color or pattern of square scarf or bandana in silk or cotton will do. I recommend buying one in a color that you wear often, so you can throw the scarf on anytime you need to spice up your outfit (or hide your day-three hair!).
This hack might be my favorite because a scarf makes you look put together and intentional, even when your hair actually looks greasy, messy, or like you just rolled out of bed. If my hair looks especially unsightly—I'm talking, a bottle of dry shampoo can't touch it—I put it in a bun or ponytail and wrap the scarf around the hair tie. This one detail makes it look like a put-together style instead of a last-minute messy updo.
Simply fold a square scarf or bandana in half, forming a triangle, then, starting with the point of the triangle where the two ends come together, fold/roll the scarf so it forms a thin, long shape. You can wrap it around your head so the tie ends up hidden at the nape of your neck for a more polished look, or tie it on top of your head for a more relaxed and playful look. You can leave the ends of the tie out so it looks like a bow, or you can tuck them under the scarf or wrap them around the knot itself so you'll just see a knot at the top.
Eyelash curler
Even if you're wearing sunblock when you go outside, you're likely to get a little sun-kissed from the brighter and longer summer days. With that subtle, warm glow, you don't need all the makeup you usually put on in more dreary months. Instead of putting on some combination of mascara, eyeliner, or eyeshadow—or all of them—try curling your lashes with an eyelash curler (this Shiseido one is often named the best). Curling your lashes makes them look longer, it makes your eyes look bigger and more awake, and it gives the illusion that you're wearing some eye makeup even if you're not actually wearing much (or any at all). Plus, if you're on a beach vacation or planning a weekend trip to the lake, you don't have to worry about leaking or smudged makeup from going in the water. Curling your lashes simplifies your beauty routine while letting your natural beauty and sun-kissed glow shine through.
Mixing the right foundation color
It's around this time of year when that aforementioned sun-kissed skin is starting to appear, that I start to notice how ghostly I look when putting on my usual BB cream. Come summer, your tinted cream or foundation from earlier in the year might not match your skin well. To ameliorate this issue, mix a few drops of a liquid bronzer or an illuminator much darker than your actual skin color with your regular BB cream, tinted moisturizer, or foundation. You can do this by putting your usual cream on the back of your hand, adding the liquid bronzer, and swirling it together with your finger. If it still seems too light for your current skin color, add a few more drops until you get it right.
With this hack, you don't have to buy new makeup that will only work for your summer skin (and you probably won't use all of it anyway). Plus, you can still use your new product once the summer and your sun-kissed skin fade. Just a drop or two of liquid bronzer or illuminator dabbed on your cheekbones and the bridge of your nose will perk up your skin and give it a glow. 
I currently use Giorgio Armani fluid sheer in No. 10, which is much darker than my skin, so it works perfectly for this trick. Though it's quite expensive, a little goes a long way, so it's taking me a very long time to use it (which is why I still have it even though I started making the switch to non-toxic products long ago). When I finally use it all, I will switch to a non-toxic illuminator, like Ilia Liquid Illuminator in Nova. Check out the liquid illuminator I currently use and some non-toxic options below:
With its brighter sun, longer days, warm air, and time in the water, summer can do wonders for the soul. And it can do the same for your beauty routine if you let it! Use these tricks to make your mornings faster and your life simpler so you can get out and enjoy the summer.