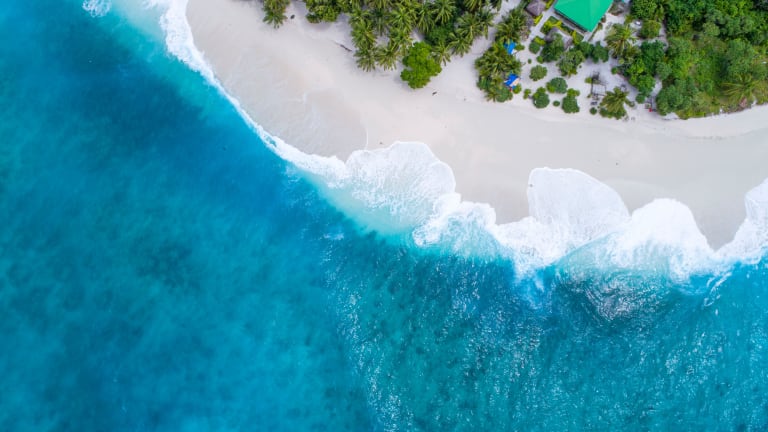 Avoid Daily Toxins with Clean Sunscreens for Women
2019's best products for staying safe and UV-free in the summer sun
As a kid, I watched my mom slather on tanning oil so she could get darker, and we almost never wore sunscreen unless we planned to spend an entire day by the pool. However, as I got older, and after a few bad burns—not to mention numerous headlines about sun safety—I started to get more serious about protecting my skin from the sun's harmful rays.
Like anything else in the cosmetic or skin product world, it is rife with controversy, opinion, and scandal. Every year, some new ingredient seems to "become" toxic, and other brand new products hit the shelves. How can you wade through the hype and know the best sunscreen options for your skin health?
Sunscreen Ingredients and Toxicity
If you're planning to be in the sun a lot this year, consider the exposure to sunscreen you'll get just from wearing it for eight hours a day—longer, if you don't immediately shower to remove it when you're in from the sun. While there aren't immediate consequences from slathering on chemical sunblocks, they're unnatural substances that can have unforeseen impacts on hormone health and other organs.
A 2019 study shows that the chemicals in sunscreens used to block UV rays don't just sit on your skin. Rather, they penetrate the layers and get absorbed into your bloodstream in as little as one day of full use. The result? Some study participants had concentrations of sunscreen ingredients in their plasma that exceeded FDA safety standards.
One of the ingredients the study tested for was avobenzone, a common sun blocker used in sunscreens. It can cause skin irritation in certain individuals who are sensitive or who have repeated long-term exposure, and the Environmental Working Group questions its safety when it comes to cancer, allergies, or impurities.
The potential neurotoxicity of other sunscreen ingredients has led some researchers to suggest that new safety guidelines need to be established regarding exposure. Oxybenzone, another common sunscreen ingredient, can be dangerous for pregnant women by impacting fetal development.
Are mineral sunscreens better than chemical sunscreens?
Thankfully, there are plenty of alternatives to traditional chemical sun blockers. Mineral sunscreens are widely available now, but many wonder if they're actually better or just another trendy wellness fad.
Not every product labeled "mineral" will be healthier, so a close reading of labels is the best way to determine what's safe. Some products are a combination of chemical and mineral products, while others rely only on minerals for sun blocking power but contain other chemicals like preservatives or fragrance.
Generally speaking, true mineral sunscreens do work better than chemicals because they repel the sun's UV rays more effectively and aren't absorbed into the bloodstream. Mayo Clinic also considers mineral-based sunscreens to be more gentle on the skin.
The bottom line when it comes to ingredients is to be familiar with what's in your product. If you're at a loss to choose one that fits your needs and you feel good about, use the helpful guide below.
Best Sunscreens for Women in 2019
No one product is right for everyone, but these are the top seven sunscreens that I personally use or recommend in my practice where I work with women who have hormone dysfunction or fertility concerns. I also have a few favorites that I rely on for my children, who have a lot of allergies, eczema, and extremely sensitive skin.
Here's the list of best mineral sunscreens.
01. Attitude Natural Care Hypoallergenic Mineral Sunscreen, SPF 30: EWG-verified, this baby-safe sunscreen is gentle on the skin and still has a good protective punch. Amazon: $21
02. Goddess Garden Face the Day Mineral Moisturizer, SPF 30: If you need a facial moisturizer that also protects the skin from UV damage, this broad-spectrum sunscreen is also light and won't create greasy skin. Amazon: $14
03. Badger Active Broad Spectrum Unscented Mineral Sunscreen, SPF 30: If you have ultra-sensitive skin and you spend a lot of active time in the sun, this scent-free product is perfect for regular application. Amazon: $14
04. Baby Bum Fragrance-Free Mineral Sunscreen, SPF 50: This is the sunscreen I use on my young kids and myself, especially when pregnant. I've been impressed with how easily this goes on (and washes off when the kids' bathtime rolls around) and that it doesn't leave a sticky residue. Amazon: $14
05. Sunology Body Mineral Sunscreen, SPF 50: Boasting 80 minutes of water and sweat resistance, this is perfect for active family outings, beach volleyball, or whatever else gets your sweat on in the sun. Amazon: $13
06. Bare Republic Baby Mineral Sunscreen Stick, SPF 50: If you want something other than lotion, this stick is free from pesky ingredients, has a high SPF, and drops easily in a bag or purse for touch-up spots or on-the-go needs. Plus, it's perfect for applying to children without a gooey lotion mess. I love using this one on my face. Amazon: $15
07. Two Peas Organics Waterproof and Unscented Mineral Sunscreen, SPF 30: This is my newest favorite that has become a regular in my Subscribe & Save, thanks to its scent-free formula that offers a little less protection if I actually want to get a bit of a tan. This has the lightest feel of all the sunscreen lotions I use and is safe for babies and kids. Amazon: $15 (or $13 with Subscribe & Save)