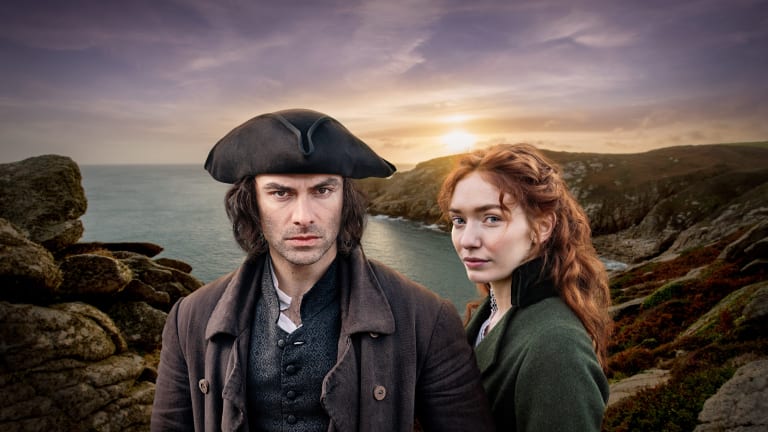 5 Captivating Series for Period Drama Lovers
Believe it or not, there's more to period drama than Austen and Brontë.
I sometimes wonder if I was meant to live in a different time period—I'm just not sure which one. I imagine life in a different century, a different decade, and perhaps a different country, and I try to insert myself into that hypothetical picture. But since there is no escaping the twenty-first century, I have found other ways of transporting myself to other ages: namely, through watching period drama series. Downton Abbey is responsible for starting my love affair with these series, and I was all too sad when it ended (although the fact that there's a Downton Abbey movie coming to theaters this September does assuage my sorrow!). But I'm continually impressed with the plethora of new period dramas being released, each one capturing some semblance of what life was like during a particular time and place.
If there's anything I've learned from watching the following series, it's that people living in every time period and various levels of poverty and abundance had their fair share of joys and struggles—but through it all, they were able to find some source of beauty in their lives. If you would like to get a glimpse of life during various points in history, these series, all available to watch on PBS Masterpiece, are a great place to start.
01. Les Misérables
It is not an easy feat to tell a story that's been adapted so many times and in various ways. Still, it is universally recognized that Victor Hugo's Les Misérables is one of the greatest novels ever written, deserving of its many iterations.
I have seen many versions of Les Mis, one of the longest-running original Broadway shows both on screen and on stage. While I enjoyed most of them, caution tempered my excitement when I learned that PBS Masterpiece would be airing a six-part, non-musical drama miniseries of Hugo's famed story. I did not want to get my hopes too high, lest the acting fell short of my expectations or the story drifted too far from Hugo's novel. Fortunately, I was pleasantly surprised by the series, in large part because it was long enough to do justice to the thousand-plus-page book.
The timeless story of reformed criminal Jean Valjean (a man who spends nineteen years in prison for stealing a loaf of bread to feed his starving family) and how he turns around his life with kindness and generosity unfolds beautifully in the six-hour miniseries. Although I enjoyed the New York Broadway show very much, I felt that a lot is lost in the musical (including the 2012 big-screen version of the musical—ahem, looking at you, Russell Crowe). I was impressed with the way this series revealed the profound impact each character had on each other, especially minor characters, such as Sister Simplice, who are often overlooked in shorter versions.
The acting, for the most part, was phenomenal, with a stellar cast including Dominic West, David Oyelowo, Olivia Colman, and Lily Collins. Perhaps one of my favorite aspects of the series was that it revealed more of Fantine's backstory, and I enjoyed getting to see a more carefree, happy version of one of my favorite characters before her life started to unravel. Lily Collins plays Fantine beautifully, exemplifying both her passion and immense sorrow. I laughed and cried (OK, mostly cried) alongside all of the characters in early nineteenth-century France through harrowing scenes of poverty and cruelty and beautiful scenes of genuine love. This series will appeal to fans of Les Misérables new and old.
02. Poldark
If you have not yet discovered Poldark, I envy you. Poldark is a stunning, sweeping drama set in late-eighteenth and early-nineteenth century Cornwall. It follows the life of Captain Ross Poldark, a young soldier and miner who returns home from the American Revolutionary War to discover his father dead, his copper mine failing, and his true love engaged to his cousin. And these are just the beginning of his woes.
Aidan Turner as Ross Poldark is brilliant, as are both of the women with whom he is entangled in a love triangle: Eleanor Tomlinson as Demelza and Heida Reed as Elizabeth. Both Cornish women are beautiful and strong, yet Demelza is the one who simply captivated me from the start with her cunning and her courage (plus, Elizabeth makes quite a few disappointing decisions). The character development in this series was particularly well done, and it is certainly not lacking in the romance and drama departments. Although I am usually unable to persuade my husband to watch period dramas with me, it only took one episode of Poldark to convince him to stick this show out with me (due in large part to the frequency of action scenes).
Based on a series of novels by Winston Graham, this period series has already captured the hearts of many for years (an earlier BBC version of the story ran in the 1970s). The fifth and final season will air later this year (the exact release date has not been made public yet), and I am simultaneously excited and dreading saying goodbye to one of my favorite period dramas.
03. Victoria
After finishing the first season of Netflix's The Crown, I was craving some more British monarchy drama, as well as hoping to gain a broader vision of British history. PBS Masterpiece's Victoria did not just satisfy this craving but surpassed my expectations.
This series, which released its third season earlier this year, chronicles the early life of Queen Victoria in early to mid-nineteenth century Britain. Ascending to the throne at the young age of eighteen, Britain's most fascinating monarch grew (quite literally) into her role as queen and made her mark on history. Jenna Coleman is spellbinding as Queen Victoria, and I loved watching Tom Hughes develop his character as Prince Albert alongside her in each season.
While the show has been criticized for exaggerating (or fabricating) historical figures and events, I have wholeheartedly enjoyed this show by taking it for what it is—historical fiction. The costumes and settings are breathtaking, the acting is superb, and it is filled with all of the emotion and passion I love to encounter in a period drama. Especially in recent season three, I appreciated how the writers of the show allowed us to see a more relatable version of Queen Victoria—a woman who does not have it all figured out, who has real struggles, and who is forced to admit when she is wrong. Victoria is a must-watch, particularly for fans of Downton Abbey or The Crown.
04. The Bletchley Circle
The Bletchley Circle was the crime-fighting, mystery-solving, girl-power period drama I didn't know I needed. It was suspenseful and chilling without being unnecessarily frightening or graphic, and it gave me a peek into a time in modern history about which I was not particularly knowledgeable.
Set in Britain in 1952 at the famed Bletchley Park, the home of the World War II codebreakers, The Bletchley Circle picks up after the war and follows four women who had worked as codebreakers as they band together to investigate crimes left ignored by police officials. As one woman begins to recognize connections and patterns among a string of murders around London, she decides to utilize her codebreaking past to do something about it, rallying the women she used to work with to help her.
I loved how the series juxtaposed the individual lives of the women with their past work as codebreakers and their new leap into investigative work. While they are all happy to again be doing important work that will potentially save lives, this new mission does not come without a price. The plot and characters are fictionalized, but the series nonetheless shows a very real time in history at an important historical location, as Bletchley Park is where many women played a vital role decrypting German messages and helping the Allies win the Second World War. I admire the bravery and determination of the women in this show as I admire the women who did such monumental work during World War II in real life, and I found this series to be a captivating portrayal of these courageous women.
05. Mrs. Wilson
I did not expect to love Mrs. Wilson, but I decided to give it a chance because the mini-series was only three episodes long. Little did I know how much I would wish it was longer. In the series, actress Ruth Wilson plays the character of her grandmother, Alison Wilson. Needless to say, I am now completely fascinated with the entire Wilson family history and the true story on which this biographical drama is based.
Set in the 1940s and 1960s in London, this thoughtful, gripping mini-series tells the story of a woman who finds her life in pieces upon the death of her husband, Alexander (Alec) Wilson. While she always knew her husband was a secret agent, she discovers upon his death that he hid more than just the truth concerning the details of his work—he hid from her multiple wives and other children. His real life was (and is still) an incredible mystery. Ruth Wilson gives a compelling performance as her grandmother as she tries to cut through the web of lies and deceit and protect her two sons. She is possessed by a desire to seek the truth, forced to decide who to trust and whether she will choose to believe the man she loved in the end. She is fierce and determined, yet understanding and forgiving.
In one of the most heart-wrenching scenes in the series, she cries out to God in a church while blaming herself for falling for all of the lies of her entire life. However, her abandonment helps her to develop a true faith, one that carries her through the dark times and eventually helps her to find true happiness once again. It is ultimately a beautiful story about forgiveness, and I cannot imagine a better example to leave for one's children and grandchildren than overcoming such adversity with a smile and re-discovering peace. Perhaps most fascinating is the fact that in 2018, the Foreign Office refused to release their file on Alexander Wilson. For this reason, the case on this strange man is still not closed. You better believe I will be keeping tabs on this story.
There is a reason period dramas are one of the most-loved film genres: we love placing ourselves in a time period other than our own. Period dramas afford me the ability to imagine a life outside the one I know, and I am thankful for the many beautifully-produced series that continue to enthrall.
Editors' note: Verily exists to empower women to be more of who they are. Support this mission by joining us at Verily Yours. Your subscription gives you exclusive content (that is different than our website content) and supports our publication, including our efforts to develop a print magazine. Subscribe here.