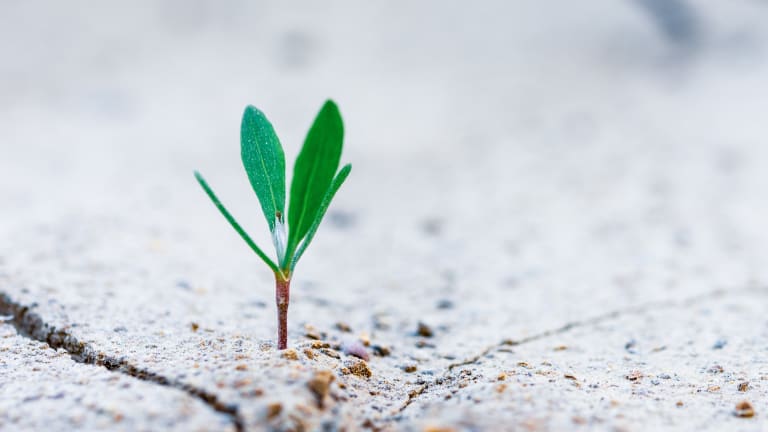 What This Film Taught Me about Being Patient with Myself
Give yourself time to grow.
Recently, I've been reflecting on transitional periods in life, which, while offering creative ways to grow and change, can also be quite overwhelming. I'm currently at a crossroads job-wise, and it's tempting to think this period of uncertainty will last forever. During this time, I've been thinking a lot about (and rewatching) Simon Aboud's lovely film, This Beautiful Fantastic (2016).
The movie focuses on Bella Brown, a young, reclusive woman obsessed with order and "terrified by the unpredictability of nature." For me, Bella is a model of what it means to be patient with oneself amid the uncertainties life throws at us. When she learns that she has a month to get her overgrown backyard in order or face eviction, Bella must learn how to expand the boundaries she's constructed between herself and the outside world. This includes not only learning how to value plants and to see in them the potential for a garden but also to value people and the beauty they can add to life.
This captivating film allows Bella space to unfold before the camera—it does not rush her story. From its lingering camera shots to its use of color to express mood, there is a patient attentiveness to detail throughout. It's the kind of film that invites viewers to sit down and stay awhile in Bella's world.
The last couple of times I've watched this film, I've realized that amid the lovely visuals and impressive acting, This Beautiful Fantastic was also teaching me lessons about the virtue of patience.
01. Giving yourself time to grow paves the way for growth. 
When viewers first meet Bella we are told, "It's an insular and solitary world for Miss Brown—just her and her books." But Bella slowly leaves behind her obsession with order—food arranged in patterns on her plate, a toothbrush for every day of the week, not a crumb or speck of dirt anywhere in her house—through a series of small encounters. During a storm early in the film that brings key characters together, Bella meets her cranky neighbor, Alfie, and his cook, Vernon. Vernon visits Bella's house the following day, an experience that frustrates Bella because he cooks in her kitchen and leaves remnants of breakfast everywhere. At her library job, where the thorny Miss Bramble—her aptly-named boss—obsesses over creating an atmosphere of perfect silence, Bella meets a charming young man named Billy, who leaves messes of books and lunch remnants in his wake but has an amazing imagination.
What I love about the growth that happens in this film is that it is incremental and subtle, just like growth in ordinary life. Bella's growth reflects the growth in her backyard: the cultivation of a garden from the plants already present and the addition of carefully-sown seeds. Bella's courage to say "yes" to little changes reminds me that I, too, possess the courage to change a habit, to tweak the way I communicate with someone in order to create a more positive relationship, to spend extra free time in a way that serves others instead of myself. If I can let these small "yeses" be enough, if I can be patient with myself and celebrate the little victories, I will be acknowledging the true nature of growth.
02. Patience makes room for us to journey with others. 
During the course of the story, Bella allows other people to enter her life and make changes in it, and the film portrays these changes as not only benefiting her but also benefiting others. In one scene, Bella allows Vernon to wash her clothes, and he proceeds to stain many of her grey blouses pink. As the film progresses, Bella begins to take on more color, not only in her wardrobe but in her life. She becomes more animated, better able to ask Alfie personal questions about his past and better able to tell Billy stories about his artistic creations. What she acquires from these relationships—perspective on the beauty of nature and human relationships from Alfie, human care and contact from Vernon, who gives her her first hug in years, and courage from Billy to pursue a career as a children's book author—transforms a season in her life that was permeated by isolation and silence. In turn, Bella also positively affects the lives of her newfound friends: she reminds Alfie of "the good in life," she appreciates Vernon's cooking skills, and she shows interest in Billy's projects. She gives them the gift of being seen and valued for who they are.
So often in life, it has been the patience of others that has carried me through difficult times and also brought zest to ordinary moments. Without a friend inviting me to give my opinions candidly, for example, I might not have developed the courage to share on my own. Other friends have encouraged me by their examples. I have an amazingly joyful friend, and she reminds my melancholic little soul to see the brightness and beauty of life. Who are the encouragers in your life? What are they teaching you?
03. Patience with yourself requires acknowledging that you are a work in progress. 
One of my favorite moments in This Beautiful Fantastic comes midway through the film. Bella is lying on her back in her garden. She's clad head to foot in protective material, and it is clear she's overwhelmed by the prospect of restoring her backyard. Everything about her position exudes vulnerability. But through the bantering encouragement of Alfie, Bella gets up and is able to continue clearing away the overgrowth. The camera gives Bella time to be on the ground, though. It's not in a hurry to tell a story of transformation. And, in some ways, Bella does not change. She becomes more open to being cared for and even to being a bit messy, but her house remains orderly, and it seems that her routines, though less rigid, will continue in some form or another. Yet it is in being herself—sometimes overwhelmed to the point of screaming, sometimes delighted by the discovery of a flower or a personal detail about one of her newfound friends—that Bella's dynamism is made clear. She's a work in progress. Even with the creation of a garden and the publication of a children's book by the film's end, This Beautiful Fantastic makes clear that life is a constant growing process and that growth is messy. As Alfie says, "everything that matters takes time."
I think we often forget that everything that matters takes time. We may not be where we want to be in our careers, our relationships, our personal projects, or even all three, but with the knowledge that these aspects of our lives require cultivation, we may have the courage to be a little more patient with ourselves.
In our rapidly-paced society, patience is often seen as a cowardly hesitation or an irritating obstacle to immediate satisfaction. This Beautiful Fantastic has opened up a new way of seeing for me: making the goal not to "be productive" in life, but to cultivate good habits, good relationships, and a good attitude toward myself and others. Bella's story humanizes the hard work this cultivation takes, and what's more, it depicts characters who love Bella where she is—like all of us, in a state of constant growth.