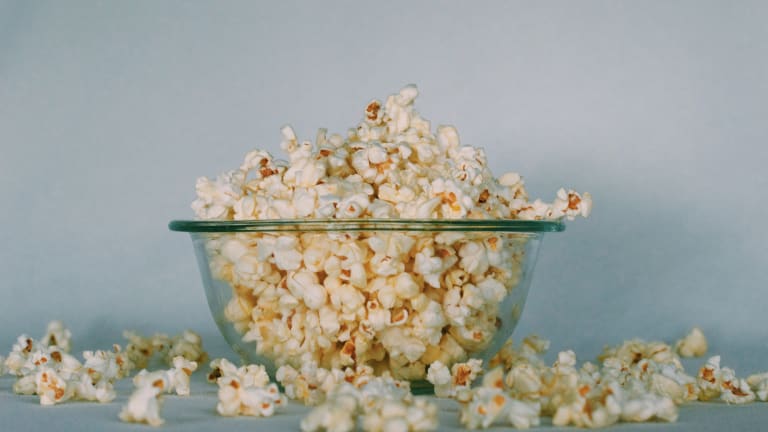 Make the Most of Your Girls' Night In with These Double Feature Movies (with Snack Pairings, of Course!)
We've got your next five get-together's covered.
I remember the first time I saw Sleepless in Seattle. I was in my early twenties, enjoying a much-needed girls' night in with one of my friends from graduate school. There's much to love about the movie, but one thing that caught our attention was the way it made direct reference to an older film, An Affair to Remember. We wanted to find that movie and watch it for ourselves to see what all the fuss was about.
Not long after, while browsing the movie section at Target, I stumbled upon An Affair to Remember in a four-pack of old romances. I snatched it up, and we planned a time to watch these two films together—double feature style.
There's something especially luxurious about watching two movies in a row. And, of course, no movie night is complete without snacks. Here are five suggestions for double-feature film and snack pairings for your next girls' night in.
Timeless romance
The movies: An Affair to Remember and Sleepless in Seattle
The snacks: Pink champagne cupcakes, popcorn, and Snapple
In An Affair to Remember, a man (Cary Grant) and a woman (Deborah Kerr) fall in love while crossing the Atlantic by boat—but each is engaged to someone else back home. Before they disembark, they make a promise to meet at the top of the Empire State Building in six months. Fast forward to the 1990s, and the Empire State Building makes another appearance as a romantic rendezvous point, this time in Sleepless in Seattle. The love story between Annie (Meg Ryan) and Sam (Tom Hanks) unfolds in a much more modern way but with just as much heart.
Pink champagne is an important drink in An Affair to Remember, so pink champagne cupcakes are just the right treat. Pair this sweet with a savory bowl of popcorn—flavored, if you wish—and a Snapple, which Annie enjoys in a movie night scene in Sleepless in Seattle.
An Evening with royalty
The movies: Roman Holiday and The Princess Diaries
The snacks: Pizza, ice cream, and M&Ms
It's difficult to find a princess movie that tops Roman Holiday. Princess Ann (Audrey Hepburn) escapes her royal role for a day and goes incognito in Rome, crossing paths with a reporter (Gregory Peck) whose attempt at getting an exclusive turns into something more. While Princess Ann takes a break from the crown, the other princess in this royal pairing must learn how to wear it. No doubt many of us spent our teenage years watching The Princess Diaries, never tiring of seeing the quirky Mia Thermopolis (Anne Hathaway) find out she's actually the Princess of Genovia.
Pizza and ice cream probably aren't the first two foods that come to mind when you think of royalty, but hear me out. There's a scene in The Princess Diaries that involves a cheese pizza topped with M&Ms spelling out the word "sorry." The pizza also takes our taste buds to the Italian setting of Roman Holiday. As for the ice cream, that's a treat Princess Ann enjoys during her day of adventure. It's also a nod to that scene in The Princess Diaries when Mia confuses palette cleanser for ice cream. Oh—and you're probably better off putting the M&Ms on the ice cream instead of on the pizza.
Fairy tales
The movies: Into the Woods and Cinderella
The snacks: Good bread and a cheese board
Into the Woods combines fairy tales in a rather dark but highly engaging musical form. The story focuses on the baker and his wife (James Corden and Emily Blunt), who must gather four specific items and bring them to the witch who lives next door (Meryl Streep) if they want to reverse a curse that has left them childless. In contrast, Disney's 2015 live-action Cinderella (directed by Kenneth Branaugh) shines with nothing but light. Lily James brings the sweetness and joy of Cinderella to life with authenticity, depth, and a reminder to "have courage and be kind."
For snacks, bread and a cheese board will do the trick. Pick up some good bread from a bakery, and serve it in a basket lined with some red napkins. The baker, his wife, and Little Red Riding Hood will thank you. The cheese board will ensure that the mice, Cinderella's dear little friends, don't go hungry—and neither will you and your friends. If you're new to creating cheese boards, you can check out this tutorial, or follow Ina Garten's cheese board recipe.
Films about food
The movies: The Hundred-Foot Journey and Julie and Julia
The food: Indian food of your choice and a French dessert
The power of food is prevalent in The Hundred-Foot Journey. After a fire destroys the Kadam family's restaurant at home in India, they pack up what's left of their life and move to Europe. They settle in a village in France and open an Indian restaurant, much to the dismay of the owner of the Michelin-starred restaurant across the street. Tensions rise to dangerous levels, but in the end, both parties find they have something to learn from the other. We'll stay in France for parts of Julie and Julia, which weaves together two stories: one of famous cook Julia Child, and the other of Julie Powell, a real-life woman who set out to cook and blog her way through Child's entire cookbook, Mastering the Art of French Cooking. This delicious pairing illustrates that food does so much more than nourish us; it can alter our lives in profound and beautiful ways.
Indian food is the obvious choice here—dine out before your movie marathon, or order takeout. You choose the dish. (But if you order Chicken Tikka Masala, save some for me!) For dessert, choose something French. Try your hand at Julia Child's Reine de Saba (Queen of Sheba) cake, which is featured in Julie and Julia. Or, make Julia Child's chocolate mousse—not in the movie, but enticing. Of course, there's no shame in keeping it simple and picking up a little French delight of your choice from a bakery.
The bond between women
The movies: The Help and Steel Magnolias
The food: Fried chicken or red beans and rice, with chocolate pie or Cuppa Cuppa Cake
The Help, based on a novel by Kathryn Stockett, takes us to Mississippi in the 1960s, where the black women who work as maids practically raise the white children, only to be horribly mistreated. Skeeter (Emma Stone), an aspiring writer, sets out to tell their stories. As Aibileen (Viola Davis) and Minny (Octavia Spencer) candidly share their experiences with her, they form an unlikely alliance that defies the world they live in. We'll stay in the South for the second movie of this pairing: Steel Magnolias. Set against the backdrop of Truvy's (Dolly Parton) beauty salon, it's a story of camaraderie, loss, and the strength women have when we support one another.
There are a few options here for snacks. There's a scene in The Help that involves a lesson in making the perfect fried chicken. If you don't want to cook, just pick up some that's pre-made. Or, you could prepare a batch of red beans and rice, which Annelle (Daryl Hannah) talks about making in Steel Magnolias because it "freezes beautifully." Just be sure to soak the beans overnight first. For dessert, try Minny's chocolate pie, or Truvy's Cuppa Cuppa Cake: "a cuppa flour, a cuppa sugar, and a cuppa fruit cocktail with the syrup." Mix and match as you choose.
All of the movies listed here are available to stream or rent on Amazon Prime Video for $3.99 or less. You can also find them using a combination of YouTube, iTunes, Vudu, Netflix, and your local library. Now sit back, relax, and enjoy the show!