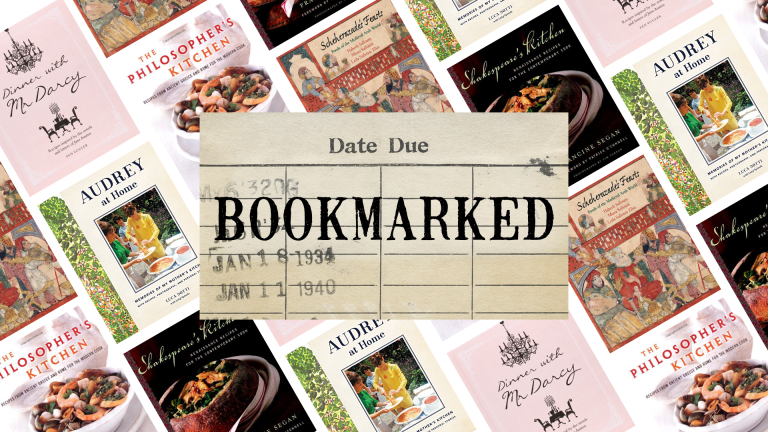 Take a Culinary Trip through Time and Space with These Historical Cookbooks
From Ancient Greece to Regency England, enhance your palate with these expansive cookbooks.
Do memories of your childhood flood back to you after tasting a batch of oatmeal cookies that remind you of the ones your mom used to make? Do you recall a certain event or ceremony because of the meal that was served? Are your memories from your last trip to Italy or Spain tied to the thought of the delicious food you ate while you were there? I, for one, often associate many memories with the tastes, smells, and sights that I experienced while in the moment. And the best way to bring the past back to life can be by recreating these sensory experiences. This got me thinking: how fun would it be to spend an afternoon cooking up the past with recipes from historical cookbooks?
If that kind of journey into the past appeals to you, here is a roundup of historical cookbooks to add to your wishlist. With these recipe books, you can take a culinary trip through time, from the ancient Mediterranean to the medieval Arab world, to Renaissance Europe, through Jane Austen-era England, all the way to Audrey Hepburn's twentieth-century kitchen. So, get cooking!
01. Ancient Greece and Rome
Take a trip back to the ancient Mediterranean with Francine Segan's The Philosopher's Kitchen: Recipes from Ancient Greece and Rome for the Modern Cook. To make this historical cookbook, the author dug up the classics and took hints from Plato, Aristotle, Homer, and Cicero on what they would have eaten thousands of years ago. She then created modern interpretations of these dishes, illustrated with beautiful photographs by Tim Turner. The recipes are accompanied by clever asides that offer fascinating tidbits on the historical context of the meal, offering a peek into the elaborate feasts, banquets, and ceremonies that would have taken place.
02. Medieval Islamic World
The Islamic empire spread over vast new territories throughout the seventh through thirteenth centuries. The region experienced a golden age of arts, scholarship, architecture, and, last but not least, food. Through both trade and conquest, the people of the Medieval Arab world were introduced to new cultures, new ingredients, and new culinary techniques. Scheherazade's Feasts: Foods of the Medieval Arab World includes more than a hundred delicious recipes from this era, allowing us the chance to experience a taste of their time from our own kitchens.
03. Renaissance Europe
The same duo that compiled The Philosopher's Kitchen also created a historical cookbook with recipes from the Renaissance. Francine Segan and Tim Turner's Shakespeare's Kitchen: Renaissance Recipes for the Contemporary Cook features original recipes from the sixteenth and seventeenth centuries with a modern twist. Food-related Shakespeare quotes and historical anecdotes on the rituals and social graces that surrounded the experience of dining in this era are woven throughout the book. Be sure to try the lobster with pistachio stuffing and Seville orange butter with a raisin- and caper-dressed winter salad to start.
04. Regency England
For anyone who has ever wanted to recreate the oh-so-romantic candlelit dinners that Elizabeth Bennet and Mr. Darcy must have had beyond the last pages of Pride and Prejudice, this cookbook is for you. Inspired by the food that Jane Austen comments on in her novels and letters, Dinner with Mr. Darcy: Recipes Inspired by the Novels of Jane Austen gives contemporary cooks a wide selection of Regency-era dishes to cook up. Up next on my meal planning list: strawberry tartlets worthy of an Emma Woodhouse picnic, and whipped "Everlasting Syllabub" for dessert, to serve after a dinner party fit for the Tilneys.
05. The Twentieth-Century Kitchen
Audrey Hepburn is, without a doubt, one of the most iconic women of the twentieth century, known for her elegant style, loveable films, and dedicated work as a humanitarian. However, many of us are left wondering what the real Audrey was like off-screen, at home. In this collection of fifty recipes and reflections compiled by her son, titled Audrey at Home: Memories of My Mother's Kitchen, we get a glimpse into the times she lived in, as well as an idea of who she was as a woman, a wife, a mother, and a cook. I cannot wait to try her recipe for penne alla vodka while imagining her eating this dish during her stay in Los Angeles as a young actress filming Sabrina; then, I'll try the cream of tomato soup recipe that she made from ingredients sourced from her garden at La Paisible, the house in Switzerland where she lived with her family. 
Editors' Note: Verily exists to empower women to be more of who they are. Support this mission by joining us at Verily Yours. Your subscription gives you exclusive content (that is different than our website content) and supports our publication, including our efforts to develop a print magazine. Subscribe here.