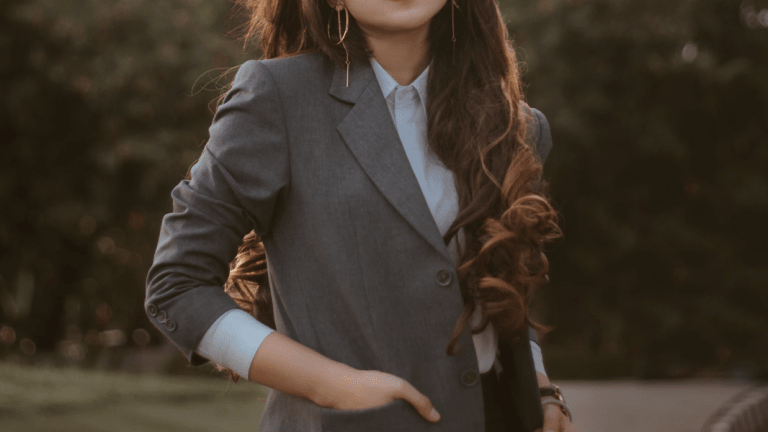 Sprezzatura for Women
Taking styling tips from the men
When flipping through magazines or browsing online, you probably head straight for women's style advice, just like you would head for the women's floor at a department store. But there's a lot to learn and admire from men's styling as well. One concept stands out in particular: the Italian idea of sprezzatura.
Sprezzatura is an Italian term from the sixteenth century that has been defined as "beautiful dishevelment," or "a certain nonchalance." Adam Titchener at Men's Fashion Magazine explains that it's a combination of "the art of nonchalance and perfect imperfection." Men who wear their clothes with a flair for sprezzatura often achieve this look by dressing impeccably and then unbuttoning jackets, jacket sleeves, or cuffs. Some men wear their ties looser or even pull out the thin end so that it shows beneath the thick end.
"In a world . . . that loves a rule, sprezzatura brings a touch of rebellion," Josh Sims explains at Fashion Beans. "It's a style hack without going full-on punkish revolution."
(This man pairs an unbuttoned polo with a blazer and pants from different suit sets.)
(At Florence's Pitti Uomo menswear show, this guy on the street rocks a double-breasted suit but skips the tie, skips the visible socks, and pairs with pants from another suit.)
A great thing about sprezzatura is that achieving that slightly undone look often means wearing nice, tailored clothing and then just accessorizing with what's natural and comfortable—your natural hair, minimal makeup, and comfortable shoes. See below for some sprezzatura tips and tricks we can learn from some decidedly dapper men.
Focus on fit.
Sprezzatura is about breaking the rules—but just a little bit! It is not a sloppy look so much as a way to dress well, but comfortably. Well-fitting clothes are the base of sprezzatura that you can build on by styling or accessorizing in unexpected ways.
In the West, the uniformity of men's tailored suits controls for most other factors and shows us the importance of fit. The difference between a spiffy suit and a sloppy one is not about the color or the style or the price of the suit—it's all about how it fits the wearer.
(You can see here that the pants and jacket on the left are both too wide and too long.)
Fit makes a big difference in women's style, too. Find an affordable tailor you trust, and make sure you bring in your new clothes to get them tailored (and some of your old clothes, too, if they aren't!). Common problems include trousers with legs that are too long or that are big in the waist. Fixing the waistband will help keep your pants up, and taking up the hem can make you look taller and also neater. You might also find a dress with a waist that doesn't hit the smallest part of your midsection or a blazer that is too long and hits at an awkward place on the hip or thigh. If you grow out of your clothes, sometimes a tailor can also help you out by adding panels to the side seams to give you some more room. (I've had this done before!)
In the end, fit is all about intentionality. Sometimes an item is meant to be oversized, and that's fine. Just make sure that you are wearing it oversized because that's how you want it, not because that's how it fit you at the store. Even oversized items have a correct fit—an oversized coat may be very wide, but it's unlikely to have sleeves so long they hide your hands. Also, you should make sure to balance an oversized item with slimmer clothes so that you don't drown in fabric.
(A fitted blazer vs. an intentionally oversized one.)
Tailoring isn't something that should be reserved for formal occasions. Ryan Gosling's perfectly-fitted casual duds show us that the key to looking polished in our everyday lives is to make sure our regular clothes fit, too. Jeans that drag on the ground or gap in the back don't look as neat as jeans that fit well. Shirts that skim your body usually look more polished than tees that tug because they are too tight, or tees with shoulder seams that slide down your arms because they are too big. Make sure you get jeans that fit the largest part of you (waist, hips, bum, or legs) and then take in the rest where necessary. For shirts, blouses, and blazers, you should make sure that they fit the biggest part of you (shoulders, bust, or tummy), and then check that the shoulders work as well, as they are trickier to tailor.
(Ryan Gosling in a fitted Henley and funky jewelry.)
(James Dean in tailored jeans and square glasses.)
Original styling
Sprezzatura is about rebellion and looking different, but also about looking like yourself and finding what's comfortable for you. One of the best-known sprezzatura style icons and the head of Fiat, Gianni Agnelli, wore his watch on top of his shirt cuff. It looked cool, but the stories say that it was a personal decision rather than a fashion statement; he started wearing it that way because his shirt sleeves were tight or because he checked the time frequently and got tired of pushing up his sleeve to do so.
You can experiment with sprezzatura styling in a number of ways. You can take inspiration from Gianni Agnelli by styling your clothes a certain way or by wearing a signature accessory. You can also play with rebellion by leaving some things a little undone. You can cuff, roll, unbutton, untuck, or half-tuck your shirts as stylish men do. Find what's comfortable for you and feel free to follow your impulses!
(Alyssa Beltempo embodies sprezzatura in this photo, in which she cuffs her jacket to show her shirt sleeves, unbuttons her shirt, and wears a contrasting belt.)
(Here, blogger Stacie Diamantides shows three different ways to style a button-down shirt: half-tucked, unbuttoned to create a V-neck, and knotted at the hip.)
Sprezzatura can also be achieved through mixing "high" and "low" looks, especially through the use of accessories and hairstyling. Johnny Depp is an expert at wearing neutral, tailored shirts and suits and making them look unique to him through the addition of beaded bracelets, chains, and cord necklaces.
(For this Dior ad, Depp wears tailored pants, a shirt, and a vest with bracelets and big rings.)
(Like Gianni Agnelli, Johnny Depp has a signature accessory: a leather cuff bracelet that he wears with both tees and suits.)
You can play with the same high-low style by wearing cocktail attire with casual jewelry such as shells, chains, and macramé; imagine wearing a stack of necklaces or lots of beaded bracelets with your little black dress. And, if you work in a field where it's acceptable, you could pair casual jewelry with your workwear as well.
(A sea-worthy stack of necklaces.)
(Bright beaded bracelets.)
(Delicate, nature-inspired charms.)
(A macramé arm party.)
//Go natural and comfortable.
Men with sprezzatura dress well but they also personalize their looks and stay comfortable. Another way to translate this into women's style is to embrace your natural beauty. The spirit of sprezzatura is freedom and relaxation: no need for the perfect cat eye or extreme contouring. Instead, go without or take a more minimalistic approach to makeup. Try highlighting either your lips or eyes with bright colors or smoky eyeshadow rather than creating an Instagram-perfect, full-face look.
(Alicia Keys slays in a red dress and no makeup on the 2019 Grammys red carpet.)
(NYC style maven Leandra Medine often pairs designer clothes with natural hair and relatively little or no makeup.)
Another great example of women's sprezzatura is the messy ponytail or beachy, half-done hairstyle popularized in the 2000s and worn with both casual clothes and gowns on the red carpet. Lean into your natural hair rather than fighting with it to make it into something it's not.
(Amandla Stenberg sports her natural curls at the 2016 Met Gala.)
(Amber Heard wore a messy side-braid on the red carpet at Cannes.)
Once you start looking closely at men's fashion, you can find lots of inspiration especially for classic styling that embraces comfort and our natural selves.