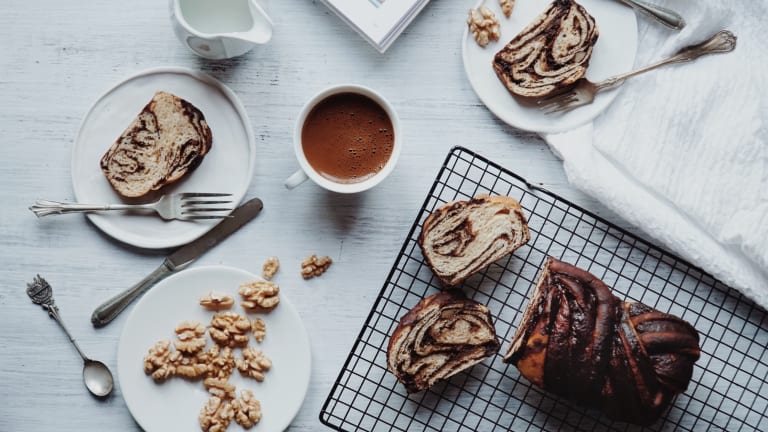 I Cooked (Baked) My Way through a Cookbook, and I Can't Recommend It Enough
Calling aspiring bakers of all skill-levels!
A few months ago, I baked the worst cake of my entire life. It was a carrot bundt cake, and it was my first attempt at making a bundt cake from scratch. As it baked, the aroma of cinnamon filled the kitchen, and I envisioned the beautiful cake I would soon take out of the oven.
But when I opened the oven door, I was met with quite a different sight. The cake was woefully underbaked, and batter oozed over the edge of the pan and dripped all over the oven. I could hear the familiar voices of the judges in The Great British Baking Show in my head: "It looks a bit of a mess," but even that would be a dramatic understatement.
This experience inspired in me a desire to become a bundt cake expert. My husband got me a new bundt pan and bundt cake cookbook for my birthday. And I set a goal to bake through the entire book, a bit like in Julie & Julia, but without the deadlines and boeuf bourguignon. I'm still early in my baking adventure, but I've already found that there is much to be gained from tackling a whole cookbook.
Less frustration with failure
During the course of my cookbook challenge, I've learned that not every cake turns out well on the first try, and that's okay. Each recipe is like an experiment, and since the process is all about learning, failure feels less frustrating than it would be otherwise. My first attempt at Margarita bundt cake was a flop. It shriveled to a fraction of the size it should have been and the texture was dense and chewy rather than light and airy. After a little bit of research, I concluded that I either over-greased the pan, over-mixed the batter, or both. I tried again, taking care not to be overzealous in my greasing and mixing, and I ended up with a very nice bake.
A taste for new ingredients
Going through a whole cookbook is a chance to break away from the usual ingredients and discover new tastes, textures, and flavor combinations. As much as I love sweet potatoes, I had never baked them into a dessert until I tried sweet potato Bourbon cake, which is one of my favorite recipes so far. I've never cooked with lavender, but, at some point, I'll need to find out where I can buy culinary lavender buds—it will be an adventure in shopping as much as an adventure in baking and tasting.
Tips on proper technique
There's a section at the beginning of my cookbook with helpful tips on technique. If I had just chosen a recipe at random, I probably would have skipped that section. That means I would have never learned why bundt cakes sometimes stick to the pan; when they cool in the pan for more than ten minutes, the sugars solidify. I would have also missed the advice about bringing ingredients to room temperature before baking. Going through a book also means I'll have to practice new techniques in recipes that seem intimidating. I'm a little nervous about getting the elegant crust of the mocha hazelnut cheesecake to stick to the sides of the pan, but at some point in this adventure, I'll have to figure it out.
A deeper sense of ownership
By the time I'm finished, this book and I will have been on a journey. It won't just be a collection of recipes that look good but a collection of recipes I have personally tried. I'll know how to create a cake with a tunnel of filling. I'll know whether my misgivings about a savory cake recipe with jalapenos and corn are misguided and whether chocolate coconut and pumpkin marble bundt cake is as tantalizing as I imagine it will be.
A recurring sense of accomplishment
With the completion of each new recipe, I feel a sense of accomplishment—even if the cake doesn't turn out perfectly or I don't care for the flavor. Completing the whole book, I suspect, will create an even larger sense of accomplishment, and I'll have a new level of confidence when it comes to bundt cakes. Along the way, I'll experience another benefit of baking: like other creative activities, baking can improve mood and overall well-being. Of course, I'll also get to eat a lot of cake.
While baking certainly comes more easily to some of us than others, there's always room to learn, and baking through a cookbook is one way to do that. For the uncertain baker, going through a cookbook is a good way to learn new skills and get more comfortable with baking. And for the experienced baker, it's a rewarding challenge.