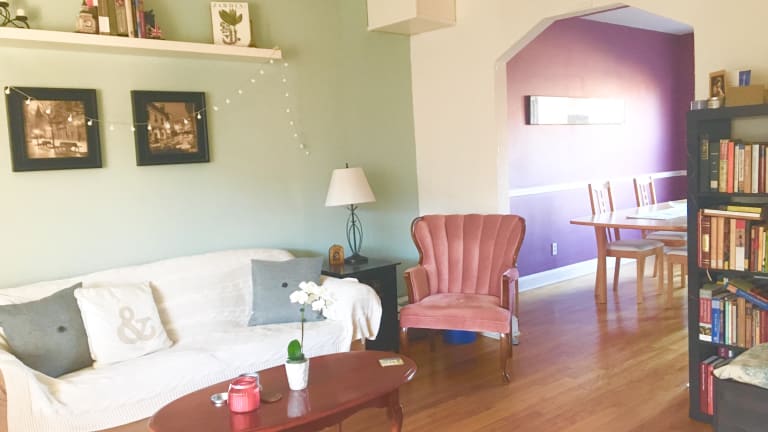 At Home with Her: The Epicenter of a Grad Student House
A snug corner ready for a fast pace.
Name: Jeanne-Michelle Datiles
Tell us about your favorite spot in your home. 
It's surprising how a few minutes musing about this question can prompt layers of serious thought. But maybe it's not so surprising because I'm writing this on the verge of a move, and moving brings with it bursts of nostalgia and reflection (as well as bursts of purging and letting go of "stuff"). The "favorite spot" I have in mind is a snug corner of the living room, a corner from which you can see out the huge front windows but also take in both the entire living room and dining room at a glance. So it's been both a strategic place for solo time and right in the middle of the cocktail parties and other gatherings we've hosted in this house.
Because my housemates and I are moving, this particular corner is about to be dismantled. But identifying what makes it my favorite corner will help me re-create a similar space in any place I happen to be living. The best way to describe its appeal is that it's a perfect place to settle down and "have a think," as the English might say. Besides being comfortable and cozy, there's a huge front window providing plenty of natural light to uplift one's mood in almost any season.
Is there a particular story about how this spot came to be arranged/decorated the way it is? Are there any particular pieces that have significant history to you or your family?
My housemates and I are all graduate students. Each of us is immersed in a different field and has our own taste in home décor. So this space is the organic combination of each of us, from furniture and small decorative knickknacks to personal libraries of books—lots and lots of books.
There are a few key ingredients to this corner: an old-fashioned, rose-colored armchair bought from a charming elderly couple; a modest French country end table, and on it a small hand-made icon, a traditional work of Byzantine sacred art. The coffee table is home (whenever possible) to fresh flowers, a small assortment of scented candles for ambiance (not overpoweringly aromatic), and a set of coasters I bought from a small shop in an iconic street in Cambridge.
Sitting in this pink chair, surrounded by sunlight and small items of French décor that bring a sense of peace and comfort, you can see the neat cube-shelves filled with books. These books have been read, referenced, marked up—they are books that have lived and bear witness to our lives as students.
Have there been particularly inspiring or moving moments in this corner of your home? Or, is there a particular feeling you get when you are in this space in your house?
This corner has seen both quiet solo moments and louder house-filled-with-people hours. It's been a perfect place to have a think alone, to meditate and journal, to read books and letters, and to let my mind wander while painting or, more recently, knitting. (I'm an aunt to three adorable kids under five years old, so knitting blankets quickly became part of my life.) In our house, having a think can also be a group effort: my housemates and I have had unforgettable late-night chats with each other in this corner about future plans, grand life projects, personal struggles, and relationships.
Expanding the circle further, this corner has also been a place to talk a bit more privately in the middle of loud cocktail parties, poetry nights, or get-togethers with friends and fellow grad students that we've hosted. Making memories stamps charm on any place. While the physical set-up of an armchair, books, a few personal treasures, sunlight, and a place to rest a drink will be easily replicated in my new place—and wherever I find myself in the future—the continual adventure will be to transform that corner into a place to have a think, alone or with others.
Editors' note: At Home With Her is a Readers' Write column. We'd love to feature your favorite space in your home. Submit yours here.