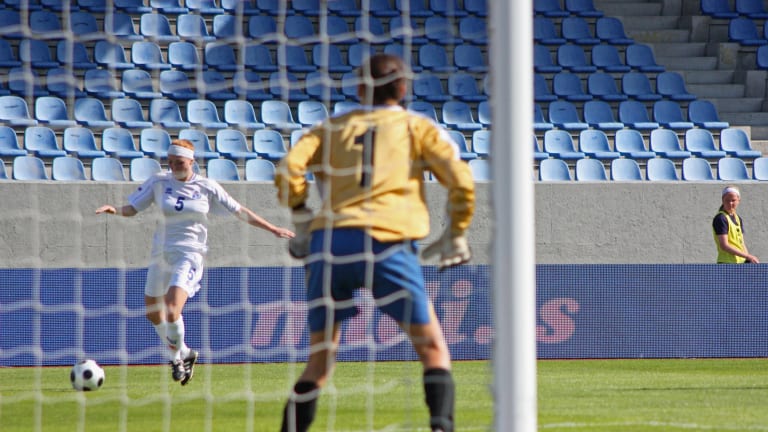 The 2019 Women's World Cup Begins—and Other Notes from the Week
Catch up on all the news you might have missed with our handy summary of the week's top stories.
We're pleased to bring you "While You Were Out"—Verily quick takes on the happenings of this week.
2019 Women's World Cup Begins
The FIFA Women's World Cup, held every four years, is underway in France. The event will run until July 7 and features 24 soccer teams from around the world, with teams from Chile, Jamaica, Scotland and South African appearing in the tournament for the first time.
The U.S. Women's National team is defending its World Cup title won in 2015, when the squad soundly defeated Japan. The U.S. team is, once again, the favorite, and they are playing against a backdrop of controversy. In 2015, they triumphed while high-ranking leaders of FIFA—the organization that promotes soccer around the world—were under U.S. indictment for corruption. In 2019, female soccer players have filed a federal lawsuit against the United States Soccer Federation, demanding equal pay to their men's team counterparts.
The difference in pay is not disputed. Even at the World Cup level, $30 million in prize money will be distributed to the women's teams, while last year's men's tournament was given a jaw-dropping $400 million. Soccer officials say the gap is due to the very different revenue amounts generated by the sport's two sexes. U.S. women's players say it's because of institutional sexism.
Regardless of which side is right, every fan can agree the U.S. women's team has done an incredible service to the sport since 1991 when they burst on the global soccer scene by winning the very first Women's World Cup. They've medaled in every World Cup since and repeated their victory twice. They should be paid like the champions they are. —Margaret Brady
Measles Outbreak Reaches New Heights
The CDC has reported that the number of confirmed measles cases in the United States this year has soared to 1,022. This represents the largest outbreak since measles were declared eliminated in the country in 2000. The disease is now present in 28 states, with large pockets of infection in New York, California, Pennsylvania, and Washington.
Measles is still a common illness throughout the world, and the cases occurring in the United States are associated with international travel. Visitors to countries where measles is still endemic can unknowingly carry the virus home, allowing it to spread within their community—especially if large groups of people in that community are unvaccinated. Although the CDC has not reported any related deaths in 2019, measles is a serious disease. In 2017, more than 100 thousand children around the world died and still more were left with permanent disabilities after recovering from the virus.
Vaccination is 97 percent effective, but some people can not be vaccinated because of immune system problems, life-threatening allergies, and other health issues. In recent years, a scientifically-unfounded fear of vaccines has led to lower vaccination rates. To protect the most vulnerable among us, we need more education and non-judgmental reassurance for parents—especially mothers—who are sincerely trying to protect their little ones. Pediatricians, nurse practitioners, and others need more support and resources to help them sustain what can be a frustrating and emotional conversation, guiding parents to make decisions based on scientific facts, not fear. —MB
New York Surrogacy Bill Receives Criticism from Gloria Steinem and Female Lawmakers
This week, a bill to legalize surrogacy in the state of New York—which has the support of Governor Andrew Cuomo and the State Senate—has stalled in the New York State Assembly. As the New York Times reports, "Long-serving female lawmakers have spoken out against it. Prominent feminists, including Gloria Steinem, have denounced it. Women's rights scholars have argued that paid surrogacy turns women's bodies into commodities and is coercive to poor women given the sizable payments it can bring."
In Steinem's letter shared this week, she implores the public to make their voices heard against the bill. "Women's health, rights, and lives may depend on it," she writes. "Under this bill, women in economic need become commercialized vessels for rent, and the fetuses they carry become the property of others. The surrogate mother's rights over the fetus she is carrying are greatly curtailed and she loses all rights to the baby she delivers."
One woman named Kelly from South Dakota, shared in a 2017 Verily article how, despite her initial desire to help couples, her views after being a surrogate changed: "I am a broken woman who has been used, lied to, and exploited. If I could take back my surrogacy journeys I would in a heartbeat because it changed me for the worse."
Given all these ethical concerns, it's no surprise to me why most of the voices opposing the NY bill are women's voices. Here's hoping they're heard. —Mary Rose Somarriba
Japanese Women Fight for Changes Around Sexual Assault
Women in Japan are pushing to reform entrenched legal regulations that make rape exceedingly difficult to convict. Current legislation requires prosecutors to prove the victim "incapable of resistance." In Japan, the act of not fighting back renders prosecutors unable to prove an assault happened. Commenting on a recent spate of acquittals, sexual assault survivor Chihiro Ito said, "I felt that the verdicts were unbelievable, impossible."
Many sexual assault survivors report experiencing a freeze response during an attack. This is part of the brain's natural defense against danger. Unfortunately, evidence about the amygdala response of a sexual assault survivor is not a piece of evidence that can be brought before a court. Putting this absurd burden of proof on survivors further compounds the difficulty of convicting rape. In a recent case, the court tried a man who raped his nineteen-year-old daughter and found evidence of abuse and non-consensual sex but doubted that she was not able to defend herself.
Jun Yamamoto, a psychiatrist and a survivor of sexual assault, heads a support group for victims of assault called Spring. The group is pushing to reform these laws, which persist in spite of an overhaul two years ago. Activists hope to focus the momentum from public opinion to implement changes in the legal system. Known as the Flower Demo, the protestors have organized sit-ins with #MeToo signs and flowers in towns where courts have issued recent acquittal verdicts. In a country where 95 percent of sexual assaults go unreported, we applaud the bravery of the women pursuing reform. —Rachel Wilkerson
Pompidou Centre Opens Exhibit on Surrealist Dora Maar
A new art exhibit at the Pompidou Centre in Paris will bring attention to the surrealist artist, Dora Maar, best known for her relationship with Picasso. However, the show has set out to prove that Marr "had a sparkling career in her own right before she met Picasso."
While Picasso became a household name, Dora Maar likely slipped under the radar, appearing in the art history books in a footnote as Picasso's muse, model, and mistress. A closer look reveals her to be a force on the Parisian art scene. Growing up between Buenos Aires and London, her artistic flair first manifested in photography. She became one of only a handful of photographers who exhibited alongside other artists of the era. As her star rose in the Surrealist scene, she collaborated with fashion houses Chanel, Lanvin, and Schiaparelli.
After embarking on an affair with the macho painter, she swapped her camera for a paintbrush. She also sat for Picasso in over 60 works, most notably The Weeping Woman.
After her affair with Picasso ended, she retreated deeply into art, painting for over 25 years and refusing to exhibit. A surprising convert, she sought refuge in Catholic mysticism and meditation. While much of the narrative about who Maar was obscured by Picasso, the new show at the Pompidou Centre opens a window into a better understanding of the artist. —RW
First Ruling Made in College Admissions Scandal
John Vandemoer, former coach of Stanford University's sailing team, received the first sentence in regard to the college admissions scandal that made news earlier this year. Vandemoer pleaded guilty to one count of racketeering conspiracy, and for accepting over $600,000—all of which he used to purchase gear and boats and to pay a salary for an assistant coach for the team. Vandemoer didn't keep any of the money for himself, which seems to have worked in his favor. Vandemoer faced a potential thirteen months in prison but was sentenced to just one day in jail, which he got credit for already serving. In addition, Vandemoer was sentenced to "two years of supervised release, with the first six months in home confinement, and was ordered to pay a $10,000 fine."
Some of the forty-nine other defendants in the case are pleading guilty, while others continue to contest their charges. Legal analyst Steve Meister told CBS News he would caution other defendants from seeing Vandemoer's ruling as indicative of what the court will hand down in other situations. In addition to Vandemoer's not taking any personal gain from the monetary exchange, he had already lost his job and reputation as a result of the investigation. Perhaps more importantly, Vademor's choices did not result in any student being denied admission, as neither of two students whose admission he secured chose to attend Stanford. Other defendants will not be able to say the same.
Former USC soccer coach Laura Janke has also pleaded guilty to a racketeering conspiracy charge (she is the fourth coach to do so). Her case is different than Vandemoer's because she not only interfered with admissions at her university but also helped create phony profiles that got students accepted to other elite colleges. Janke has not yet been sentenced, but reports suggest she faces 27 to 33 months in prison. —Lindsay Schlegel
NY Legislature to Consider Legalizing Prostitution
State Senators Jessica Ramos and Julia Salazar have introduced a bill to the state legislature that would almost completely legalize the buying and selling of sex in New York.
The bill would repeal several misdemeanor laws against the sex trade. It would keep some more serious restrictions: New Yorkers still couldn't purchase sex with someone under 18, and it would still be forbidden to engage in sex trafficking in school zones. Nevertheless, the new law would be the most radical of its kind in the country, going further even than long-standing statutes in some counties in Nevada.
Although framed by most supporters as an issue of bodily autonomy and "choice," even women in the industry who support the bill speak in terms that suggest they had no real choice at all: At a press conference, advocate TS Candii told reporters that "Sex work saved my life." She said she became involved in prostitution as a 13-year-old child. As sex-trafficking survivors have shared at Verily, many girls and women wind up in prostitution due to poverty and an attempt to survive, rather than free choice. 
Decriminalizing the desperate people on the front lines of prostitution—who are mostly vulnerable women and children—makes sense as a humane step. By not slapping them with a criminal record, the state of New York could help them avoid becoming trapped in an industry most people would never freely choose to spend a lifetime in. But there's reason to believe broad legalization of prostitution is not the means to do that; countries such as Sweden, Norway, Iceland, France, and Canada have successfully employed what's called the "Nordic Model"—decriminalizing women who are prostituted while criminalizing pimps and johns who buy sex. Countries that have employed the Nordic Model have seen decreases in sex-trafficking, while places like Germany have seen increases in trafficking after prostitution is broadly legalized. The fact that this NY law enables sex buyers and pimps show it's less about compassion and more about capitalism. —MB
Nike's Plus Size Mannequins Cause Controversial Debate
Last week, Nike unveiled its "Women by Nike" floor at NikeTown in London, to a mixture of praise and criticism. The new floor featured plus-size mannequins in a move to "serve all athletes" no matter their size. Many cheered Nike on as they showed their commitment to more diversity, while others said that Nike's plus size line and mannequins promote an unhealthy lifestyle and sense of body image.
One writer for The Guardian published a piece entitled, "Obese Mannequins Are Selling Women A Dangerous Lie" in which the author wrote: "The fat-acceptance movement, which says that any weight is healthy if it is yours, is no friend to women, even if it does seem to have found a friend in Nike. It may, instead, kill them, and that is rather worse than feeling sad. Fat-acceptance is an artifice of denial." The article received plenty of backlash, including a response from actress Jameela Jamil, who has become an advocate for realistic portrayals of women in the media and the promotion of healthy body image.
Nike responded to the criticism with the following statement: "We launched the Nike Plus Size collection in 2017—a collection crafted to ensure the perfect fit at every size. To showcase inclusivity and inspire the female consumer, we launched Nike Plus Size mannequins in select stores in North America in 2018 and as part of the recent launch of the new 'Women by Nike' floor in NikeTown London. We continue to listen to the voice of the athlete and know that the female consumer wants to see a diverse and inclusive range of products to serve her sporting needs."
I, for one, think these mannequins are a positive change. Many women (myself included) feel discouraged about going to the gym as we are faced with the fear that everyone there is already in shape and that our bodies don't belong. However, it's important to remember that people go to the gym to get fit, take care of their bodies, and feel like their best selves. All bodies are different, and everyone should feel welcome at the gym, and Nike's new campaign is a positive step toward this mindset. —Gabriella Patti
Good News of the Week: Katy Perry & Taylor Swift's Feud Seems to Be Over
Katy Perry and Taylor Swift's very public feud has come to a very public end, culminating in Instagram likes and baked goods. The two pop stars have been feuding for six years, starting with a fight over backup dancers. The fight has manifested in less than sly public comments, and the release of two ear-wormy, diss tracks (Swift's "Bad Blood" and Perry's "Swish Swish"). However, it appears that the two ladies have been working to mend the fence for over a year now. Last May, Perry sent Swift a note accompanied by an olive branch, which made an appearance on Swift's Insta Story. This gesture was followed by Perry "liking" Swift's tweet, and Swift adding Perry's newest track to a playlist. And thus, we get to the cookies. This past week, Perry tagged Swift in an Instagram photo of cookies and the words, "Peace at Last." It was captioned with "feels good" with the location set at, "Let's Be Friends."
Even if the concept of such a public feud and apology seems somewhat petty, in the twenty-first century, when everything is public and celebrities are given such clout, it's nice to see the two singers use their platform to share a message of peace and friendship. —GP
Watch of the Week
If you haven't already caught DJ Pryor's adorable conversation with his son Kingston, now's your chance.
Miss our "Articles of Note" section? Subscribe to Verily Daily emails and check out our new suggested reading at the bottom, in our new "May We Recommend" section.