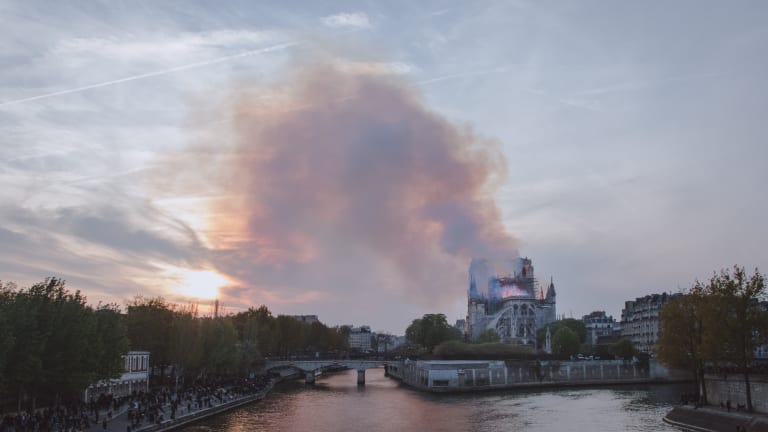 Months After Fire, Worshipers Return to Notre Dame—and Other Notes from the Week
Catch up on all the news you might have missed with our handy summary of the week's top stories.
We're pleased to bring you "While You Were Out"—Verily quick takes on the happenings of this week.
Months After Fire, Worshipers Return to Notre Dame
On June 15, the Archbishop of Paris celebrated Mass amid the ruins of the Cathedral of Notre Dame—two months after a devastating fire nearly destroyed the renowned church.
Wearing white vestments and white hard hats for safety, Archbishop Michel Aupetit and other clergy held the service in one of the side chapels, named for Our Lady of Seven Sorrows. About thirty people attended including workers at the Cathedral, which is still in danger of partial collapse.
In his homily, the Archbishop said that the cathedral "is a place of worship; this is its sole and proper end. There are no tourists at Notre Dame because this term is often pejorative and doesn't do right to the mystery which impels humanity to come to search for something beyond itself."
The Archbishop was likely responding to public discussion of rebuilding, which has included voices calling for Notre Dame to be redesigned to reflect a more secular, "inclusive" role in French society. In France, historic church buildings are technically owned by the government and used for free by the faith community.
The Cathedral of Notre Dame is a masterpiece created centuries ago by artists to have both a beautiful form and a specific function. If only for the sake of artistic integrity, Notre Dame should be rebuilt as they intended. To do otherwise would be like "restoring" Michelangelo's Pieta by chiseling the Madonna out of the statue. Modern France already has made its own contribution to art history in the form of impressive buildings like the Louvre Pyramid, designed by I.M. Pei. The medieval Cathedral is designated a UNESCO World Heritage Site, and it's up to its re-builders to avoid squandering that heritage. —Margaret Brady
CEOs Say Abortion Restriction Hurts Business
This week, an open letter was published signed by 180 CEOs saying "Don't Ban Equality," taking a stand against anti-abortion laws such as those recently passed in states Georgia and Alabama. According to the signees, "restricting access to comprehensive reproductive care, including abortion, threatens the health, independence and economic stability of our employees and customers. Simply put, it goes against our values and is bad for business." Among the signees are Jack Dorsey of Twitter, representing Square, Inc.; Matthew McCarthy of Ben & Jerry's; Elie Seidman of Tinder; and Peter T. Grauer of Bloomberg LP.
Since the article was published, there have been mixed reactions from women. "It certainly seems that pregnancy is frowned upon by the many men (and women) who lent their name to this cause," writes Kimberly Ross at the Washington Examiner. "Are the demands of these companies such that a woman can't be a mother and a successful employee? . . . Talk about a toxic work environment."
It's one thing for politicians to speak on these laws, but I'm not convinced it's a wise territory for businesses. As a working woman who has had two babies on the job (and one more on the way), I for one would feel discouraged if my employer suggested having babies gets in the way of our company's goals. —Mary Rose Somarriba
Photoshop Folly Shows Diversity in Tech is Still a Wreck
GQ, the men's magazine, published a story online last week about Silicon Valley luminaries who visited Italian fashion entrepreneur Brunello Cucinelli at his village in Italy. The only two women who appeared in the accompanying photo turned out to be Photoshopped in.
Cucinelli designs expensive sweatpants, but the executives from Twitter, LinkedIn, and other tech companies were there to appreciate his business acumen, not his clothes. During the visit, a group photo was taken and posted to Cucinelli's Instagram. Subsequently, GQ used the photo as the lead image in their story. It appeared to show fifteen men and two women.
It wasn't long before a Buzzfeed reporter and multiple Twitter users noticed that the two women looked odd. Their lighting and coloring were off. Eventually, the original, undoctored photo was found elsewhere online; the two women were not in it.
Cucinelli's team fessed up and GQ removed the photo, stating they hadn't been informed of the digital manipulation. The two women, Peek CEO Razwana Bashir, and SunRun CEO Lynn Jurich, had attended the meeting, but apparently weren't around when the group photo was taken. Amazon head honcho Jeff Bezos was present but isn't in any of the photos. When asked why he wasn't also added via Photoshop, Cucinelli's spokesperson claimed the CEO didn't want to be in the picture.
Given the tech industry's documented problems with diversity, this incident is a painful illustration of how Silicon Valley's PR outpaces reality. Even without the abuse of Photoshop, a two to fifteen female to male ratio is a dispiriting representation of the state of gender equality in the tech industry. Verily was one of the first publications to embrace a policy banning the alteration of women's bodies, skin and facial features via Photoshop, so needless to say, cutting and pasting them into a fictional image gets two thumbs down from us. We're rooting for the day when such misbehavior is unthinkable. —MB
Heiress and Fashion Icon Gloria Vanderbilt Passes Away
CNN anchor Anderson Cooper announced on Monday that his mother, Gloria Vanderbilt, passed away that morning in Manhattan. She was 95.
Born the daughter of Reginald Vanderbilt and destined to inherit the family's railroad fortune, Gloria lost her father as a baby and lost most access to her mother when her paternal aunt, Gertrude Vanderbilt Whitney, sued for custody in 1934. The salacious court battle was called "the trial of the century" and ended with Whitney declaring victory. Gloria's mother was judged unfit and given visitation.
At seventeen, Gloria ran away to Hollywood, where she wed agent and reputed mobster Pat DiCicco. They divorced and she went on to remarry three times. Along the way, Gloria reinvented herself as a fashion designer, stitching her name as a brand on the back pocket of dark, stretchy blue jeans. Her designs became so sought-after in the 1980s that she won the nickname, "the Duchess of Denim." She later sold the licensing rights, and these days the brand appears in Kohl's and JCPenney, not in high-end boutiques. But the pants remain as flattering as ever and this writer⁠—along with countless other women⁠—has a pair or two in her closet.
Tragedy struck again in 1988 when another son, Carter Vanderbilt Cooper, died by suicide at 28, leaping from a 14th-floor apartment before his mother's eyes. Years later, Gloria shared that closure from this trauma remained elusive to her.
In his statement announcing her death, Anderson Cooper spoke about how the Vanderbilt family's money created terrible suffering for Gloria but added, "She always pressed on, always worked hard, always believed the best was yet to come . . . Love is what she believed in more than anything." May she rest in peace. —MB
Facebook Announces Plan to Introduce Cryptocurrency to the Masses
Facebook has officially entered its next phase in taking over the world by making us all dependent zombies entangled in its web of crypto-wires. The company just announced it's ambitious plan to bring cryptocurrency to the masses, in the form of "Project Libra,"—"a new type of digital money designed for the billions of people using its apps and social network." Assuming the plan takes off, Facebook users will be able to use a currency called Libra to shop online and send Libra via Messenger and Instagram. Don't have a wallet to store your virtual money? No problem! Facebook is also launching a digital wallet called Calibra, where users can store Libra. The currency is said to launch in 2020.
Although talk about Facebook taking over the world with some diabolical plan is said rather tongue-in-cheek, I am concerned about putting all of our digital eggs in one basket. Facebook currently has 2.38 billion users worldwide, a number which does not include the users on the other apps owned by the company including Whatsapp and Instagram. The company is not immune to hacks, and they have been under fire for data mining and sharing users' personal information with outside companies. Many have expressed concern that Facebook needs to be put in check. "With the announcement that it plans to create a cryptocurrency, Facebook is continuing its unchecked expansion and extending its reach into the lives of its users," said U.S. Representative Maxine Waters, chairwoman of the House Financial Services Committee. Whether or not Libra and Calibra take off remains to be seen, as it all comes down to whether or not users feel they can trust the company going forward. —Gabriella Patti
"Hunger Games" Prequel is Coming Soon
Fans of the dystopian Young Adult book series "The Hunger Games" will have a new story to read in 2020. The book publisher, Scholastic announced a new prequel is due to hit shelves next May.
In a statement, author Suzanne Collins said that the still-untitled book will take place about sixty years prior to the events of Hunger Games, as the fictional world, Panem, struggles to recover from a devastating war. "With this book, I wanted to explore the state of nature, who we are, and what we perceive is required for our survival," she said.
The original Hunger Games was an instant best-seller when it debuted in 2008 as a boundary-pushing entry in the YA scene. Today, more than 100 million copies are in print. The trilogy tells the story of children forced to fight to the death in a reality show competition, for the entertainment (and intimidation) of the rest of the populace. The books inspired a trio of equally successful films starring Jennifer Lawrence as the gritty, resourceful Katniss Everdeen. Movie company Lionsgate is in talks with Collins to bring the new prequel to the screen as well.
Hunger Games sparked a wave of literary imitators, but the original series still stands apart for its relentlessly bleak plot and sharp social commentary. The rising post-Millennial generation has even been nicknamed Generation K for how their attitudes match Katniss's. The prequel will feature brand new characters, but, as we learn more about the history of Panem, Collins will likely give us more to think about in our own world, too. We'll be reading. —MB
Allegations of Prostitution Surface within the International Planned Parenthood Foundation
Reports this week suggest that the International Planned Parenthood Foundation has been hiring prostitutes for staff, guests, and donors at official functions over a period of several years. Internal documents related to the investigation currently underway indicate a number of additional crimes: sexual harassment and bullying of whistleblowers on a regional level, as well as local girls being offered for sexual acts in Kenya.
What's perhaps more alarming is that, according to the Washington Examiner's report, "Britain's Department for International Development is still providing funding [to the tune of £132 million] to the International Planned Parenthood Federation despite having full knowledge of the accusations against them," and despite having "pledged to withhold funds from charities that did not make a serious effort to confront sexual exploitation." Rather than take a stand on this issue, the department "choose IPPF to lead a consortium to promote 'Sexual Reproductive Health Rights' in six developing countries." It's troubling to consider how an organization that allegedly uses women as sex objects would teach meaningful sexual health in other nations.
With top officials resigning, the London-based staff has stated that "IPPF is in a major crisis . . . We are on the brink of losing everything we have worked for over the past 65 years." In the wake of the allegations, "all 45 member associations in the Western hemisphere region—including those in the U.S., Argentina, Brazil, and Canada—opted to break away from the London-based federation." It's unclear when the investigation will come to an end and what consequences there could be for IPPF. —Lindsay Schlegel
Good News of the Week
Twelve-year-old Elle Casano has been in and out of hospitals for most of her young life, due to a rare autoimmune disease, called Idiopathic Thrombocytopenia Purpura, or ITP, a disorder that can lead to excessive bleeding and bruising. As a result, she is no stranger to the stress and fear that young children often experience while receiving medical treatment. However, the Connecticut preteen is paying it forward by designing teddy bears that hide IV bags, and she wants to give them to children in the hospital—at no cost.
"When I had my first infusion, I was surprised and a little bit intimidated by the look of the amount of tubing and medical equipment on my IV pole," Casano wrote. "As I saw more and more children experiencing the same feelings, I became more interested in creating a friendlier experience for young IV patients." Casano could just as easily have resigned to feeling sorry for herself, but instead, she has directed her energy toward caring for others. We wish her every success! —GP
Watch of the Week
Last week, we shared DJ Pryor's adorable conversation with his son Kingston, and this week we couldn't help but share yet another precious conversation between the father-son duo—only this time over breakfast at Denny's.



Miss our "Articles of Note" section? Subscribe to Verily Daily emails and check out our new suggested reading at the bottom, in our new "May We Recommend" section.