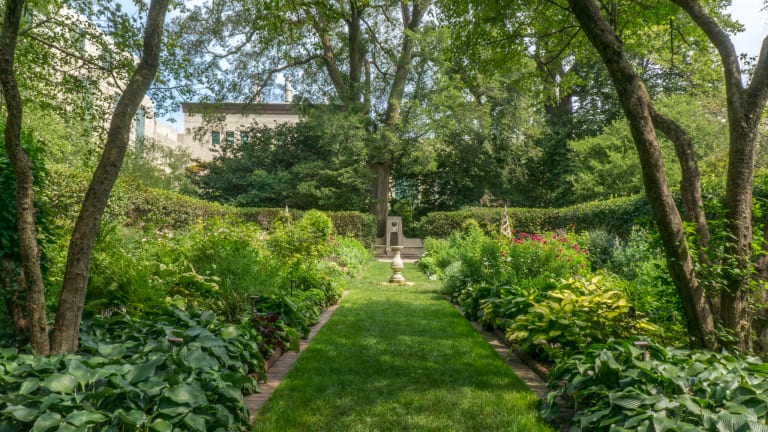 Travel with a Local: Evanston, Illinois
The excitement of a city packed into a historic and beautiful suburb.
Name: Kathryn Dennee
City: Evanston, Illinois
Why you should visit
Evanston is a charming, historic suburb of Chicago and a city in its own right, complete with modern high-rises neighboring diverse 1920s homes, shops, and hotels. The "Surb," as it has been called, won a top-ten-in-America award for its downtown bikeways in 2018 and because it is remarkably bikeable and walkable. Go for a walk around East Evanston and sample from countless bakeries and coffee shops. Along the way, bag your favorites, and stroll or bike down to the lakeshore to eat at one of the many green lakefront parks or sandy beaches. From the park, enjoy views of Evanston's college campus, Northwestern University, which boasts modern architecture and a free art museum. Turn your gaze south, and you'll see glimpses of the Chicago skyline. The tree-lined streets and rose gardens rising up around friendly shop owners and their wares make Evanston a true "Urbs in Horto" ("City in a Garden") where all can relax and enjoy.
Where you should stay
Relax and admire the beautiful and architecturally diverse Lakeshore Historic District like a local. Reserve an Airbnb anywhere east of Asbury Avenue and north of Main Street for less than $100 a night and enjoy being a short walk from Lake Michigan, the Chicago Avenue shopping districts, downtown Evanston, and Northwestern University. Hinman Avenue, Michigan Avenue, Edgemere Court, and Sheridan Road are among the most picturesque streets. There, you will be greeted by Frank Lloyd Wright-inspired Prairie-style homes, Tudor Revival mansions, and ornate, ivy-adorned, brick, four-story condominiums and apartment buildings. The hotels in Evanston are well-rated and conveniently located in the vibrant downtown and near Northwestern, but if you stay in an Airbnb, you can enjoy the beauty and peacefulness of the historic district just a brief walk from downtown.
Where you should eat
Pop over to Davis Street on foot, by bike, or on the El (the "elevated train service," which extends south from Chicago to the north end of Evanston), and get a quick bite at familiar spots like Chipotle, Panera Bread, Blaze Pizza, Flat Top Grill, or the delicious but lesser-known fast-casual restaurant Olive Mediterranean Grill. 
After a sun-soaked day at the beach or when you're ready to sit down for a full meal, you will have many options to choose from. Chicago is home to 25 Michelin-starred restaurants, and Evanston plays into that culinary tradition with eateries like Found Social House, which offers elegant dishes like pan-roasted Faroe Island salmon and chimichurri lamb meatballs. 
You may also want to visit Farmhouse—a down-home, softly-lit spot serving up locally farmed steak, braised short rib, and roasted half chickens.
 My personal favorites include La Principal, an à la carte taqueria with a summertime patio where you can sip on hand-crafted libations like a Paloma (the grapefruit-and-lime sister to the margarita). 
Kansaku Sushi will quickly win you over with fresh, bright sushi served in a cozy and stylish setting. The Citrus Spring roll is light and satisfying: spicy tuna, lettuce, avocado, crab, and ponzu topped with a nashi pear slice.
Where you can get great coffee
Brothers K is the quirky and espresso-forward local favorite frequented by families, shop owners, and Northwestern students alike. They brew Metropolis Coffee (a family-owned, award-winning Chicago roastery), and I like to get their rich-tasting cappuccino or macchiato. They also stock eats from a local restaurant and local bakery, from spinach pies to bean burritos to chocolate croissants. While the decor is a little dated, it is a mainstay and truly where the locals go. 
For a bit more pizzazz and a full menu of eats, check out Colectivo Coffee, a Milwaukee outfit that roasts its own beans. They recently opened a cafe in the heart of downtown Evanston, and it's already vibrant—a hit with young people.
What sites you should see
The Block Museum of Art is free and open to the public and has hosted exhibitions like "Caravans of Gold: Art, Culture, and Exchange across Medieval Saharan Africa," "Pop Art America: 1965–1975," and "William Blake and the Age of Aquarius." Or, go on a regularly-scheduled guided tour of the Dawes House, a French Chateaux-style mansion built in 1894, on two acres on the lakefront. If you have kids, they may enjoy a visit to Dave's Rock Shop, a playful gem and geode storefront with a free fossil museum in the basement. If you get tired of the beach, take a short drive to the Skokie Lagoons and Nature Preserve to glide on a kayak and get a glimpse of the original prairie that once spread across the Midwest. You can also access Chicago's Loop and all of its diverse neighborhoods by Metra and El trains. Or, you could drive a short way north to the Baha'i Temple—a striking and intricate domed structure rising 130 feet off the ground and surrounded by five acres of garden. A bit farther north you'll find the Chicago Botanic Garden, which features 27 gardens, including an aquatic garden, and is open year-round. If you're willing to brave Chicagoland in the winter, the mid-December nightly model train and light display are magical and sell out every year.