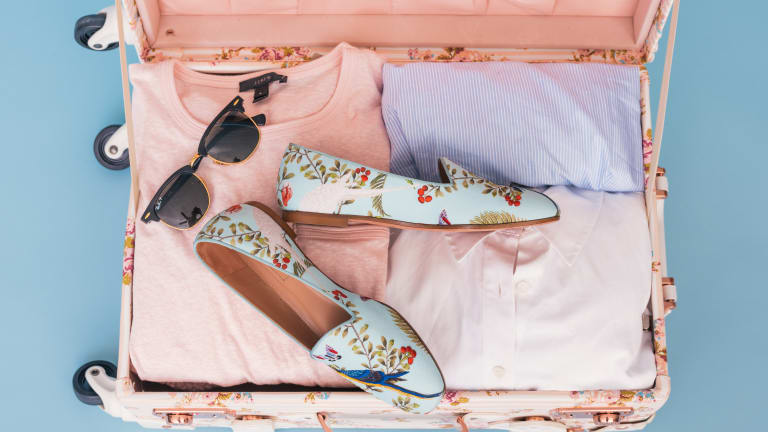 Packing Tips for the Bold Dresser
Leave your neutrals at home.
A lot of packing advice focuses on packing light by bringing neutrals so that everything goes together. But if bold patterns and colors are your thing—never fear! You can still pack well for travel. Check out the tips below and choose the strategy that will work best for you and your wardrobe.
01. Choose your colors using one of the methods below
Pick two coordinating colors that go together and just one neutral.
This is a good strategy if you love wearing denim with a couple of favorite colors, or if you enjoy color-blocked and monochromatic dressing. The two colors you choose should go together, and of course, they will match the neutral. (For this method, I consider the following to be neutral colors: white, navy, black, denim, and khaki.)
Some color pairings could include: cobalt blue + red, cobalt blue + orange, cobalt blue + yellow, cobalt blue + green, cobalt blue + purple; or orange + yellow, orange + red, orange + green.
If you love denim, you could stick with wearing jeans, denim shorts, and neutral skirts and then mix colors with your tops, jackets, and accessories. (Some stylists call this "tabletop dressing," because you emphasize what other people can see over a table.) For example, you could wear denim shorts with a hot pink top, or pair a hot pink top and a yellow blazer.
(Photographer Sarah Yates Mora in a hot pink blouse and boyfriend jeans.)
Or, if you have colorful skirts and pants, you could mix and match to create a monochromatic outfit with the exact same color or varying shades of one color. You could also color-block by pairing different colors on the top and bottom.
(This street-style photo shows various layers and shades of blue.)
When color-blocking, you might wear neutrals for your shoes, belt, bag, or jacket, as Jeanette Johnson of J's Everyday Fashion does here:
Pick any three colors.
In the New York Times, celebrity stylist Kate Young suggests packing clothes in "three coordinating colors." If you have enough color in your wardrobe to pack three colors that aren't neutrals, you are probably already a color-mixing maven, but if you're stuck, here are a few combinations to get you thinking:
Cobalt + lemon yellow + sunny orange
Fire-engine red + pink + purple
Red + orange + yellow
You can bring shoes and accessories in neutrals or in one of your three colors.
Bring dresses in alternate colors.
After you've chosen your two or three colors for your travel wardrobe, you can still cheat on this color strategy with one-piece outfits. If you chose to bring navy + cobalt + royal purple for your three colors, you can still bring a red dress since this one-item outfit only needs to coordinate with your accessories (shoes, purse, and a jacket). So you can bring your favorite dress even if it doesn't work with the overall scheme of navy + cobalt + purple.
02. Redefine neutrals
Remember that neutrals can be patterned.
If the idea of any neutrals is getting you down, remember that you can pick bold patterns for your neutrals. We often think of neutrals as being solid-color whites, navies, blacks, denim, or khaki, but a neutral can also be a pattern that combines any two of these, such as a navy Breton-striped shirt, a seersucker jacket, a blue-and-white gingham skirt, or a black-and-white floral kimono. These are all neutral pieces, but none of them look boring—especially when paired with favorite colors from your closet.
(Stephanie Pernas pairs two bold prints in neutrals.)
And remember that patterns can act as neutrals.
The resurgence of leopard print in 2017–2018 is a great example of a pattern that's a neutral: you can wear a leopard-print belt with brown shoes or black shoes! Beyond that, leopard print looks great with orange, green, red, and yellow.
Other patterns can also be used as neutrals, especially when they are multicolored; the more colors included in a pattern, the more neutral it is. Florals, abstract prints, and geometric designs with multiple colors can coordinate with all the colors within the pattern, as well as other patterns with similar colors.
(This Hungarian-embroidered blouse from the seventies could be paired with various shades of reds, pinks, blues, greens, purples, and yellows.)
(A skirt similar to this one would also go with any color because it has pink flowers, orange peonies, blue hydrangeas, red berries, green leaves, purple butterflies, and yellow wheat stalks.)
(Blogger Aubrey Ballard wears a navy skirt with light blue and red flowers, then adds a light blue patterned top and red sock boots.)
Define your own "neutrals."
Do you have multiple items in your favorite bold color? If you've got shoes, bags, belts, and jackets in lime green, bring them all! Conventional wisdom would say to bring brown or black shoes and accessories, but if you are that committed to lime green, or maroon, or burnt orange, then you probably have multiple outfits that coordinate with those accessories. You could wear denim and a white shirt with all-maroon accessories, color-block with forest green + mustard yellow + maroon, or go monochromatic with an all maroon/red ensemble.
(Here, navy and chambray are paired with bright accessories: orange shoes, an orange jacket, and a cobalt blue purse.)
//Wear multicolored or patterned accessories.
If you are bringing two or three colors and don't want to wear them with a brown or navy bag, bring along a multicolored bag that will go with all of the colors you've chosen. You can find woven multicolored totes, floral-print crossbodies, and sleek color-blocked handbags from Target, DSW, Aldo, and Michael Kors. Smaller purses with removable straps can also be used as clutches later in the evening (even if the straps aren't removable, sometimes you can just tuck them down into the purse and snap it shut).
(This bag is worn with neutrals and pink shoes, but it is so colorful that it could easily be mixed with green, blue, or yellow clothes and accessories.)
(These shoes are shown with black leggings, but the pattern incorporates red, pink, orange, and green, so these colors could all be used as well.)
Packing mostly neutrals is a helpful tip, especially if that's what you own. But the good news is that if your wardrobe is more colorful you can still dress like yourself when traveling!