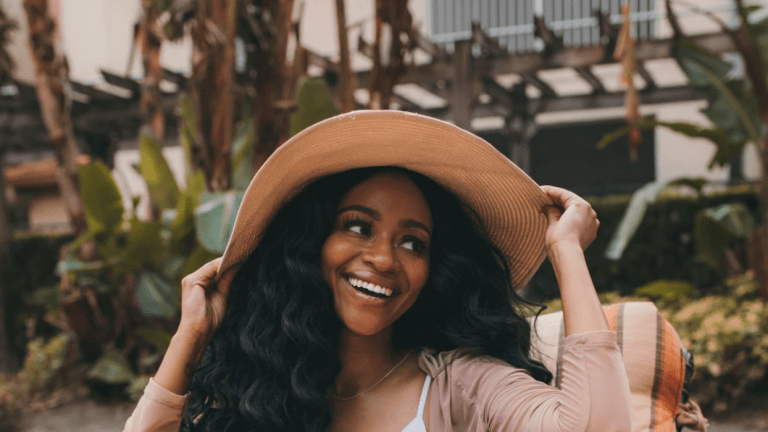 Whimsical Hats for Summer
Summer hats are all about style—and shade.
The great thing about hats in summer is that they can be more whimsical than hats in winter. Since we aren't wearing them for warmth, they don't need to hug the head or resist high winds. Summer hats can be all about style—and sometimes about shade. Check out these fun hats and styling tips below:
Fedora
The fedora is distinguished by a wider brim (usually at least two inches) that can be flipped up or down and a tear-drop or center-dent crown. Because of the wider brim, fedoras can protect your face from the sun and rain, which is why they are usually worn lower on the head (although the current style is to wear almost everything further back in general). A classic hat, the fedora can go with pretty much anything. Wear a straw fedora this summer with a maxi dress, maxi skirt, or wide-leg pants.
(Mary Orton wears a straw fedora on the beach with a tee and flowy linen pants.)
(A fedora with a tank top and floral skirt.)
(This tonal look pairs a tan fedora with an olive-green shirtdress and animal-print belt.)
Trilby
The trilby is often mistaken for a fedora by both shops and shoppers, but it is generally smaller-brimmed and stiffer with a deeper or taller crown. Trilbies are usually worn more on the back of the head, which makes them less functional than the fedora. Trilbies are a great choice for short-haired or fringed women, as your hair will not be swallowed whole by the hat, nor will the hat interfere with the fringe. Opt for a straw trilby rather than a pinstripe one (as the latter is associated with some unfortunate fashion moments in the early 2000s). Wear it with jeans, a tee, and a kimono. Or, try a short baby-doll dress, drop earrings, and sneakers. You can also pair it with a vintage dress to mix eras.
(Trilby with jeans and a kimono or open shirt-dress.)
(Trilby with romantic, flowy babydoll dress.)
(Worn on the back of her head, this hat shows the wearer's short curls.)
(Here, the hat shows off the short hair and fringe.)
Boater
The straw boater is the hat of the season—you've probably seen it around Instagram. A boater has a perfectly round, flat crown and a circular, flat brim. It usually has a wider brim, and it must be very stiff. You can emphasize the Venetian vibes by pairing this with a Breton-striped shirt, but it also looks amazing when juxtaposed with a feminine dress: think a midi skirt with florals, ruffles, or small puffed sleeves. If you have long hair, a topknot will not do for this hat situation. Instead, leave your hair down and pull it forward over your ears so that it flows out underneath the hat and frames your face. Or, you can tie your hair to one side in a loose, low side ponytail or braid.
(A boater hat with a maxi wrap dress.)
(Mary Orton wears a boater hat with an elegant off-the-shoulder red dress.)
(Blogger Lydia of Chic on the Cheap pairs a narrow-brimmed boater hat with a vertically-striped dress.)
Floppy sun hat
This hat is, of course, best for the beach or the pool. Get an oversized one with a five or six-inch brim that will shade your face, neck, and shoulders. You can find some of these in fun, bright colors and with wavy brims. Wear a bold one to the beach with a turquoise cover-up and a not-so-teeny yellow polka dot tankini. If it gives you hat hair, no worries—you'll be in the water anyway!
(A huge pink-and-orange sun hat paired with an orange swimsuit.)
(A floppy yellow sun hat with a burnt-orange jumpsuit.)
(A chic black-and-white combo on the sand.)
Cloche
Straw cloches offer less shade for the neck and shoulders, but can still keep the eyes covered, depending on how you wear them. In the 1920s, women wore cloches pulled low over their heads, whereas the current style is to wear them pushed farther back like a trilby. This is another short-hair friendly hat that can let your fringe poke out when worn on the back of the head. If your hair is bobbed, the sides will show nicely around your ears. Wear this with a denim jacket or lace dress, or with a sundress to the beach.
(Lauren Conrad in a modified cloche with back bow.)
(A vintage straw 1920s cloche.)
Whether your style is feminine or tomboy chic, there's a hat for you to dress up or down this summer!