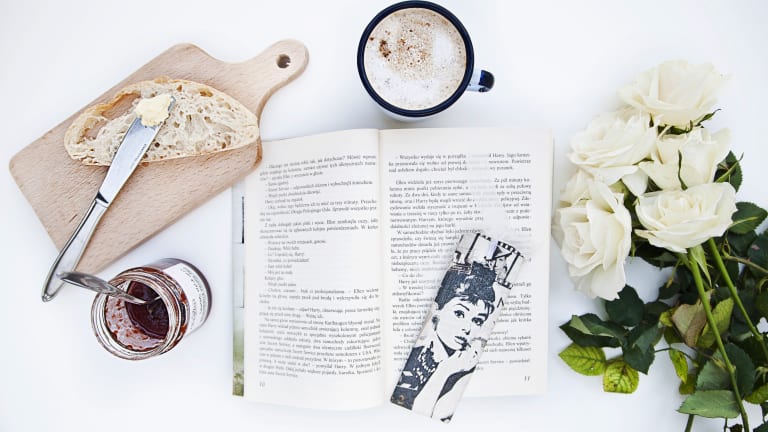 5 Light Summer Reads (With Drinks to Match!)
Take afternoon reading to new heights with these non-alcoholic beverages.
Earlier this year, I shared some suggestions for cozy winter reads with equally cozy teas to match. But as I write this, it is a balmy 75 degrees outside, my windows are all open, and the flowers are in bloom. All I can think about is my family's upcoming trip to the beach and which books I am going to take along for the ride.
So without further ado, here are five light summer reads, each paired with an equally refreshing summer drink. Get outside, soak up some of that long-awaited sun, and enjoy!
01. The Penderwicks + Lemonade
Have you ever read a book for the first time to discover it felt incredibly familiar, like an old friend? That's how the Penderwicks series felt to me. This series is set in the present, but it is full of good, old-fashioned fun. The title of the first novel is pretty self-explanatory: The Penderwicks: A Summer Tale of Four Sisters, Two Rabbits, and a Very Interesting Boy. Four young sisters befriend a sweet, lonely boy, whom they meet while on summer vacation, and all kinds of shenanigans ensue. There are also lots of adorable animals involved. I don't want to give away the rest! You will have to read it for yourself.
I recommend pairing this story with a cold glass of lemonade: a classic summer drink to go with an equally timeless book.
02. Anne of Green Gables + Raspberry Cordial Soda
Summer is the ideal time to revisit the scenic storyworld of Avonlea, as I expect that Lovers Lane, the White Way of Delight, and the Lake of Shining Waters would be especially beautiful this time of year. (If you want a little help envisioning L.M. Montgomery's fictional village, check out this beautiful volume of images from her native Prince Edward Island.)
Remember when Anne accidentally gets her best friend Diana drunk by serving currant wine instead of raspberry cordial? You can make your own (non-alcoholic!) raspberry cordial and mix it with club soda for a fruity, refreshing summer drink. You can also buy the cordial from specialty shops online if you prefer.
03. The Magnolia Story + Cold Brew
Who doesn't love watching Chip and Joanna Gaines joke around while transforming beat-up houses into beautiful homes? Those two have a lot of heart—which really comes through in the story of how they met and started their lives (and their business) together, The Magnolia Story.
This book is a quick, light-hearted read. I highly recommend the audiobook—it's narrated by Chip and Joanna, which makes it feel like they are sharing their story with you over a cup of coffee.
Speaking of which, on some days cold brew coffee is the only thing that can restore me to Chip-level energy. It is incredibly easy to make on your own if you have a French press. Cold brew is especially delicious with a generous amount of cream. Don't drink it on an empty stomach, though. Even though cold brew is less acidic than your usual morning cup, it is more highly caffeinated—so prepare accordingly!
04. Harry Potter and the Sorcerer's Stone + Infused Water
I did not read the Harry Potter books until I was well into high school. Now I am picking them up again to kick off my warm weather reading, and they are such a treat!
Of course, you know the plot: Harry Potter turns eleven and discovers that he is a wizard bound for Hogwarts School of Witchcraft and Wizardry, where he meets his best friends and encounters his worst enemies. If you've never read the books before, there is no better place to start than at the beginning, so The Sorcerer's Stone is the way to go.
Coming up with your favorite combinations for infused water is kind of like being in Potions class. You can use a fancy infuser or just drop some fresh fruit or herbs into your glass. My favorites include lemon, orange, and especially mint. It is important to stay hydrated in the summer, so you might as well make it enjoyable!
05. Gone with the Wind + Sun Tea
I wouldn't call this one an easy beach read (my copy is 1,000+ pages!), but it's a great book, especially if you have extra free time to read during the summer months.
Scarlett O'Hara is downright infuriating—beautiful, selfish, and hung up on a man she can't have—but her story of survival against the backdrop of the American Civil War is extremely compelling.
Gone With the Wind is a complicated book, especially in how it deals with racism, but it is definitely worth reading. If you can rope in a friend or two to read along with you, even better. When I read this book last summer, every time I hit a plot twist or gripping scene, I was grateful to have friends to talk to who had also read the book.
Enjoy this novel with a glass of sun tea. If you have never made sun tea before, it's really simple. Fill a large container with lots of water and several tea bags and leave the container in direct sunlight for a few hours. Then place the container in the fridge. The end result is a smooth, mellow take on iced tea.
There is something so special about books you read in the summer. Maybe it's because it reminds me of when I was small and had weeks on end to read whatever I wanted before school started! Take advantage of this special time to reconnect with your love of books. Whatever volume you pick up this summer, I hope it's a good one!