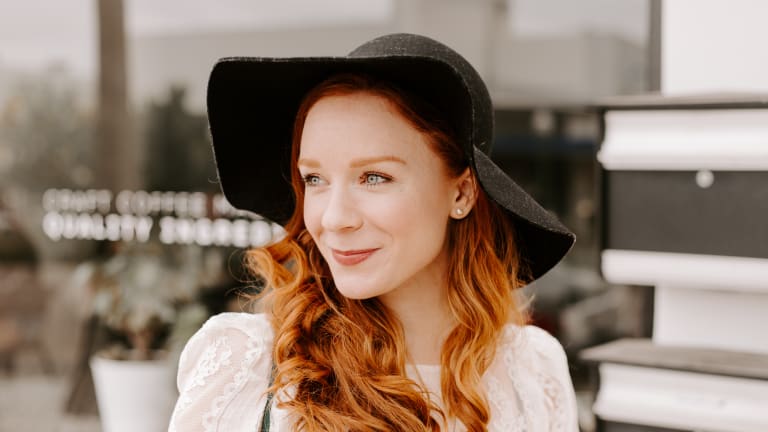 The Power of Self-Affirmation Statements to Recover from Past Hurts
Using reflective mantras to become a more free, whole version of yourself
Growing up, I had a sensitive, tender little heart. In elementary school, I struggled a bit with girls sometimes being mean or playing the games of "fair weather friendship," which I found confusing and hurtful. When it was difficult for me, my mom always provided a safe haven to come to talk about those situations and help me work through and process my feelings.
One of the things my mom told me in our heart-to-heart chats was to practice saying kind words to myself to help undo the mean, hurtful things said to me by my classmates. I remember standing in front of the bathroom mirror and trying to say loving, positive words to my reflection. I felt a bit silly (perhaps even a little ridiculous) talking to myself in the mirror. I also worried my brother might barge in and wonder why in the world I was talking to myself. It was years and years before I began to believe in the power of saying loving words to myself, but today I am grateful for these mirror exercises my mom had me practice.
I can acknowledge now how healing and restorative it is to say affirming, kind words to ourselves.
We know there is great power in the words we say to ourselves and to each other. Our spoken words have the ability to encourage and uplift, and at the same time, they can also be used to criticize, judge, or shame. Very often how we talk about other people reflects an inner reality: how we view and speak to ourselves. Sometimes when we are harsh, critical, or judgmental of other people, it reflects a deeper reality of how we feel about ourselves.
We often grow to believe what we say to ourselves, whether they are gentle and loving words or harsh and critical. While my mom had me practice saying kind things to myself all those years ago, it has only been in the last five years of my life that I have radically changed my own inner dialogue by using self-affirmation statements in my daily life.
Treat yourself as you would treat others
Several years ago, my counselor was leading me through a personal recovery trauma workbook. In one of the early chapters, the author discussed the power of using daily self-affirmation statements. She spoke of creating an "emotional safety shield" to help protect and keep ourselves safe. One part of the individual shield was an original, personal self-affirmation statement. You could not use your favorite inspirational quote or a mantra from someone else, it had to be completely original.
For some reason, it really left a lasting impression on me, and I spent a lot of time thinking about what I would write and come up with. I came home that day and wrote the following words in the workbook: I am a beautiful, strong, courageous woman, and I am taking back my power to be emotionally and physically healthy. It was as if these words just flowed right out of me, and they really resonated with me.
I set timers on my phone throughout the day to stop and repeat those words out loud to myself. I did this faithfully for several months. Whenever a timer went off, I would take a moment to say those words out loud no matter where I was. If I was in a social setting I would briefly excuse myself, go to the bathroom, and just barely whisper the words aloud so only I could hear. I was committed to repeating these life-giving words over myself.
And something remarkable began to take effect over time.
Telling myself those words on a daily basis opened up my heart, and I really began to believe them, perhaps for the first time in my life. They took root inside of me: my heart, mind, and soul. It helped revise my inner dialogue and the words slowly began to change how I saw myself. But more importantly, it transformed how I began to speak to myself. In time, the negative messaging was re-wired with words that are good and true of me. What you say to yourself is what you will come to believe about yourself.
Renewing the habit
Fast forward several years to the present day. I have a different affirmation statement I am using in life right now: Be open. Just show up.
While navigating dating and being single as an almost thirty-four-year-old woman, these words are a reminder to keep being open and showing up to live my life, even if it looks different than what I imagined. I am choosing to just be open and continually live my life right here—not where I want my life to be—but in the present moment and season. There is no set formula for life.
These are just a few of the affirmation statements that have helped me become a more free, whole version of myself. And while I am no longer standing in front of the mirror talking to myself, I am grateful for the ways I have begun to positively change how I speak to myself.
I think we all can agree there is often a lot of negativity and harshness in how we speak to and treat each other and ourselves. What would it look like if we began to talk to each other and ourselves with more positivity? How would that impact our relationships and how we see ourselves?
I cannot express how life-changing it was for me to take some time to think about and reflect on these things. If you want to come up with your own self-affirmation statement and don't know where to start, try reflecting on where you find yourself in life right now. What are the lessons and insights you have learned about yourself? What are the gifts of your current season? Let them be your guide to developing affirmation statements you can use in your daily life.
Editors' note: Verily exists to empower women to be more of who they are. Support this mission by joining us at Verily Yours. Your subscription gives you exclusive content (that is different than our website content) and supports our publication, including our efforts to develop a print magazine. Subscribe here.